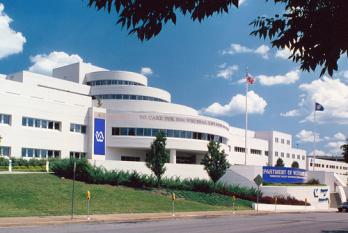 The Nashville Veterans Affairs Medical Center (NVAMC) is a 146-bed tertiary hospital. The recently renovated hospital has merged with the Murfreesboro (TN) facility to form the Veterans Affairs Tennessee Valley Health Care System. The Nashville facility is adjacent to the Vanderbilt University Medical Center (VUMC). There are four clinical services with admission privileges at the NVAMC: psychiatry, internal medicine, surgery, and neurology. Psychiatry has 18 beds, four of which comprise a Psychiatric Medical Unit (PMU) while the remaining 14 beds serve patients with a variety of psychiatric illnesses. In addition to diagnoses similar to the VUMC patient population, the veteran population provides extensive opportunity to see the following diagnoses: post-traumatic stress disorder, major depression refractory to treatment, organic brain syndromes of different etiologies, severe personality disorders, and various Axis I and II diagnoses complicated by drug and/or alcohol abuse.
PGY 1, PGY 2 and PGY 3 residents are assigned to the NVAMC for regular rotations, both inpatient and outpatient. PG-4 elective and chief resident positions at the NVAMC are also available. Residents are supervised by Vanderbilt faculty with VA appointments, and by the Chief Resident. Didactic seminars, case presentation conferences, and a diagnostic team conference designed for further training in descriptive phenomenology, psychiatric differential diagnosis, and standardized diagnostic interviews are an integral part of the training experience. 
Each PGY 3 follows a panel of patients in the Psychiatry Resident Continuity Clinic where they gain experience in treating a broad range of male and female military veterans from their late teens to 80's or 90's. The geriatric patients are scheduled into a geriatric clinic supervised by two board certified Geropsychiatrists. All PGY 3 residents have the opportunity to work in the geriatric clinic. Psychopharmacologic and psychotherapeutic treatment is supervised by Vanderbilt faculty. Residents and medical students also have the opportunity to learn about the practice of electroconvulsive therapy (ECT) during their inpatient rotation. Onsite supervision and introduction to ECT are provided by a Vanderbilt faculty with VA appointment. Research opportunities are also available at the VA.
Opportunities are available for other outpatient experiences. VAMC Nashville has an outpatient PTSD Treatment Program which includes an outpatient Residential Rehabilitation Program and PTSD Clinics. A Homeless Veteran Program provides exposure to another set of patientsand psychopathologies. A Telemental Health Program has recently been initiated, providing services to patients in remote areas using moderncommunication technologies. A newly implemented partnership with the U.S. Army offers residents the opportunity to evaluate and treat soldiers who have just returned from overseas deployment in Operations Enduring Freedom and Iraqi Freedom, at Ft. Campbell, KY.
Third-year medical students also rotate through the NVAMC psychiatry service and work directly with the residents.