The Vanderbilt Addiction Psychiatry Fellowship is a one-year ACGME-accredited training program designed to graduate exceptional addiction psychiatrists ready to join our patients, health systems, and communities facing the challenges of substance-related and addictive disorders. Our curriculum develops fellows' clinical, teaching, scholarly, and leadership skills in preparation for successful transition to faculty appointment.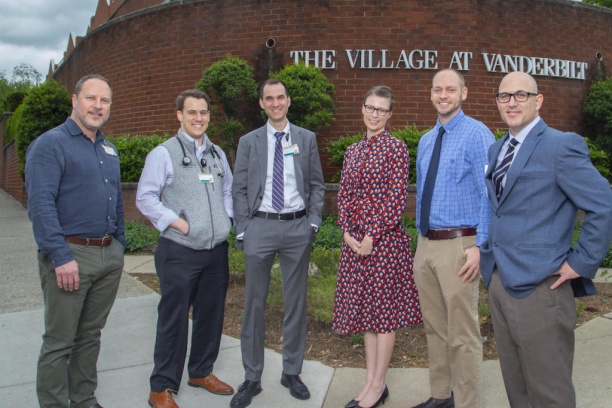 Fellows' clinical training sites span the levels-of-care spectrum and are chosen to create well-rounded clinicians with experience across diverse populations and degrees of acuity. Core experiences occur within Vanderbilt's Integrated Services for the Treatment of Addiction (VISTA) and include: medically supervised withdrawal and psychiatric stabilization on the inpatient co-occurring disorders unit; engaging and managing general medical inpatients on the Addiction Consult Service; post-acute stabilization in the low-barrier multi-specialty Bridge Clinic; and maintenance care in the outpatient interdisciplinary addiction psychiatry clinic. Training flexibly incorporates individualized experiences designed to grow fellows' specific and specialized interests within addiction psychiatry.
Clinical training sites include:
Vanderbilt Bridge Clinic, Intensive Outpatient Program, and Adult Psychiatry Outpatient Clinic
Vanderbilt Psychiatric Hospital (100+ inpatient psychiatric beds, with specialized units)
Vanderbilt University Adult Hospital (1,000+ inpatient medical and surgical beds; Level 1 Trauma Center)
Specialty rotations across Vanderbilt University Medical Center and Vanderbilt Health at One Hundred Oaks (with opportunities in perinatal, infectious disease, toxicology, and pain medicine, among others)
Partnerships with community resources (including methadone treatment and collaborative care models within primary care)
Populations served at these sites draw from a 65,000 square-mile catchment area stretching across Middle Tennessee from southern Kentucky to northern Alabama. Fellows care for individuals living in urban and rural settings, medically-underserved areas, and racially- and culturally-diverse communities. Special populations, including physician health program participants, are also seen.
Fellows deliver specialty addiction care within an interdisciplinary and multi-specialty team, including primary care, infectious disease, pain medicine, obstetrics/gynecology, advanced practice provider, nursing, social work, psychology, and recovery coach colleagues. As of March 2021, our growing Division faculty includes 5 board-certified addiction psychiatrists, with additional addiction specialists in allied VISTA departments.
Curriculum
Fellows have protected scholarly time with faculty support for board preparation, teaching, research, and academic writing.
Academic Time: 10% FTE
Didactic seminars:
Weekly lectures with a board-preparation focus are augmented by additional specialty topics from active clinical services and research within the Division of Addiction Psychiatry. The curriculum emphasizes identification, assessment, diagnosis, and evidence-based treatment of the spectrum of substance-related and addictive disorders, alongside their psychiatric and medical comorbidities.
Faculty Supervision:
Clinical site: daily supervision with faculty for outpatient cases; daily rounding for inpatient/consult services, with weekly case conferences.
Psychotherapy: weekly for individual and group work, monthly for Motivational Interviewing recorded session review and feedback.
Program Director: weekly 1-on-1 tutorials, case discussion, and career development.
Scholarly Work:
QI project: 1 project per year, with focus on inpatient, consult, or outpatient services with a faculty sponsor.
Publication-quality scholarly project: 1 project per year; potential projects include: literature review, book chapter, or data-based project, leveraging VUMC resources for data analysis.
Writing workshop: quarterly present ongoing projects to a faculty round-table for feedback, aimed toward submission to a scholarly journal or national meeting.
2 observed lectures: fellows will prepare and deliver lectures for a Tele-ECHO clinic and for the residency program, with feedback from learners and faculty.
1 journal article peer review: completed for specialty journal with faculty mentor.
Question-bank development project: fellows will develop review questions, creating a resource for future board review while leveraging evidence-based learning techniques.
Monthly journal club: fellows will present major findings and criticisms of a paper, alternating between landmark and new emerging-evidence literature.
Orr Lecture in Addiction Psychiatry/Grand Rounds: fellows would assist in organization of addictions-related Grand Rounds, including resident discussions with the invited presenter.
AAAP Annual Meeting: fellows will attend, with program support.
Fellowship Faculty
Fellows will engage in intensive clinical supervision, mentorship, and scholarly activity with our large and growing faculty of board-certified Addiction Psychiatrists and VISTA Faculty Affiliates across multiple specialties and departments at VUMC.
Life in Nashville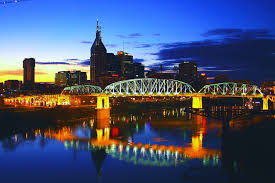 Our faculty and trainees cannot say enough about our verdant, lyrically and gastronomically creative hometown and its quintessential southern hospitality. Information about living in Nashville is collected for the Vanderbilt community here.
Fellows' stipend and benefits information is located here.
There is no call or weekend coverage. Moonlighting opportunities require program approval.
Diversity and Inclusion in Training
The fellowship is committed to fulfilling the mission of our VUMC Office of Diversity and Inclusion, affirming its relevance across medicine and specifically in addiction psychiatry:
"We will reflect the diversity of the populations we serve in our teams, programs and communications and be inclusive in our processes and decisions. The populations we serve are increasingly diverse with growing health disparities, and the people working at Vanderbilt represent growing diversity. Diversity and inclusion are fundamental to our success in reducing health disparities in the populations we serve. Moreover, a workforce that is not only diverse but also inclusive in nature, is more effective at crafting innovative solutions to the major challenges of health care and in executing on those solutions as a team."
Information on diversity in training within the Department of Psychiatry is here.
VUMC Office of Diversity and Inclusion information is here.
VUSM Office for Diversity Affairs information is here. 
Information for Applicants
Successful completion of an accredited general psychiatry residency is required for matriculation to this PGY5 fellowship position. The fellowship is designed to meet and exceed the defined ACGME Program Requirements for Graduate Medical Education in Addiction Psychiatry. The program received initial accreditation in 2020. Psychiatrists completing the fellowship are eligible to sit for board examination in Addiction Psychiatry through the American Board of Psychiatry and Neurology.
Beginning 2021, the majority of Addiction Psychiatry Fellowship Programs are utilizing ERAS for recruitment. Applications are submitted via ERAS starting July 1, with interviews beginning mid-July.
Information about the ERAS application process is here. 
The application will include a personal statement describing interests, achievements, and career goals within addiction psychiatry; standardized data from the applicant's curriculum vitae; current headshot photograph; USMLE I, II, III scores; and any applicable information for IMG credentialing (e.g. ECFMG Certificate, visa). Four letters of recommendation are required; one letter must be from the applicant's residency program director. Information required for VUMC credentialing is here. 
Want to Learn More?
Do not hesitate to contact us to discuss your interest in our program.  We want to provide you with the data you need as you make the exciting and difficult decisions around where you will train in Addiction Psychiatry.  This is an important time of need and growth for the field, and we are thrilled you are considering joining us, our health system, and our patients and community in your next steps.

Kristopher Kast, MD
Fellowship Director

Elizabeth H. Wilson
Program Manager

Shana Scanlin
Program Manager