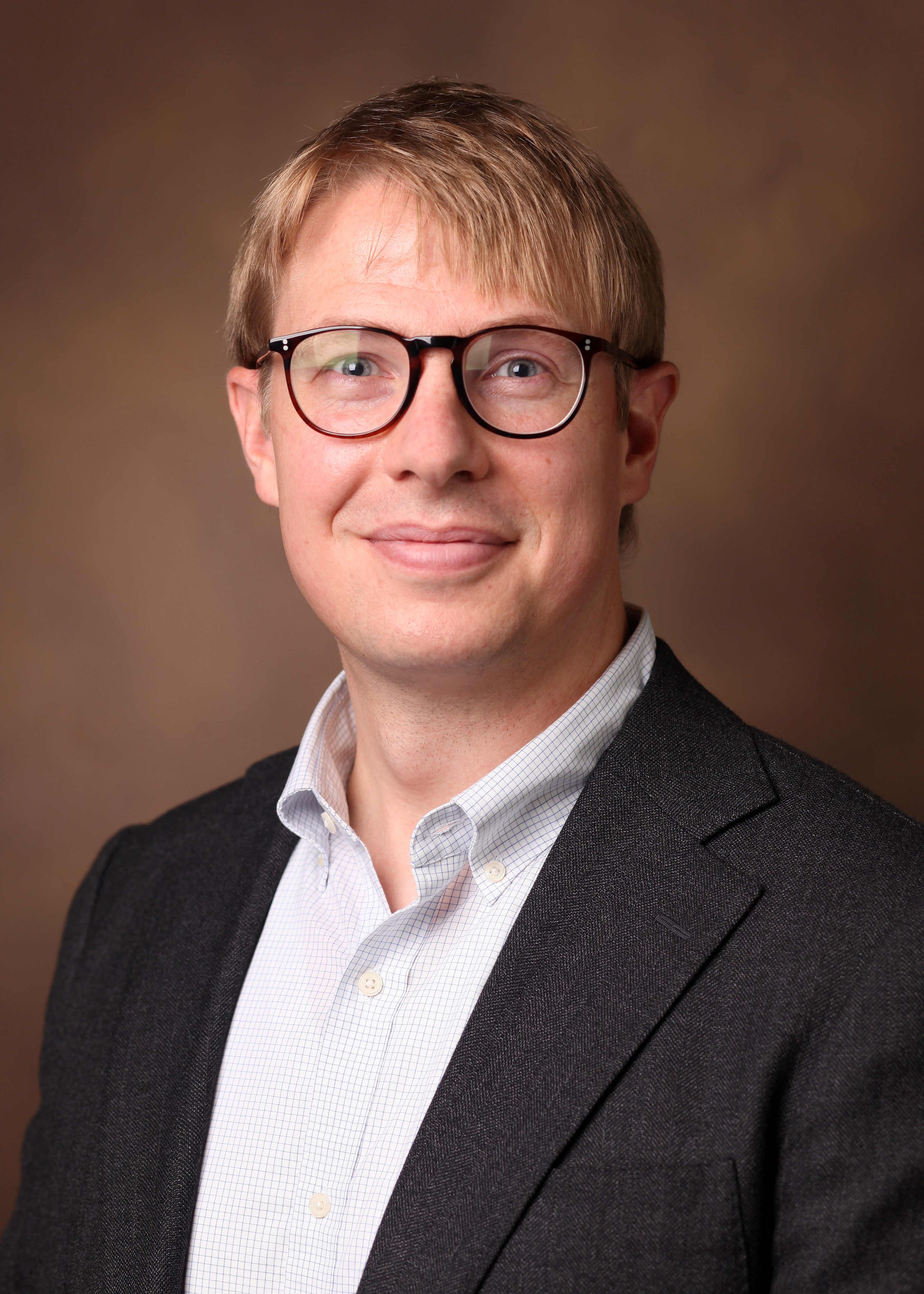 Kristopher Kast, MD
Assistant Professor of Psychiatry and Behavioral Sciences
Program Director, Addiction Psychiatry Fellowship
Clinical Director, VUH Addiction Consult Service
Division of Addiction Psychiatry
Dr. Kast is Program Director for the Vanderbilt Addiction Psychiatry Fellowship, developing the curriculum, supervising diverse and deep clinical exposure, and supporting intensive scholarship for the fellows. He also leads the Tennessee State Opioid Response Project ECHO Tele-Education Hub, a partnership between VUMC and TDMHSAS targeting community clinicians and health systems caring for individuals with opioid use disorder.
Dr. Kast joined the Vanderbilt faculty in 2020 after fellowship training in addiction psychiatry at Harvard Medical School and Mass General Brigham's hospitals. He trained in general adult psychiatry at Weill Cornell and New York-Presbyterian Hospital, where he served as chief resident and concurrently completed his first year of psychoanalytic training at Columbia. Before this postgraduate work, he graduated summa cum laude from Notre Dame and was elected to the Alpha Omega Alpha Honor Medical Society at Johns Hopkins University School of Medicine. Dr. Kast is originally from the Ohio River valley of rural southern Indiana and northern Kentucky. 
Clinical Description
Dr. Kast serves as an attending addiction psychiatrist and Clinical Director for the Addiction Consult Service at VUAH. He also cares for outpatients with SUD and co-occurring disorders in the low-barrier VISTA Bridge Clinic and the VISTA Recovery Clinic for maintenance care. Dr. Kast supervises clinical fellows, residents, and medical students across these levels of care.
Research Description
Dr. Kast's scholarly interests include substance-related and addictive disorders in the general hospital setting, health systems implementation of SUD care, evidence-based medical education for SUD and co-occurring psychiatric disorders, and effective psychotherapeutic interventions for SUD.
Representative Publications
Kast KA, Avery J. Substance intoxication and withdrawal. Book chapter in The Psychiatric Consult: navigating challenging treatment plans. Eds. Alyson Gorun, Anna Kim, Christian Umfrid, Janna Gordon-Elliott. Springer Publishing. 2022.
Kast KA, Rao V, Wilens T. Pharmacotherapy for attention-deficit/hyperactivity disorder and retention in outpatient substance use disorder treatment: a retrospective cohort study. J Clin Psychiatry. 2021; 82(2).
Gopaldas M, Kast KA. Neurobiology of substance use disorders. Book chapter in Addiction Medicine: a case and evidence-based guide. Eds. Jonathan D. Avery, David Hankins. Springer Publishing. 2021.
Marcovitz D, Pettapiece-Phillips MJ, Kast KA, White KD, Himelhoch H, Audet CM. Implementation of a hub-and-spoke network for opioid use disorder in middle Tennessee. Psychiatric Services. 2021; Dec 8.
Marcovitz D, White KD, Sullivan W, Limper HM, Dear ML, Buie R, Edwards D, Chastain C, Kast KA, Lindsell CJ. Bridging Recovery Initiative Despite Gaps in Entry (BRIDGE): study protocol for randomized controlled trial of a bridge clinic compared with usual care for patients with opioid use disorder. Trials. 2021; Oct 30;22(1):757.
Marcovitz D, Maruti S, Kast KA, Suzuki J. The use of therapeutic metaphor on an addiction consult service. Psychosomatics. 2020; 62(1):102-108.
Kast KA, Avery J. Epidemiology, genetics, and neurobiology of substance use and disorders. Book chapter in Absolute Addiction Psychiatry Review: an essential board exam study guide. Ed. Carla Marienfeld. Springer Publishing. 2020.
The Opioid Epidemic and the Therapeutic Community Model: an essential guide. Eds. Jonathan D. Avery, Kristopher A. Kast. Springer Publishing. 2019.
Kast KA, Avery J. The case of Dr. Sigi Halsted: overdose in the O.R., or substance use disorders in early career physicians. Book chapter in Early Career Physician Mental Health and Wellness: a clinical casebook. Eds. Anna H. Rosen, Janna S. Gordon-Elliott. Springer Publishing. 2019.
Kast KA, Avery J. Medical students and substance use disorders. Book chapter in Medical Student Well-Being: an essential guide. Eds. Dana Zappetti, Jonathan Avery. Springer Publishing. 2019.
Avery J, Taylor KE, Kast KA, Kattan J, Gordon-Elliott J, Mauer E, Avery J, Penzner JB. Attitudes toward individuals with mental illness and substance use disorders among resident physicians. Prim Care Companion CNS Disord. 2019 Jan 3;21(1).
Avery J, Knoepflmacher D, Mauer E, Kast KA, Greiner M, Penzner J. Improvement in residents' attitudes toward individuals with substance use disorders following an online training module on stigma. HSS Journal. 2018 Nov 1.
Kast KA, Gershengoren L. Cannabinoid hyperemesis syndrome and the consulting psychiatrist: a case study of diagnosis and treatment for an emerging disorder in psychiatric practice. J Psychiatr Pract. 2018 Jan; 24(1): 51-55.