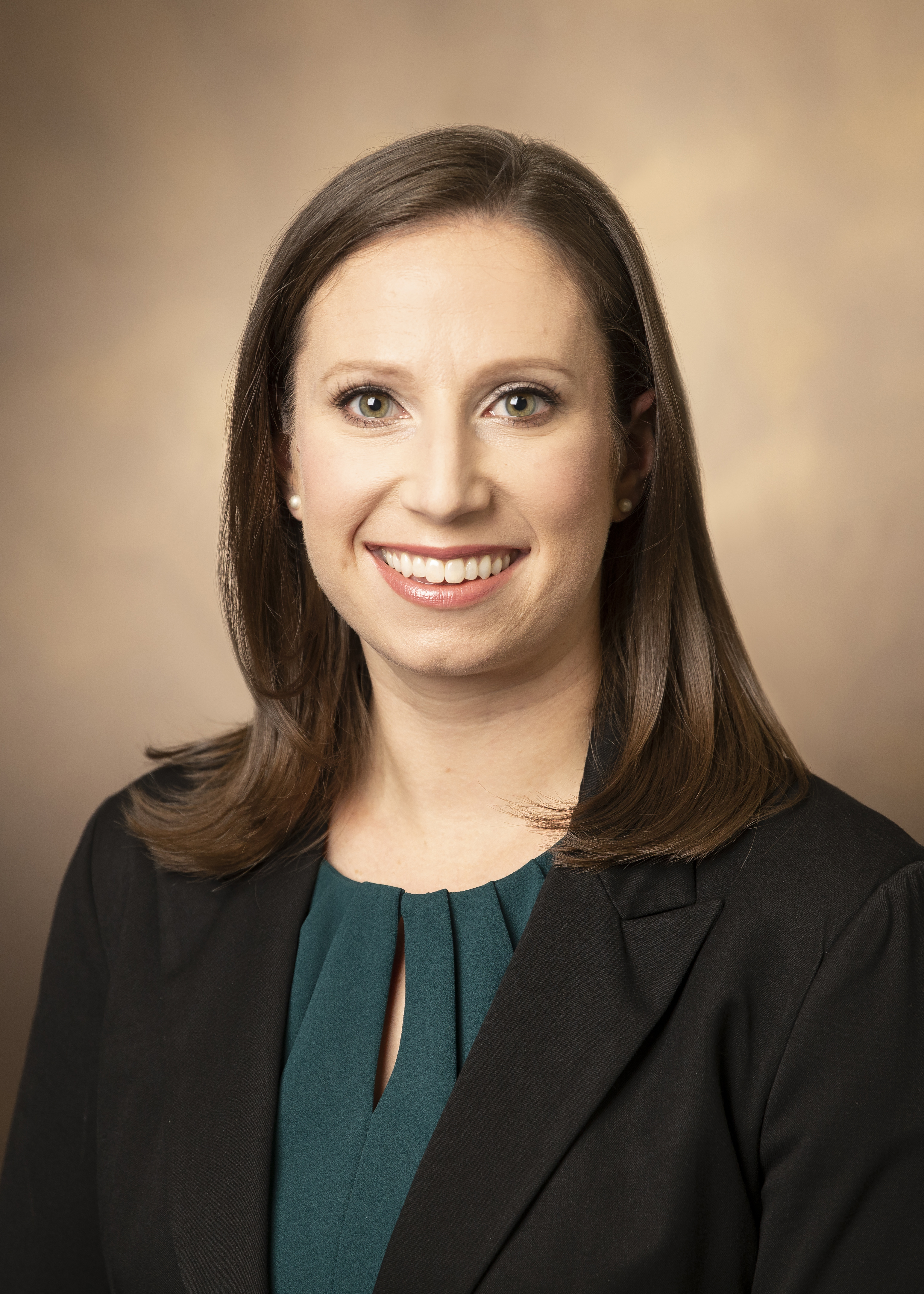 Heather Burrell Ward, MD
Assistant Professor of Psychiatry and Behavioral Sciences
Director, Vanderbilt Psychiatry Residency Research Track
Division of General Psychiatry
Dr. Heather Burrell Ward attended Duke University School of Medicine, where she was elected to the Alpha Omega Alpha Honor Medical Society. She completed psychiatry residency training at Brigham & Women's Hospital - Harvard Medical School in the Research Track. Dr. Ward completed fellowship training in Behavioral Neurology and neuromodulation at the Berenson-Allen Center for Noninvasive Brain Stimulation at Beth Israel Deaconess Medical Center and Harvard Medical School.
Dr. Ward is Director of the Research Track in the Vanderbilt Psychiatry Residency Program. Dr. Ward was previously Associate Director of the Beth Israel Deaconess Medical Center - Harvard Psychiatry Residency Research Track. Dr. Ward graduated from the Research Track of the Brigham & Women's Hospital - Harvard Medical School Psychiatry Residency Program, where she served as Chief Resident for Research, a position she pioneered to promote scholarly activity across the residency. She is passionate about physician-scientist training in residency, increasing diversity of the physician-scientist workforce, and physician leadership development.
Clinical Interests
Dr. Ward is a board-certified psychiatrist specializing in interventional psychiatry, including repetitive transcranial magnetic stimulation (rTMS) and electroconvulsive therapy (ECT), and psychotic disorders.
Research Information
Dr. Ward uses neuromodulation (rTMS) and neuroimaging to understand and treat the brain-circuit basis of psychotic disorders. Dr. Ward has studied nicotine dependence in schizophrenia for the past decade. She was awarded the Sidney R. Baer, Jr. Fellowship, Norman E. Zinberg Fellowship, and Livingston Fellowship for training in neuroimaging and neuromodulation research. Dr. Ward is using individualized, network-targeted TMS interventions for nicotine dependence in schizophrenia. She is interested in developing TMS interventions for substance use, psychomotor slowing, cognitive impairment, and clinical symptoms in psychotic disorders.
Dr. Ward was named a 2021 STAT News Wunderkind, which recognizes top young investigators in North America. She has received Early Career Investigator Awards from the Schizophrenia International Research Society, College on Problems of Drug Dependence, and American Academy of Addiction Psychiatry. She received the Solomon and Mysell Awards from Harvard Medical School for her research and was selected to attend the APA Research Colloquium for Junior Investigators. She was also awarded a Loan Repayment Program Award from the National Institutes of Drug Abuse. She was an APA Leadership Fellow and has served on the APA Council for Research, Council on Addiction Psychiatry, and Biomarkers and Tobacco Work Groups.
Representative Publications
Ward HB, Beermann A, Nawaz U, Halko MA, Janes AC, Moran LV, Brady RO. Evidence for Schizophrenia-specific Pathophysiology of Nicotine Dependence. Frontiers in Psychiatry - Schizophrenia. 2022 Jan 27.
Ward HB, Brady RO, Halko MA, Lizano P. Noninvasive Brain Stimulation for Nicotine Dependence in Schizophrenia: A Mini-Review. Frontiers in Psychiatry - Schizophrenia. 2022 Feb 9.
Ward HB, Brady RO, Halko MA. Bridging the Gap: Strategies to Make Psychiatric
Neuroimaging Clinically-Relevant. Harvard Review of Psychiatry. 2021 May-Jun; 29(3): 185-187.
Ward HB, Levin FR, Greenfield SF. Disparities in Gender and Race Among Physician Scientists: A Call to Action and Strategic Recommendations. Academic Medicine. 2021 July 6.
Shen Y & Ward HB. Transcranial Magnetic Stimulation and Neuroimaging for Cocaine Use Disorder: Review and Future Directions. American Journal of Drug and Alcohol Abuse. 2021 Mar; 47(2): 144-153.
Ward HB, Mosquera MJ, Suzuki J, & Mariano TY. A systematic review of noninvasive brain stimulation for opioid use disorder. Neuromodulation. 2020 Apr; 23(3): 301-311.
Ward HB, Lawson MT, Addington J, Bearden CE, Cadenhead KS, Cannon TD, Cornblatt BA, Jeffries CD, Mathalon DH, McGlashan TH, Seidman LJ, Tsuang MT, Walker EF, Woods SW, Perkins DO. Tobacco Use and Psychosis Risk in Persons at Clinical High Risk. Early Intervention in Psychiatry. 2019 Oct; 13(5): 1173-1181.
In the News:
Harvard Catalyst ThinkResearch Podcast
Mental Health in Science and Medicine: Part 1, September 21, 2022
https://catalyst.harvard.edu/thinkresearch/?utm_source=Twitter&utm_medi…
Nature: Childcare crowdfunding campaigns aim to keep mums on the academic track, May 9, 2022
https://www.nature.com/articles/d41586-022-01289-8
STAT News: Jolting the brain's circuits with electricity is moving from radical to almost mainstream therapy. Some crucial hurdles remain, Jan 12, 2022
https://www.statnews.com/2022/01/12/brain-stimulation-jolting-brain-cir…
STAT News 2021 Wunderkind
https://www.statnews.com/wunderkinds/heather-ward/