GLOBAL GENERAL SURGERY PROGRAM
About Us
The Vanderbilt University Medical Center Global General Surgery Program seeks to address issues of health inequity and improve the care of patients with surgical conditions in resource-constrained settings, both domestic and abroad.  We actively engage in initiatives to address the global burden of surgical disease through education, research, clinical care, and advocacy.
Our Mission
Improve the health of populations in resource-constrained settings by addressing the disparities in access to safe surgical care.
Our Goals
Build capacity to address the global burden of surgical disease in resource-constrained settings in the United States and around the world
Strengthen research capacity in low-resourced settings
Address health disparities and improve health equity in Nashville
Equip residents who intend to work in global health with the skills necessary to be effective academic global surgeons
Faculty

Members
International Faculty

Members
---
Education and Training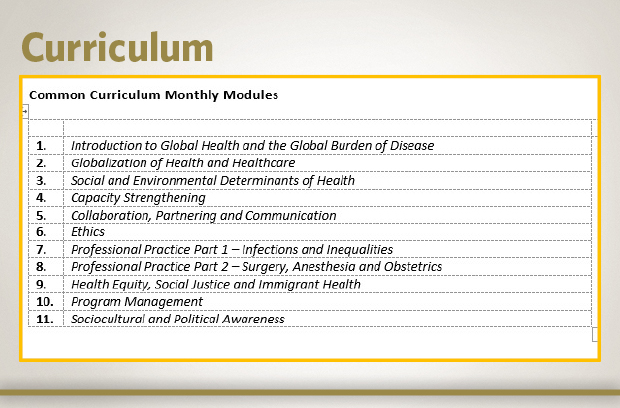 Vanderbilt Collaborative in Global Health Equity GME Certificate Program
The VUMC GME seeks to address the growing interest among resident trainees from multiple disciplines to gain skills in providing and expanding care in under-resourced settings, and to address issues of health equity and access in domestic under-resourced areas and in low- and middle-income countries.  The program will benefit from the breadth of global health knowledge and expertise available within the Vanderbilt Institute for Global Health (VIGH), as well as in multi-disciplinary collaboration between VUMC departments involved in the global health enterprise (Anesthesia, Obstetrics/Gynecology, Neurosurgery, Pathology, Emergency Medicine, Psychiatry, Medicine/Pediatrics, Otolaryngology). The certificate is granted by the Office of Graduate Medical Education (GME) and Vanderbilt University Medical Center (VUMC) after successful completion of a curriculum coordinated by the individual residents' residency department. The curriculum includes didactic, experiential, and research training.
Global HEALS Program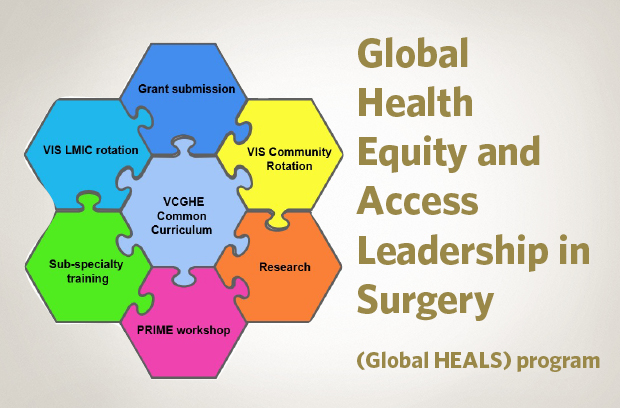 The mission of the Global Health Equity and Access Leadership in Surgery (Global HEALS) program is to support and foster surgical trainees and faculty committed to increasing and improving surgical care, access and safety in under-resourced settings, both domestic and abroad, utilizing a paradigm of comprehensive and systematic training. This educational track is embedded within Vanderbilt's general surgery training program. Applications will be accepted at the end of the PGY1 year.  Accepted residents will begin participation during the PGY2 and 3 years, with two years of dedicated global surgical experiences during their lab years. The program includes completion of the requirements for the GME certificate above, but also completion of a formal capstone research project, clinical experience at Shade Tree clinic, Siloam clinic, and Kijabe Hospital, sub-specialty skill training (pediatric surgery, plastic surgery, orthopedic surgery, urology, obstetrics & gynecology, and neurosurgery), and grant submission.
Preparing Residents for International Medical Experience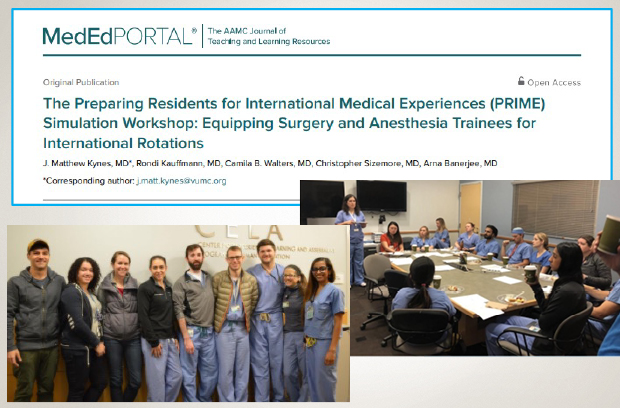 This workshop takes place in the VUMC Center for Experiential Learning and Assessment (CELA).  It is led by faculty from multiple disciplines, including surgery, anesthesia and obstetrics/gynecology to prepare residents participating in rotations abroad, and uses simulation and guided discussion to teach relevant ethical, clinical, social, and safety considerations for international medical work.