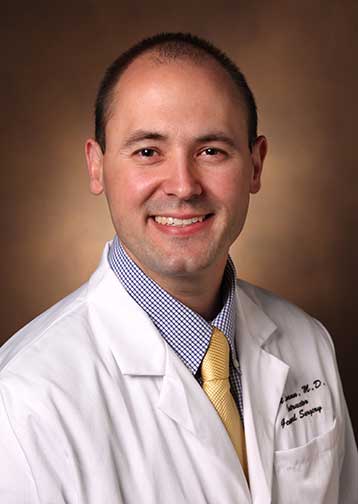 Matthew Drake Spann, MD, MMHC, FACS
Associate Professor of Surgery
Division of General Surgery
Medical Director, Vanderbilt Weight Loss Center
Director, Metabolic and Bariatric Surgery
Medical Director, General Surgery OR Pod
Vanderbilt University Adult Hospital
Clinic Phone
Appointments: (615) 322-6000
Dr. Spann joins Vanderbilt's Department of Surgery, Division of General Surgery as an Assistant Professor of Surgery after completing the Minimally Invasive Surgery fellowship at Vanderbilt University Medical Center at Nashville, TN.
Currently, he performs all aspects of general surgery while focusing on minimally invasive and multiple types of bariatric surgery. Dr. Spann is a member of the American College of Surgeons, Society of American Gastrointestional and Endoscopic Surgeons, and the American Society for Metabolic and Bariatric Surgery.
Dr. Spann's research interests include renal function and GI hormone changes after bariatric surgery and outcomes after laparoscopic myotomy
Education
Dr. Spann received his Bachelor of Science in Biology degree from Samford University, in Birmingham, AL. Dr. Spann then attended the University of Alabama in Birmingham, AL where he earned his M.D. degree.
Post-Graduate Education
He went on to complete his General Surgery Residency at the University of Alabama, in Birmingham, AL. White there he received the Humanitarian Award and resident teaching awards.
Meet Dr. Spann