Vanderbilt University Medical Center Colon & Rectal Surgery Fellowship is an ACGME accredited program that has one position each year from August 1st to July 31st.  This is a 1 year program that will be spent at the University Medical Center and provides a broad education on Colon & Rectal Surgery.  Candidates must have completed or be completing an ACGME accredited general surgery training program. We participate in the National Resident Matching Program (NRMP) and applications through ERAS will be accepted beginning in July with the match date in October.
Vanderbilt has a long tradition of commitment to education and we are excited to add Colon & Rectal Surgery training to this.  Our group includes 8 board certified/board eligible colon & rectal surgeons with diverse clinical, research, and quality improvement interests.  Trainees will work in coordination with general surgery residents, nurse practitioners, and medical students.  Salary commensurate with PGY level and medical benefits are provided.  A stipend for conference travel and textbooks will be provided.
Vanderbilt University Medical Center sits in the heart of Nashville, Tennessee.  Nashville is a rapidly growing city that continues to live up to its nickname of "Music City" as a global center of the entertainment industry.  With music, two major-league sports teams, an orchestra, numerous cultural festivals each year, and a burgeoning food scene, there is something here for everyone to enjoy! 
To learn more about the institution and department go to: https://www.vumc.org/about/vanderbilt-university-medical-center, https://www.vanderbilthealth.com/program/colon-and-rectal-surgery.
For questions, please contact Kate Kmiec, program manager, at kathryn.a.kmiec@vumc.org
Additional information for applicants:
Application deadline:  August 5, 2023
Interviews: September 2023
Participates in ERAS/NRMP
Positions: 1 clinical fellow/year
Start date Aug 1 of the following year
Application requirements:
3 LORs
Personal statement
CV
Absite scores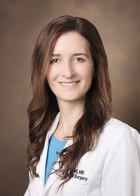 Molly M Ford
Program Director, Colon & Rectal Surgery Fellowship
Associate Professor of Surgery, Division of General Surgery, Colon and Rectal
Candice Wright
Sr. Program Manager
E-mail: candace.wright@vumc.org