Overall Education Goals
The Vanderbilt University (VU) Department of Surgery maintains a century-long dedication to teaching, research, and service to patients. We recruit and seek to stimulate individuals with the dedication and motivation to acquire the knowledge and skills which will enable them to achieve excellence in the care of surgical patients, and in addition, to make contributions of their own to surgery and to better surgical care.
We are dedicated to deliver the highest quality surgical care in a manner above reproach and to foster honesty, respect, and compassion in our interactions with patients, families, and colleagues; and to have a commitment to educational development.
The competency-based curriculum development and implementation for general surgery are joint endeavors of faculty, residents, and the surgery education office. Using the four pillars of resources, Vanderbilt Center for Experiential Leaning and Assessment (CELA), conferences, and clinical experience structured by the six-step approach developed by Kern (1998, 2009)*, our outline includes:
Problem Identification and General Needs Assessment
Needs Assessment of Targeted Learners
Competency-based Goals and Objectives
Educational Strategies
Implementation
Evaluation and Feedback
Problem Identification and General Needs Assessment
The general needs and requirements for graduate medical education are standardized in the United States. The Accreditation Council for Graduate Medical Education (ACGME) is charged with the responsibility of problem identification and general needs assessment for post-graduate medical training. ACGME has developed common requirements that are found on the ACGME Web site http://www.acgme.org/ and relate to all training programs in all specialties. Program-specific requirements are found at the same site and the general surgery requirements guide the VU program in tandem with the common requirements.
Needs Assessment of Targeted Learners
Medical school graduates choosing general surgery have their training guided by the standards in the general surgery program requirements from the ACGME and the Surgery Residency Review Committee (S-RRC)
(2008 revision). The American Board of Surgery is the certifying agency for general surgery with an expectation that those persons certified must demonstrate sufficient medical knowledge and a minimum level of operative experience to practice safe and effective general surgery. The Vanderbilt training program is committed to providing the opportunity to gain that knowledge and technical expertise. The Vanderbilt general surgery program incorporates the requirements of these agencies into its educational framework for the five years of training that are required for general surgery boards wherein a year equals a minimum of 48 weeks. As residents progress and are assessed on each rotation, individualized attention is offered when needed.
Our academic and clinical surgical curriculum is based on addressing the essential content areas of surgery and the basic science principles applied to clinical surgery with goals of covering each of the areas within a 2-year cycle. The essential content areas include: the abdomen and its contents; the alimentary tract; skin, soft tissues, and breast; endocrine surgery; head and neck surgery; pediatric surgery; surgical critical care; surgical oncology; trauma and non-operative trauma including burn; and the vascular system. Basic science principles applied to clinical surgery include: applied surgical anatomy and surgical pathology; the elements of wound healing; homeostasis, shock and circulatory physiology; hematologic disorders; immunobiology and transplantation; oncology; surgical endocrinology; surgical nutrition, fluid and electrolyte balance; and the metabolic response to injury, including burns.
In January of each year, the American Board of Surgery In-Training Examination (ABSITE) is administered to all general surgery residents. The results are communicated individually to each resident and the overall results are used to evaluate the surgical education program with particular attention paid to those areas where the achievement was lower than expected. This yearly exercise is not used as a promotions tool but is designed to keep residents aware of accomplishments and deficiencies as they move towards the American Board of Surgery (ABS) qualifying and certifying examinations administered after the training is complete and which must be passed for ABS certification and designation as a Fellow of the American College of Surgeons. Mock Oral examinations are given each year to 4th and 5th year residents as a practice for the American Board of Surgery (ABS) examination. These are not used for evaluation purposes, only to help residents get accustomed to the oral exam process and perhaps identify knowledge areas that need strengthening.
Competency-based Goals and Objectives
Surgical rotations are crafted for each year and residents are given graduated responsibilities with supervision as they progress. Goals and Objectives are competency-based and are developed by the responsible faculty for each rotation for all five years of training, These are found on the Vanderbilt General Surgery Education WebSite.
Educational Strategies
Educational strategies are designed to provide visual, oral, and hands-on learning opportunities based on principles of adult learning including didactic lectures, interactive Web-based materials, reading assignments, simulation training, skills labs, teaching rounds on the wards, and supervised practice in pre- and operative care as well as in the operating room. Dedicated time for educational activities is set aside each week on Wednesday and Friday mornings and residents are required to attend these sessions unless they are post-call (24 + 4 hour limit) or on vacation. Additional educational activities include specialty-specific conferences and journal club.
All categorical residents are encouraged to participate in a research fellowship during residency which is normally 2 years but can be 1 or 3 or even longer when a PhD and productive research are involved.
Implementation
Teaching and learning are team activities: the general surgery faculty all contribute to the educational mission; residents participate actively in teaching fellow residents and medical students. Ultimate responsibility for coordination and oversight of the educational mission resides with the Program Director and the Surgery Education Office.
The general surgery program employs: the knowledge base of experienced faculty and staff; basic texts and Web-based exercises; current peer-reviewed literature that assists with evidence-based practice; knowledge and skills acquisition through didactic lectures, simulation training, and conferences; supervised rotations involving educationally-sound clinical and cognitive experiences in the wards, clinics, and the operating rooms; and opportunity for basic, translational, clinical, educational, or other research.
Specific strategies include:
The ACS Fundamentals of Surgery Curriculum (FSC) Online Modules are offered to incoming interns for preparation before and after starting the surgery rotations 1 July. The FSC is accessed at https://www.facs.org/for-medical-professionals/education/programs/acs-fundamentals-of-surgery-curriculum/
The Surgical Council on Resident Education (SCORE) curriculum (http://surgicalcore.org/) is a foundational resource for the formal didactics. The ACS Fundamentals of Surgery Curriculum (FSC) is used with PGY 1s as preparation for clinical responsibilities.
The latest Sabiston Textbook of Surgery, 19th Ed. (Edited by Townsend, Beauchamp, Evers, Mattox. Philadelphia: Saunders, 2012) is available to all Vanderbilt General Surgery residents on the web as well as the textbook linked to the FSC. Dr. Dan Beauchamp, Chief of Surgical Sciences, is an editor. ACS Surgery: Principles and Practice is another Web-based as well as paper text that covers essentials of surgical practice and offers weekly reading suggestions.
Eskind Biomedical Library (EBL) offers 24/7 access to over 3800 full-text electronic journals, thousands of books, and all the major medical information databases. In the quest for evidence-based medical practice, journal articles are frequented circulated and discussed. EBL also has a Patient Informatics Consult Service (PICS) program to provide VUMC patients and their families with health information. Because the practice of evidenced-based medicine is of the highest priority, through synchronous services (Library Information Desk, SearchDoc, the Librarian On Call, and Learning Site), staff expertise is available electronically 24/7.
Skills acquisitions outside the operating room and the bedside are fundamental to the educational mission. The Vanderbilt Center for Experiential Leaning and Assessment (CELA) offers opportunities for skills acquisition using simulation with standardized patients and state-of-the-art facilities. A Hands-on skills sessions for suturing, knot-tying, and other skills are offered in laboratory and classroom settings. Learning activities in CELA are scheduled regularly and the residents also have 24/7 access for skills practice.
Evolving current information from the peer-reviewed surgical literature and information derived from presentations at national meetings are shared and discussed regularly at conferences. Articles are provided via electronic links to the Eskind Biomedical Library and as copies for journal club and other activities.
The basic and clinical sciences fundamental to surgery are addressed through the weekly Resident Teaching Conferences, grand rounds, clinical and education conferences, morbidity and mortality (M&M) conferences, and attending walk rounds, as well as skills labs, simulation center exercises, and the twice-monthly research conference.
An audience-response system has been purchased to use at the weekly teaching conferences because of research that suggests that interaction enhances learning.
The Vanderbilt Graduate Medical Education office provides additional educational online activities for residents and faculty concerning duty hours and fatigue (e.g., the module "VUMC Duty Hour Fatigue for Faculty", assigned through VandySafe.
Surgical rotations are crafted for each year and residents are given graduated responsibilities with supervision as they progress. Competence-based goals and expectations for every rotation for each of the 5 years of training are found on the Vanderbilt General Surgery Education Website.
An elective rotation is offered during the R4 year. The resident may chose a 4-week global surgery experience at the AIC Kijabe Hospital in Kenya or, with the guidance of the surgical education office, can work out a rotation in Nashville or elsewhere.
All residents are advised to create and maintain (i.e., keep current) a portfolio--electronic and/or paper--wherein they store their CV, evidence of teaching and research activities, certifications such as ALS, FLS, etc., and other documentation of professional and scholarly activities.
Reflection serves as a key to learning. Regular reflection on new knowledge and acquired skills is encouraged and expected.
Every 6 months each resident meets with a program director, associate program director, clerkship director, or a designated surgeon who is part of the surgery education office in order to participate in a self-assessment as well as receive feedback on the progress made in clinical skills, medical knowledge, and the other competencies that are measured against level-appropriate milestones.
Surgery Education Curricular Activities
Resident attendance at all educational activities is mandatory except when duty hour adherence is compromised or the resident is post call, on leave, or ill.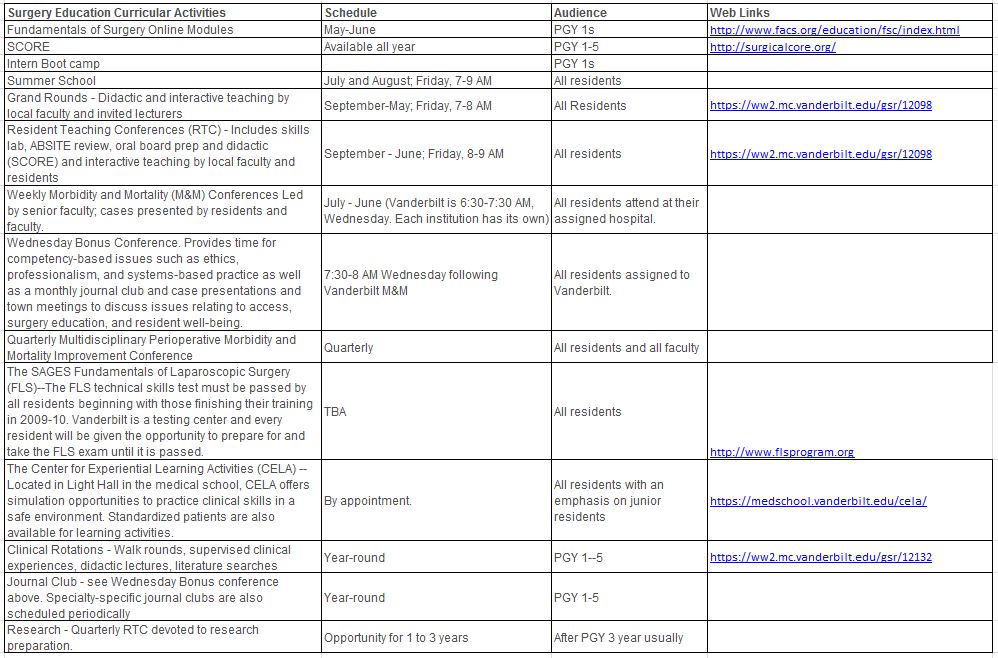 Skills Labs
Vascular Access/Assessment
Vent Workshop
Chest tubes
Knot-tying/Suturing
Mock Codes
Basic Laparoscopy
Endoscopy
Breaking Bad News
Trauma Sim/Orientation
Evaluation and Feedback
Faculty and senior residents are required to give written evaluations on each resident who rotates through the services through the New Innovations (NI) software system (https://www.new-innov.com/Login/Login.aspx) adopted by the VU Graduate Medical Education administration. Verbal feedback from the attending physicians and the senior residents is expected and encouraged throughout the rotation. The Program Director conducts regular reviews of residents at Promotions Committee meetings as well as departmental GME Committee meetings. Residents are required to provide written evaluation of faculty and each rotation through NI as well. Because all residents rotate through the VA Medical Center (VAMC), a 360 degree evaluation of residents is implemented at VAMC. Health professionals including nurses in the Vanderbilt Hospital are invited to fill out the 360 degree evaluations. The Program Director or the Associate Program Director provides twice-yearly in-depth feedback and evaluation to each general surgery resident, both categorical and non-designated. Whenever issues arise or concern is voiced about the progress or conduct of residents, the Program Director or the Associate Program Director takes immediate action to provide counseling and feedback.
The annual American Board of Surgery In-Training Examination (ABSITE) is required each January and provides an objective evaluation of fund of knowledge as well as test-taking ability. When the ABSITE scores arrive, the Program Director writes each resident and includes the results and offers suggestions and encouragement for those who need additional attention to certain areas as well as congratulations for those who have performed at or above expectations. The results along with the individualized feedback provide guidance in reading and study.The principle surgery faculty receive a yearly letter of evaluation from the Program Director with feedback from the residents concerning their participation in teaching and learning activities including patient care and operations. This letter also details scholarly activities such as publications, and attendance at grand rounds, M & M, and conferences.
The overall surgery education program itself is evaluated each year by residents and the faculty. The surgery education office uses the input received from residents and faculty through the evaluation process to adjust rotations, improve educational activities, and add services.
*Kern, D.E. et al. Curriculum Development for Medical Education: A Six-Step Approach. Baltimore: The Johns Hopkins University Press, 1998, 2nd ed. 2009.