VA Hospital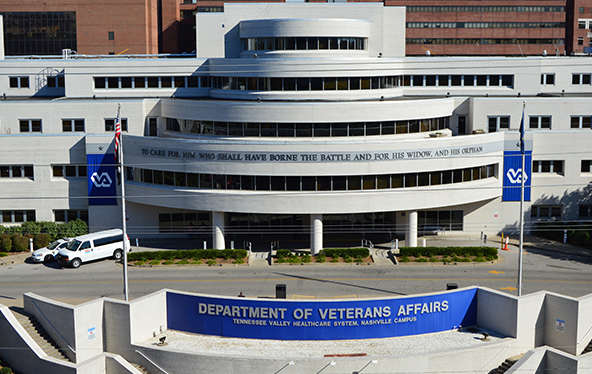 The VA Tennessee Valley Health Care System (VATVHS)
(http://www.tennesseevalley.va.gov/about/index.asp) affiliation includes both the Nashville campus, adjacent to Vanderbilt, and the Alvin C. York campus at Murfreesboro, 35 miles to the southeast. Each facility provides a full variety of services. Over 4,000 operations per year are performed at the two campuses, two-thirds of which are outpatient surgeries. These facilities are also the tertiary care centers for Division 9, which encompasses Kentucky, Tennessee, and parts of West Virginia.
The Department of Veterans Affairs Medical Center in Nashville is a 149-bed primary, secondary, and tertiary care medical facility immediately adjacent to the Vanderbilt University Medical Center. Professional services and medical training programs are developed in cooperation with the VA-Vice Chancellor's Committee of Vanderbilt University School of Medicine.
The VA Medical Center Nashville campus is a modem, fully equipped facility dedicated to providing care for the veteran patient. Although its primary referral area is Middle Tennessee, south-central Kentucky, and northern Alabama, the VA frequently admits patients from all sections of Tennessee, the surrounding states, and, for transplantation, from across the nation and Puerto Rico.
In addition to the clinical facilities, the VA has a major research and educational facility with extensive laboratory space, animal quarters and operating rooms, library, conference rooms and medical media/audiovisual resources, all of which are available to support research, teaching, and other scholarly activities of the VA personnel.
The Surgical Service has 45 beds, including an integrated state-of-the-art surgical intensive care/step-down area. Surgical procedures are performed in nine fully-equipped operating rooms which include an ambulatory surgery suite and an endoscopy suite. The recovery room is located near both the operating rooms and the surgical critical care units, and all areas utilize up-to-date integrated monitoring equipment. A bedside computerized flow sheet and data acquisition system are currently utilized in the intensive care area to facilitate care of critically ill patients. A surgical outpatient clinic facility meets an increasing demand for the delivery of outpatient surgical care.
A full range of surgical specialties exists, all fully integrated with the residency programs of the Vanderbilt Medical Center. The Cardiothoracic Service includes open heart and general thoracic surgery programs. The VA Transplant Service includes in-house kidney and bone marrow transplantation and is fully integrated with the Vanderbilt University Medical Center programs in heart, lung, pancreas, and liver transplantation. The General Surgical Service manages patients with gastrointestinal, oncologic, endocrinologic, and traumatic problems. There is an active Vascular Surgical Service as well. The endoscopic training program operates in cooperation with GI medicine colleagues. An experience in Head and Neck Oncology is afforded in collaboration with colleagues from Otolaryngology and Plastic and Reconstructive Surgery. T he Urology, Neurosurgery, Orthopaedic Surgery, Gynecology, and Ophthalmology Services offer valuable exposure to all aspects of care in these disciplines as well as a rich operative experience. The rotations at the Nashville Department of Veterans Affairs Medical Center represent a major component of the training experience of Vanderbilt residents.
All active surgical staff at the Nashville campus have full-time faculty appointments at the Vanderbilt University School of Medicine. Thus, they are involved in all aspects of the teaching programs for both residents and medical students. Students can choose both a clerkship and surgical elective experience at the VA.
In July of 2004 residents at the PGY I level inaugurated the VA-York rotation permitting an outpatient, day-case operative experience at the York Campus for herniorrhaphies, cystoscopy, orotracheal intubations and an anesthesia exposure, plus an introduction to upper and lower gastrointestinal endoscopy. This operative experience at York supplements the outpatient experience provided at the Nashville campus.
Williamson Medical Center
Williamson Medical Center is a regional medical center located in Franklin, Tennessee.  During the fourth year of residency, general surgery residents rotate through the Vascular Surgical Service with Vanderbilt faculty based at WMC. Patients come from a wide referral base well beyond the traditional geographic area for a community practice based hospital.The hospital encompasses state-of-the-art systems and equipment consistent with its dedication to excellence in care, teaching, and quality of service. 
Williamson Medical Center is located about 20 miles south of the Vanderbilt Medical Center campus and, therefore, integration of the educational activities is easily accomplished throughout the surgical programs. Thus, all faculty, residents, and medical students can be active participants in the academic, educational, and scholarly activities of the surgical departments at the integrated hospitals.