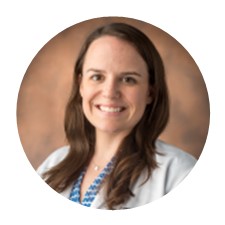 Tess Huggins, MSN, RN, AG-ACNP
Director, Surgical Critical Care Advanced Practice,
Surgery and Anesthesia Critical Care,
Vanderbilt University Adult Hospital

I started my nursing career at VUMC in 2010. The nurse residency program brought me to Nashville and it has had a tremendous impact on my career. I worked on my MSN degree while I was a charge nurse in the SICU and I have worked in critical care as an NP since then. Vanderbilt has a lot to offer nurses and I have taken advantage of mentor programs, research initiatives, and benefits such as tuition reimbursement. I am thankful to now be a nursing leader while also working clinically with my amazing colleagues. Vanderbilt takes nursing leadership seriously and provides leaders with opportunities for growth, continuing education, and team building. The leadership education track exposes us to leadership principles and theories and gives us access to resources that support us and our teams.