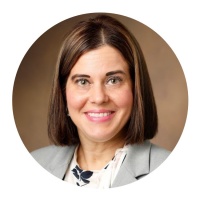 Jolene E. Ramirez, DNP, MS, RN, NE-BC
Associate Nursing Officer,
Medicine, ED, Oncology
Vanderbilt University Adult Hospital

I chose Vanderbilt after completing the DNP executive leadership program at Vanderbilt University and seeing the collegiality of an academic medical center and hospital partnered together. I love the academic rigor, evidence-based practice decision-making, and nursing philosophy of this great organization. With over 25 years in healthcare leadership experience, I am honored to work at a Magnet facility with top performers from all around the world. I particularly enjoy the climate of diversity that Nashville and VUMC have to offer. My last position was as a Chief Nursing Officer/VP of Nursing in Wisconsin. I worked for Advocate Aurora Health for over 20 years.
As a nurse leader, there are endless opportunities to learn something new every day with a very diverse, engaged group of people. No idea is left unconsidered and great technology exists to make patients better with support from many teams of people. At the end of each day, you are proud to be a member of such an engaged culture that truly makes a difference in delivering top quality healthcare to many patients and families with enthusiasm and dedication.