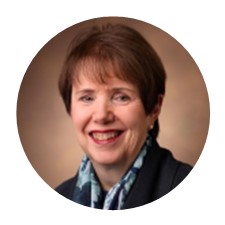 Marie Glaser, MSN, RN, NEA-BC
Associate Nursing Officer,
Vanderbilt University Adult Hospital
I chose Vanderbilt in 1988 for its reputation and so I could go to graduate school. I was a novice nursing manager (five years) when I arrived and required significant guidance and support to thrive in my role. The nursing infrastructure was immediately impactful with features like shared governance and strong nursing leadership, depth, and presence. My immediate nursing director provided me with feedback, encouragement, and a consistent message that an advanced degree was critically important to my ongoing success. I took advantage of the tuition reimbursement for an MSN in Nursing Administration at VUSN and graduated in 1995. 
The best part about being a nurse leader at VUMC is the unbelievable resources at my fingertips to solve almost any challenge is so incredibly advantageous. In addition, VUMC continues to pursue exceptional leaders who are positioned throughout the organization with a partnered focus on good clinical outcomes and service culture. The alignment of goals vertically within the organization challenges us as leaders with improved accountability and the ability to "connect the dots" for frontline staff on priorities.  This has much improved our collective wisdom and efforts in the pursuit of organizational performance.