Upcoming Events
---
Congratulations to our first medical student SCRIPS scholar "graduates"! 

Email amy.f.martinez@vumc.org to receive Zoom details.
---
Previous Events
---
We invite you to join the virtual Vanderbilt SCRIPS symposium on February 25, 2021!

 
2021 SCRIPS symposium agenda
Time

Speaker

1:30 PM

Symposium keynote presentation

"Mixed messages: rewiring the transcriptome of pancreatic cancer cells and surgeon-scientists"

Steven Leach, MD

Professor of Molecular and Systems Biology

Preston T. and Virginia R. Kelsey Distinguished Chair in Cancer

Director, Dartmouth Norris Cotton Cancer Center

Dartmouth Geisel School of Medicine

Dartmouth-Hitchcock Health System

2:20 PM

SCRIPS Resident/Fellow Scholar presentation

"SMAD4 as a modulator of epithelial inflammation and barrier function in the mouse colon"

Paula Marincola Smith, MD

2:40 PM

SCRIPS Resident/Fellow Scholar presentation

"Regulation of Pro-fibriotic Macrophages in Laryngotracheal Stenosis"

Kevin Motz, MD

3:00 PM

SCRIPS Faculty Scholar presentation

"The Role of Oxidant Tumor Immunometabolic Plasticity in Advanced Thyroid Cancer"

Naira Baregamian, MD

3:20 PM

SCRIPS Student Scholar presentation

"Social stress and the ovarian cancer tumor microenvironment"

Demetra Hufnagel

3:30 PM

SCRIPS Student Scholar presentation

 

"Exploring Genetic Risk Factors in Sudden Unexpected Infant Death"

Alexandra Williams

3:45 PM

Break & transition to Discovery Lecture

4:00 PM

Discovery Lecture keynote presentation

"Helicobacter, Hedgehog and Gastric Cancer"

Juanita Merchant, MD, PhD

Professor of Medicine

Chief, Division of Gastroenterology

Research Member, Cancer Biology Program

University of Arizona College of Medicine

Learn more: https://www.vumc.org/dls/
---
Congratulations to graduates of our sister program, Vanderbilt Medical Scholars!
Vanderbilt Medical Scholars provides a one year in-depth research experience for medical students. At the Symposium, the Medical Scholars presented a summary of the work they completed over their year-long research experience. Congratulations to the Scholars as they move on to pursue further excellence in their medical and research training!

---
2019 SCRIPS SYMPOSIUM
Anil Rustgi, MD, T. Grier Miller Professor, University of Pennsylvania: "Different roadmaps in academic science and medicine: Principals and practicalities"
Akshitkumar Mistry, MD, PGY6 in the Department of Neurological Surgery; 2018 SCRIPS Scholar: "Invasion of stem cell niche by glioma cell decreases survival in glioblastoma patients"
Yash Choksi, MD, Instructor of Medicine, Division of Gastroenterology; 2018 SCRIPS Scholar: "Glutathione Peroxidase 3 is reduced in Eosinophilic Esophagitis patients and regulates esophageal epithelial homeostasis"
Kelle Moley, MD, Chief Scientific Officer, March of Dimes: "The Physician Scientist Journey: 'The one less traveled by, and that has made all the difference'"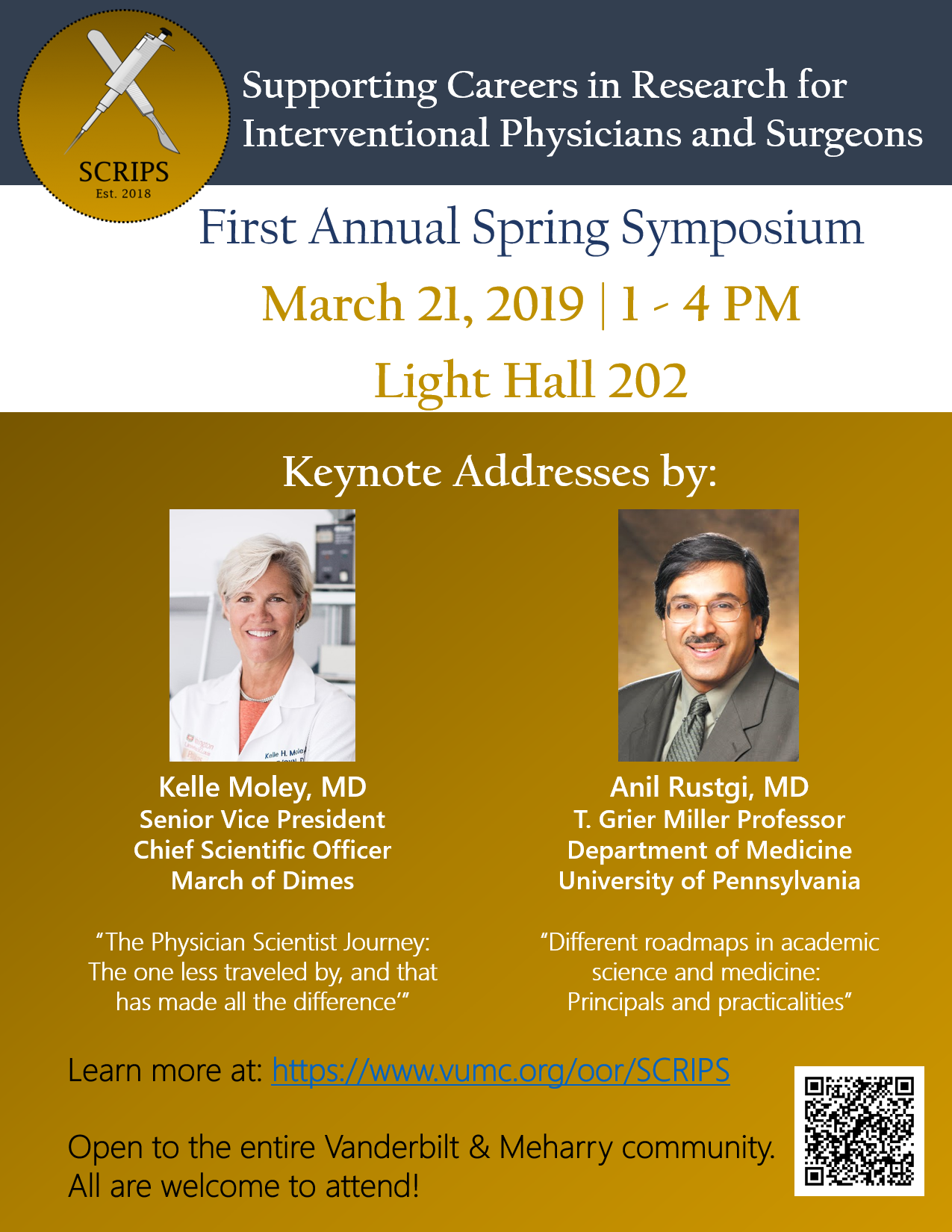 ---
---