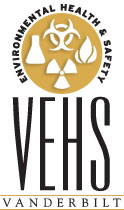 Vanderbilt Environmental Health & Safety (VEHS) provides a full range of safety, environmental and sustainability services to support the teaching, research, service and patient care missions for Vanderbilt University Medical Center and Vanderbilt University.
For information about Vanderbilt's commitment to Environmental Health & Safety, please refer to the official VU and VUMC policies.
NOTICE: The VEHS after-hours emergency number has changed. The pager has been replaced with a new number that is answered by a live operator.  During regular business hours, please call the VEHS department number at 615-322-2057.
After hours emergency number:
615-875-3779