With great excitement we announce the current pediatric neurosurgery fellow at Vanderbilt Children's Hospital, Dr. Nicholas Szuflita.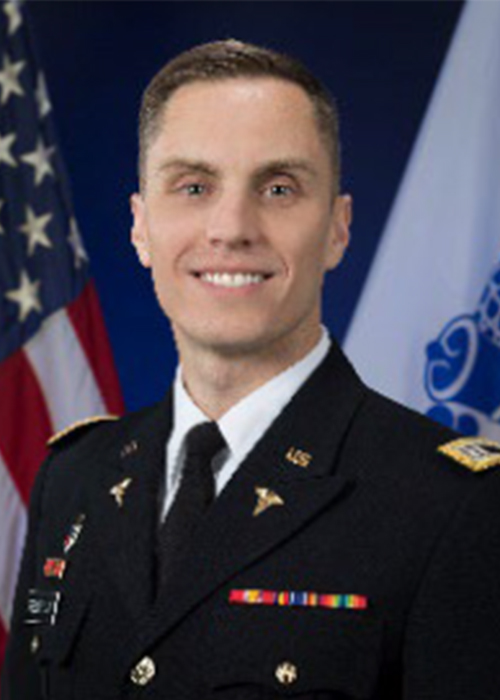 Dr. Nick Szuflita was born and raised near Buffalo, NY.  He attended The Johns Hopkins University, where he earned a bachelor's degree in Neuroscience.  He then worked in basic science, doing research on Epstein Barr virus DNA replication before obtaining a Masters in Public Health in Epidemiology and Biostatistics from The George Washington University in Washington, DC.  While working on his master's degree, he worked for the Defense Department, helping manage the Neurotrauma research portfolio, and it is in this role that he developed an interest in Military Medicine.  He attended medical school at The Uniformed Services University of the Health Sciences where he was a member of the Alpha Omega Alpha Medical Honor Society and Gold Humanism Society, and then proceeded to Walter Reed National Military Medical Center where he completed his residency training in Neurosurgery in 2023.  Following graduation from residency, Nick will begin his fellowship training in pediatric neurosurgery at Vanderbilt University in Nashville, TN.
Nick currently lives with his talented wife Ammara, and two sons, Liam (almost 7) and Aiden (5).  In his spare time, Nick enjoys wine tasting with his wife, and watching Liam and Aiden play lacrosse (or do just about anything really).
Our faculty, Dr. Jay Wellons, Dr. Rob Naftel, Dr. Chris Bonfield and Dr. Michael Dewan are fellowship-trained and board-certified by both the American Board of Neurological Surgery and the American Board of Pediatric Neurological Surgery. 
At Vanderbilt the fellow will manage the entire Vanderbilt Pediatric Neurosurgery Service with oversight by the pediatric neurosurgical attending surgeons. This includes inpatient, operative, outpatient, clinic, educational, and research responsibilities. The fellow will have the opportunity to master the fundamentals of pediatric neurosurgery including management of brain tumors, vascular malformation, trauma, hydrocephalus, epilepsy, craniofacial, spasticity, spine disorders, congenital malformations, and peripheral nerve disorders. Unique to Vanderbilt, the fellow will have the opportunity to learn fetal myelomeningocele closure, as well as specialized endoscopic treatments of infant hydrocephalus, minimally invasive treatments using laser interstitial thermal therapy, stereo EEG, pediatric scoliosis treatment, brachial plexus surgery, and pediatric endonasal surgery. Training will not be limited to medical knowledge and operative technique; there will be an emphasis on professionalism, practice-based learning, communication skills, and systems based practice. Additionally, the fellow will be engaged with the Surgical Outcomes for Kids (SOCKs) research team to investigate important pediatric neurosurgical research questions.
This fellowship was approved by the Accreditation Council for Pediatric Neurosurgery Fellowship and our Vanderbilt Graduate Medical Education Council.
The fellowship is outlined in detail below. It is open for application from graduates of North American Neurosurgical training programs and be a US citizen. All applicants must be in their last year of neurosurgery training.
For additional information about the fellowship, including application forms and instructions, please contact:
Rob Naftel, MD
Fellowship Program Director
2200 Children's Way
9226 Doctors' Office Tower
Nashville, TN 37232-9557
Office: (615) 936-6104
robert.p.naftel@vumc.org
Structure of the Pediatric Neurosurgery Division and Fellowship Experience:
Pediatric Neurosurgery Service- there will be a single PGY3 resident (3 residents per year who rotate based on a trimester schedule), inpatient nurse practitioner, and outpatient physician assistant on the pediatric neurosurgery service with the fellow. Junior and senior resident coverage for additional operative or emergent patient management is available at all times. Throughout the year, the fellow will administrate the clinical service, determining clinical assignments based on clinical and education needs of both the resident and fellow.
Operating Room- the hierarchy will be attending, fellow, and resident. The fellow will be expected to teach the resident techniques appropriate to their level of training under the supervision of the attending surgeon. In the operating room, the dedicated time noted above will not be restrictive in particular to index cases. The fellow will be able to operate with any attending at any time to ensure exposure to appropriate operative cases.
Inpatient Management and Consultations- The fellow will manage the entire neurosurgical service with the assistance of the PGY3 resident and inpatient nurse practitioner. The fellow is expected to round with the resident and nurse practitioner on all patients each work morning (excluding time off and weekends off). Consultations and patient management will be first evaluated by the resident or nurse practitioner with appropriate review with and oversight by the fellow (when not otherwise occupied in the operating room) prior to discussion with faculty in order to facilitate independent critical thinking around patient care decision making. The fellow in conjunction with the resident/nurse practitioner will then execute a plan in line with the attending on-call. The fellow will not have independent admitting privileges.
Clinic- the fellow is expected to attend clinic a minimum of one day per week particular to the assigned attending. In clinic, the fellow will evaluate patients initially then report back an overall assessment to the attending and create a plan. Rationale for plan modification by the attending will be discussed with the fellow. Of note, it is critically important that the fellow develop a physician-patient relationship with the patient and parent in particular to those undergoing neurosurgical procedures in order to recognize the deeply important role and significant responsibility that pediatric neurosurgeons have in patients' and family's lives. Not meeting the patient/parent prior to surgical intervention will be consciously minimized when possible. In the clinic (and inpatient and operative settings as well), the role of coding and appropriate and ethical billing will also be emphasized.
Call- the fellow will not cover first call. Neurosurgery resident first call for the Children's Hospital is covered by a pool of PGY 3 and 4 level residents. The fellow will not cover attending call. The fellow will be on Second Call every other week and weekend. This means that there will be dedicated time off at night and on the weekends to spend on education, research, wellness (as emphasized in the most recent ACGME's Common Program Requirements), and/or with family. When covering second call, specific to nights and weekends, the fellow will be contacted initially by the junior resident covering first call, make an assessment and plan as needed, communicate this in a situation-appropriate time frame to the on-call attending, and be intimately involved with operative or non-operative management. Feedback on decision making will be prioritized and freely given, with an emphasis on strengthening confidence and competence equally.
Conferences
Fellow's Chief Conference- meets monthly with all neurosurgery residents and pediatric neurosurgery faculty. Throughout each month the fellow collects interesting educational cases and presents these to the residents in a structured educational format promoting discussion among all attendees.
Multidisciplinary Pediatric Epilepsy Surgery Conference- meets weekly with epilepsy-focused neurosurgeons, epileptologists and neuroradiologists. Multiple trainees across specialties are present. As above, the fellow is expected to present cases, actively facilitate discussion, and participate in formulation of the treatment plan. Relevant surgical review topics will be assigned to the fellow for presentation on an as needed basis. This conference occurs at 12pm which can conflict with the OR and clinics, but with its weekly frequency, currently residents attend at least half of the conferences and the fellow would also be expected to have the ability to attend at least that often.
Multidisciplinary Pediatric Neurovascular Conference- meets twice per month with a pediatric neurovascular-focused neurosurgeon, a neurology vascular specialist and the endovascular team. Multiple trainees across specialties are present. As above, the fellow is expected to present cases, actively facilitate discussion, and participate in formulation of the treatment plan. Relevant surgical review topics will be assigned to the fellow for presentation on an as needed basis. This conference occurs at 4pm which has typically allowed the residents and attendings on service to attend without conflicts in the OR, clinic, or on the wards.
Vanderbilt Department of Neurosurgery Grand Rounds- meets weekly and features formal presentations from residents, fellows, faculty, and visiting faculty to comprehensively cover the neurosurgical curriculum and relevant research topics of interest. The fellow would participate in oral board simulations that occur twice a month at Grand Rounds. The fellow is expected to give at least one faculty level lecture at Grand Rounds per year. This conference meets at 6:30am and there is a late start in the OR so as not to interfere with fellow/resident attendance.
Morning Report- every weekday at 0715 in the Pediatric Neurosurgery conference room. It is a meeting of pediatric neurosurgery attendings, residents, students, the nurse practitioner, the physician assistant, the assigned covering clinical research liaison for the day, and mentees of various levels to discuss patients on services, cases for the day, and topic presentations by students. This occurs prior to the OR start and is required for all members of the team to attend.
Vanderbilt Department of Neurosurgery Mortality and Morbidity- a monthly formal discussion of patient outcomes presented in a safe environment conducive to thoughtful re-evaluation of patient management and discussion of complication avoidance and management. Although the junior resident will be responsible for presenting the pediatric cases at the conference, the fellow will be responsible for overseeing the production of the cases and involved in the critical discussion of the outcomes. This conference is for the entire Department of Neurosurgery, including adult and pediatric subspecialties. This conference meets at 6:30am and there is a late start in the OR so as not to interfere with fellow/resident attendance.
Research expectations of the fellow
The fellow will be expected to participate in research during the fellowship year. The fellow will be expected to participate with the Surgical Outcomes Center for Kids (SOCKS) https://www.vumc.org/socks/, the research team that originated from pediatric neurosurgery with a mission to develop, enable, and enhance the clinical outcomes research agenda. The fellow is expected to actively participate in the twice monthly SOCKs research meetings. Expectations for academic production will be tailored to each fellow but will include publication in peer reviewed journals and writing book chapters. The fellow will be expected to submit at least one abstract to the AANS/CNS Pediatric Neurosurgery Section meeting held during the year of the fellowship.
Fellow evaluation
Formal fellow evaluation will occur on both a formative and summative basis, and based on a series of clinical and core competencies consistent with the rules and curriculum guiding the Vanderbilt Residency Training Program, but at a fellow-appropriate level.
Expectations will be discussed and made clear at the outset of the fellowship.
Formative evaluations will occur during attending-based rotations at the mid-way point in order to establish areas of strength and of weakness for future focus. These will occur at a frequency no less than quarterly. In addition, informal feedback regarding (including but not limited to) operative skill, patient management, educational ability, and research methodology is expected to be a daily part of the fellow experience.
A summative evaluation will be provided at the end of the fellowship year.