The neurosurgery department offers many didactic and hands-on lab opportunities for faculty, residents, and staff. Topics include basic sciences, neuropathology, radiation oncology and basic physics as it relates to tumors of the central nervous system and the late effects of radiation on the central nervous system, and neuroradiology, as well as topics related to all required patient care and medical knowledge outcomes.                                  
Didactic Conferences
Grand Rounds- Faculty, residents, and invited guest speaker presentations

Oral Board Review-Faculty member presents a case to one resident in oral board format
Anatomy/Pearls- Resident presents a 10-minute talk from a rotation list of topics
Big Ideas- Resident presents a 10-minute talk about innovative ideas recently published in Science, Nature, JAMA or NEJM  

MM&I- presented monthly by the senior resident on each service
Journal Club- PGY 4 residents manage this weekly conference and invite residents, fellows, and faculty to present scientific articles and to facilitate primary board exam topics
Friday Case Conference-A deeper dive into specific topics and/or cases presented by faculty or senior residents
Specialty Conferences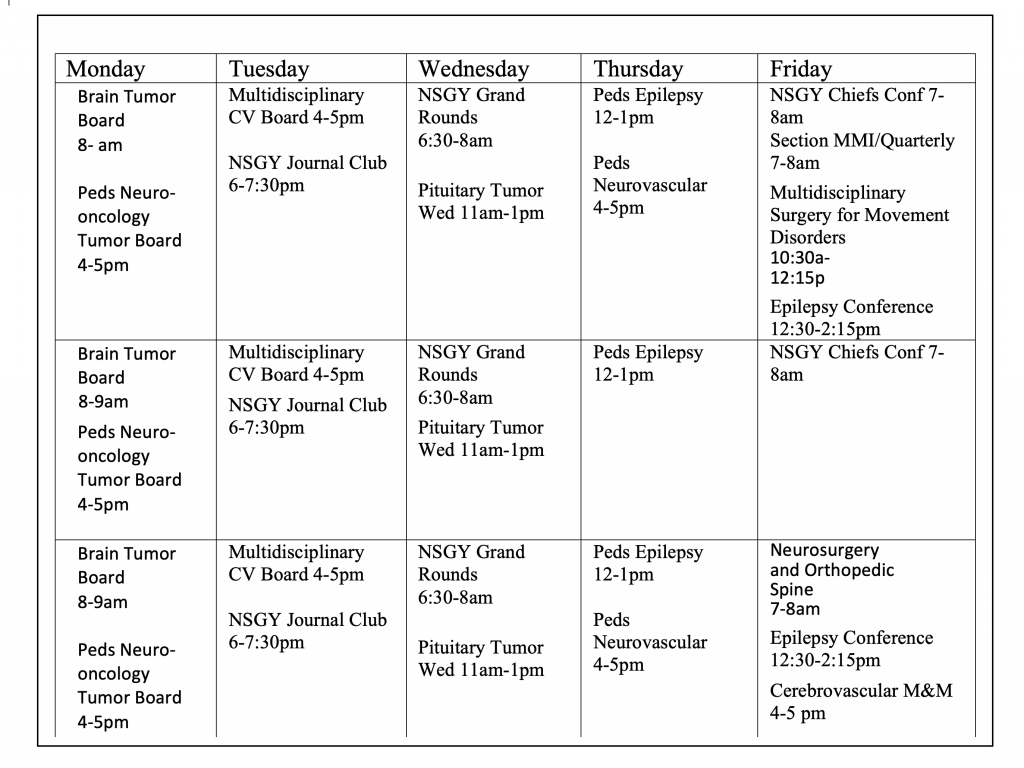 Anatomy Labs
Simulation and cadaver-based dissections and skills acquisition is an integral part of neurosurgery residency training. Currently we have a neuroanatomy lab space shared with the Section of Surgical Sciences that allows our neurosurgery residents and medical students to practice basic surgical techniques and deepen their knowledge of anatomy. The program also collaborates with others to bring mobile labs on-site for specialty specific skills-based training each academic year.
The department is in the beginning stages of building a state-of-the-art neuroanatomy lab where neurosurgery faculty, residents and medical students have open access to 8-10 dissection stations where either cranial or spinal dissections are possible.