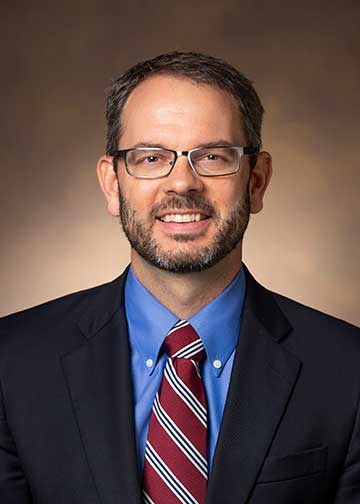 John 'Jay' Wellons, III, MD, MSPH
Cal Turner Chair in Pediatric Neurosurgery
Professor of Neurosurgery, Pediatrics, Plastic Surgery, and Radiology
Academics and Faculty Affairs
Section of Surgical Sciences Vice Chair, Clinical Research
Surgical Outcomes Center for Kids (SOCKs)
Doctors' Office Tower
2220 Children's Way
Nashville
Tennessee
37232
Doctors' Office Tower
2220 Children's Way
Nashville
Tennessee
37232
Clinic Phone
Clinical/Appointment: (615) 322-6875
Dr. Wellons is Professor of Neurological Surgery, Pediatrics, and Radiology. He serves as the Chief of the Division of Pediatric Neurosurgery, the Vice Chair of Academics and Faculty Affairs for the Department of Neurosurgery, and the Vice Chair of Clinical Research for the Section of Surgical Sciences. He is the medical director of the Surgical Outcomes Center for Kids and serves as the senior site investigator for the Hydrocephalus Clinical Research Network. He is also involved in research in Chiari and Chiari-related disorders as well as pediatric neurovascular disorders. His areas of clinic interests include these areas of clinical research noted, as well as fetal surgery for spina bifida and pediatric brachial plexus disorders.
Education:
Dr. Wellons received his medical degree from the University of Mississippi Medical School in Jackson, Miss. He completed his Master of Science in Public Health in Clinical Research (Epidemiology) from the University of Alabama at Birmingham.
Postgraduate Training:
Dr. Wellons completed his residency in Neurosurgery at Duke University Medical Center, as well as a fellowship in stroke research there. He then completed a fellowship in pediatric neurosurgery at Children's Hospital of Alabama.
Current Research Interests:
Hydrocephalus Clinical Research Network (HCRN)
Endoscopic minimally invasive procedures
Brachial plexus and peripheral nerve treatment