SICK VISITS
Examples include cold symptoms, new cough, vomiting/diarrhea, fever, or skin lesions concerning for monkeypox.
Sick patients are seen by providers in our walk-in clinic.  Same-day or next-day appointments are always available.  You may save your place in line for our walk-in clinic by clicking below or by calling 615-322-2427.  You should come to Student Health 10 min before your assigned time in line.  There may be a wait during high volume times, but you will keep your place in line by signing up ahead of time.
Please also review our Self Care Guidance: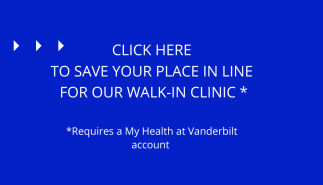 Please click here if Student Health is closed and you need assistance after-hours.
 
ROUTINE AND NON-SICK URGENT VISITS
The Student Health Center offers on-line scheduling for many types of appointments including:
Acute visits-- examples include new injuries, new abdominal pain and symptomatic STIs
 
Routine medical appointments
 
Physicals
 
STI testing in asymptomatic patients can be scheduled in two ways:

Routine provider appointment-- Please make a routine appointment with one of our health care providers to discuss your STI screening needs if you also have other needs/questions such as birth control or PreEP.  Click the green button below.
Express STI (lab only) appointment-- This option is for STI lab work only. You will not see a provider during this visit and is intended only for those who have no symptoms and do not have other needs related to sexual health.  Click the green button below.
 

Birth Control consultations
 
Well woman exams/Pap smears- please click "Physical" so the system gives you enough time for the visit
Please click below or call 615-322-2427 to schedule an appointment.  If you do not see an appointment slot on-line, and have an urgent concern, please call to speak to our Patient Service Specialist (PSS) so that we can assist you-- some of our appointment slots are not visible to patients on-line.  If your concern is urgent and you cannot find a same-day or next day appointment, then our office does have the ability to work patients in-- our PSS team will work with you to help meet your needs.  

                                                                                        

Please click here if Student Health is closed and you need assistance after-hours.
OTHER VISITS- CANNOT BE SCHEDULED ON-LINE
Appointments listed below can only be scheduled by calling Student Health at 615-322-2427:
Colposcopy procedures
 
Dietitian appointments
 
Immunization appointments (ex. HPV vaccine or allergy shots)
(Note the exception is for flu shots and Covid boosters-- no appointment needed)
IUD & Nexplanon placements
 
Sexual Assault Exams
 
Sports Medicine Appointments (Drs. Karpinos and Sin)
 
TB screening (often needed for shadowing forms)
 
Travel Consultations, including those for Study Abroad (refer to our Travel Medicine page)