---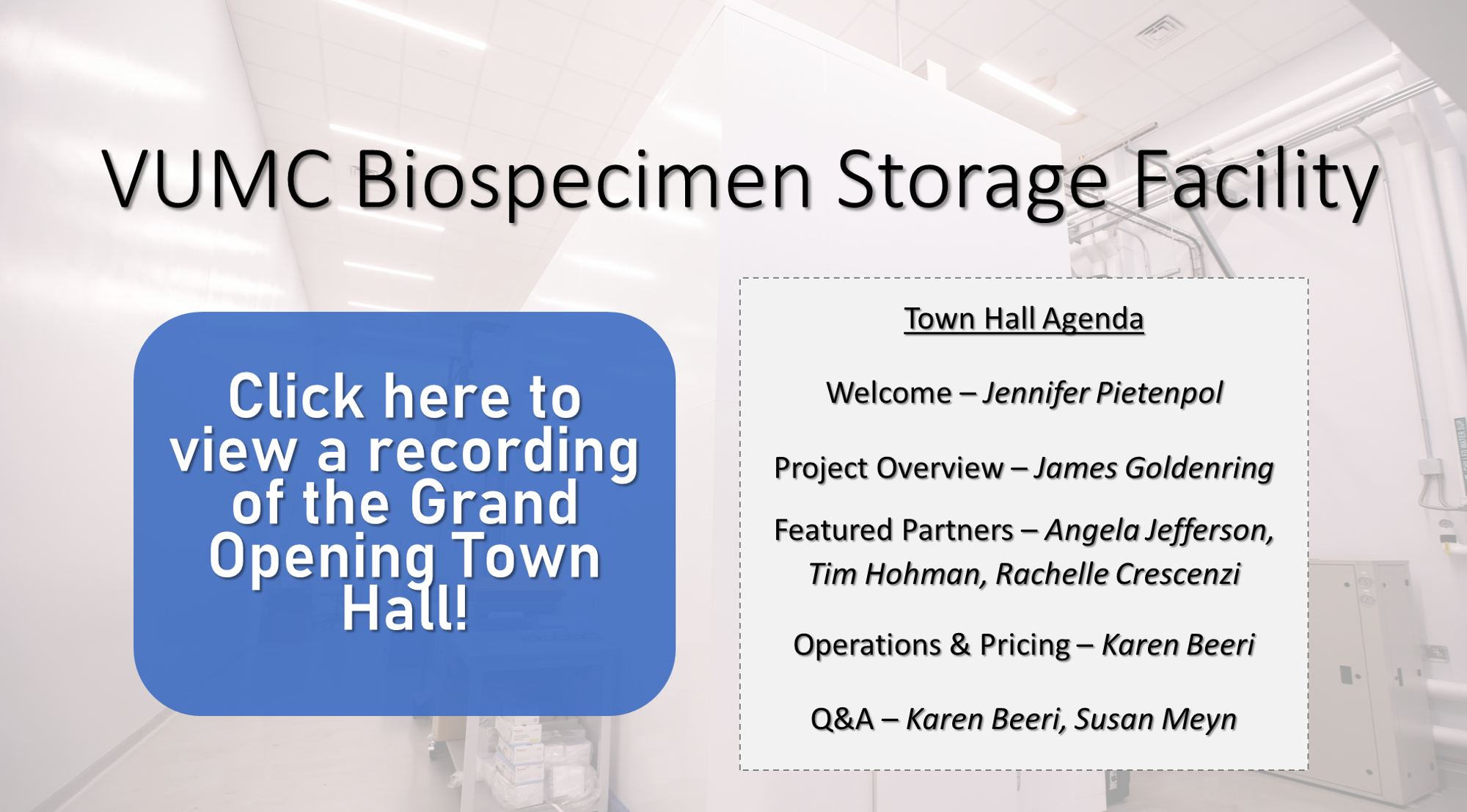 ---
Interested in storing your collection in the Biostore system?
Please fill out this brief REDCap survey. VANTAGE staff will follow up to learn more about your samples and provide recommendations on storage format. Estimated pricing is also available upon request.
---
 Project Overview 
VUMC received an NIH S10 High-End Instrumentation Award (PI: Dr. James Goldenring, Surgical Sciences) to purchase an Azenta Life Sciences Biostore II automated freezer system for large-scale biobanking. The first build of its kind, VUMC's Biostore II has capacity for up to 10 million samples and features both -20C and -80C banks for optimal preservation of multiple biospecimen types. VUMC has committed more than $5.1M over five years to supplement the Biostore II purchase and develop a comprehensive automated freezer shared resource that offers biospecimen collection management and associated services. Some of these funds will subsidize user fees so that Vanderbilt investigators are able to utilize the resource at low cost. The ~300,000 sample Vanderbilt BioVU collection was migrated to the automated storage facility in June 2021 and is now operating from there full-time (see photos at right.) The -80C freezer banks were commissioned in 2022 and are now fully operational.
The facility is now accepting user-submitted sample requests, providing the ideal solution for managing Vanderbilt researchers' new and existing biospecimen collections. Samples are dropped off and picked up via a convenient sample transfer point in the VANTAGE laboratory (Medical Center North), and transported at-temperature via courier to the automated storage facility. After submitting a sample pull request, samples can picked up in the VANTAGE laboratory. 
---
Why use the automated biospecimen storage facility?
Multiple layers of power and cooling redundancy for superior sample integrity
Institutionally-subsidized pricing for Vanderbilt investigators makes storage cost-effective
User-facing LIMS software aids investigators with sample annotation and tracking
Depth of expertise from staff with years of biobanking experience (e.g. BioVU collection)
Enhanced sample security via controlled access and 24/7 monitoring
Separate zones for -20C and -80C sample storage
Flexibility in container types to accommodate a broad range of collections
Rapid sample loading and picking minimizes temperature fluctuations
Improved space, energy and labor efficiency vs. non-automated in-lab freezers
Expanded capacity for large and growing biospecimen collections, e.g. multiyear studies
---
Operations Advisory Committee
An Operations Advisory Committee for the new automated freezer shared resource is comprised of VUMC faculty and staff experienced in biobanking and shared resource management. The committee provides development support and strategic oversight for the shared resource's biospecimen management plan.