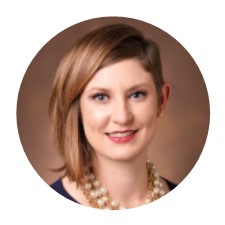 Lindsay Miller, MSN, RN, NE-BC
Associate Nursing Officer,
Surgery, Dermatology, and Orthopaedics Patient Care Centers
After spending eight years at the University of Iowa Hospitals and Clinics, my family decided to relocate back "home" to Tennessee. As an experienced nurse leader from a Magnet-recognized academic medical center, Vanderbilt was an easy choice. I recognized and fully understood the importance Magnet has on nursing practice, quality, and culture. I brought with me eight years of nursing leadership experience and the confidence of knowing Vanderbilt was absolutely the right choice. The best part of being a nurse leader at Vanderbilt is the always-present opportunity to learn and grow. In my time here at Vanderbilt, I have had the opportunity to plug-in to so many different places. From co-chairing organizational committees to shadowing frontline staff, I am able to learn, stretch my abilities, and take new knowledge and apply it to daily work.