Welcome! This page highlights and celebrates activities of VCLIC members and their teams, across VUMC and beyond! 
Please reach out to Elise Russo with updates and additions to this page.
Read about VCLIC in the VUMC Reporter. 
Read about our Center Director, Dr. Adam Wright, at HIStalk.
---
Celebrating the Achievements of our Clickbusters Program Participants
Thank you to all our participants from Rounds I and II of Clickbusters. We had such a great time working with you, and your work has undoubtedly supported improved provider workflow and patient care throughout VUMC. Overall, we "busted" around 60,000 clicks per week!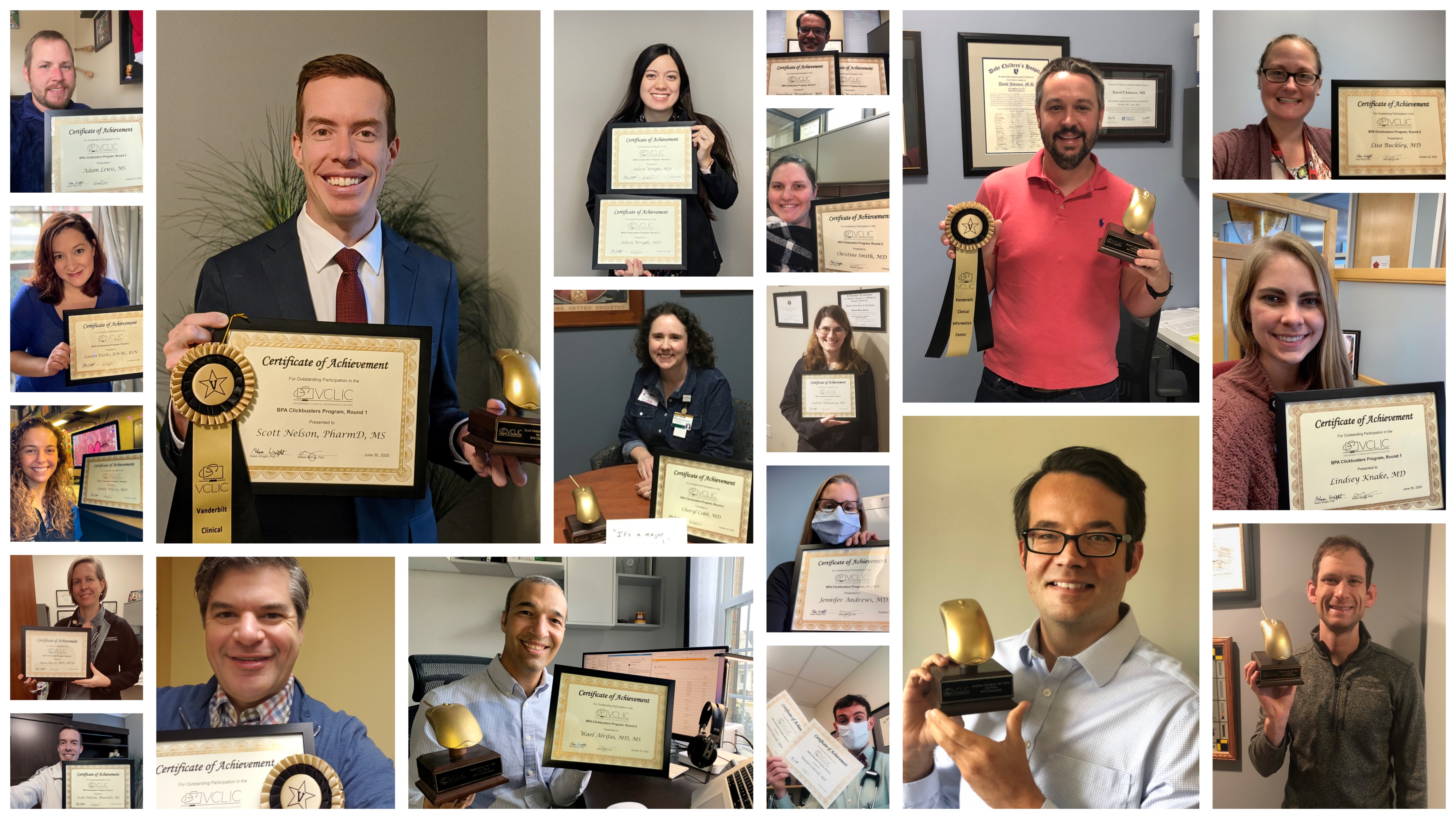 ---
VCLIC Members Present their Work Nationally and Internationally
Several VCLIC Members will be presenting at the 25 By 5: Symposium to Reduce Documentation Burden on U.S. Clinicians by 75% by 2025 , which began Friday, January 15th. The overall goal of the Symposium is to establish strategies and approaches to reduce clinician documentation burden on US clinicians to 25% by 2025. VUMC is one of the sponsors, along with Columbia University, AMIA, and the NLM, and has extensive representation! Trent Rosenbloom, MD, MPH is Co-Chair of the event, and Kevin Johnson, MD, MS is part of the Steering Committee.
Session One (already took place) "Introduction and Current Challenges Related to What We Document": Friday, Jan 15th  
Kevin Johnson, MD, MS, is a Session Co-Leader  
Session Two "Current Challenges Related to How We Document": Friday, Jan 22nd  
Patty Sengstack, DNP, RN-BC is a Session Co-Leader  

Trent Rosenbloom, MD, MPH, will co-present the Symposium Re-Introduction and Overview 

Kim Unertl, PhD, is a Keynote Panelist for "Data Entry Challenges," and will be discussing workflow in her talk entitled "Oh the interruptions." 

Yaa Kumah-Crystal, MD, MPH, MS, is a Keynote Panelist for "Alternative Data Entry," and will be discussing Voice recognition in her talk entitled "Computer- are you there?" 
Session Three "Exemplars and Key Successes": Friday, Jan 29th  
Adam Wright, PhD, will be presenting on Clickbusters during the Exemplars panel  
Session Four "Emerging and Future Innovations as Solutions": Friday, February 5th  
Session Five "Reactor and Prioritization Session for Actions": Friday, Feb 12th  
Trent Rosenbloom, MD, MPH, is the Session Leader  
Session 6 "Plenary Panel on Insights for Action": Friday, February 19th  
Outside of the 25x5, Yaa Kumah-Crystal, MD, MS, MPH, will give a presentation on "The Explosion of Telehealth and Coming Innovations from Voice and Natural Language Processing" on Friday, Feb 19th. This presentation will be part of an 8-part series as part of The Disruption Lab's New "Healthcare's New Delivery Models Post COVID" Weekly Sessions, which begin Jan 22nd.  
---
Med Alerts Workgroup Wins DBMI Annual Team Award 
Congratulations to the Med Alerts Workgroup, who won the Department of Biomedical Informatics' First Annual Team Award! VCLIC Members include Scott Nelson, PharmD, MS (who, along with David Mulherin, PharmD, BCPS, led the team), Allison McCoy, PhD, MS, and Adam Wright, PhD. This group is an excellent example of a partnership across operations, research, and clinical practice, with some participants from DBMI, some from HealthIT, and others from clinical departments.  
The Med Alerts Workgroup seeks to provide accurate and meaningful medication alert clinical decision support at VUMC; reduce alert burden and fatigue for clinicians; monitor, report, and analyze medication alert rates; engage stakeholders and subject-matter experts for medication alert decision making and approval; and review, approve, and prioritize medication alert optimization in eStar. 
The team has made substantial improvements at VUMC. For example, they worked together to review alert data and make recommendations on medication alerts shown to users, thus reducing alert burden by: 
2,000 fewer Drug-Drug interaction alerts per week 

6,500 fewer Duplicate med alerts per week 

9,000 fewer Duplicate therapy alerts per week, and 

2,000 fewer Pregnancy alerts per week. 
As a result of their effort, VUMC is now in the top 20 Epic organizations with the fewest number of alerts and lowest override rate.