Welcome! This page highlights and celebrates activities of VCLIC members and their teams, across VUMC and beyond! 
Please reach out to Elise Russo with updates and additions to this page.
Read about VCLIC in the VUMC Reporter. 
Read about our Center Director, Dr. Adam Wright, at HIStalk.
---
Jonathan P. Wanderer Received DBMI TODE Award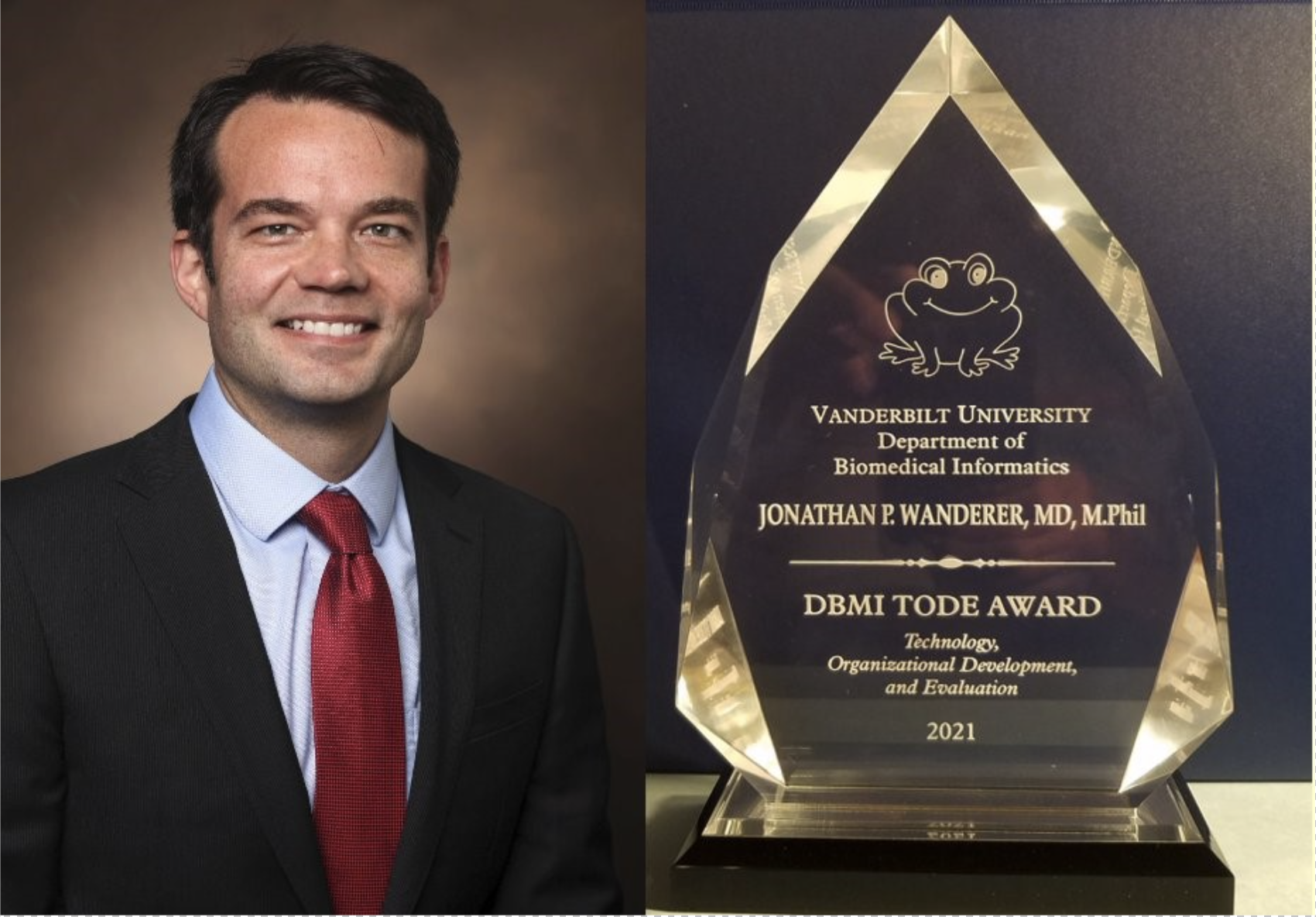 Jonathan P. Wanderer, MD, M.Phil, FASA, FAMIA was promoted to Professor, and received the DBMI Technology, Organizational Development, and Evaluation (TODE) Award for his work. The TODE Award is given to an individual who has contributed significant and impactful service through work that develops and/or supports operational systems of Vanderbilt University and VUMC.
---
Adam Wright Receives Donald A.B. Lindberg Award for Innovation in Informatics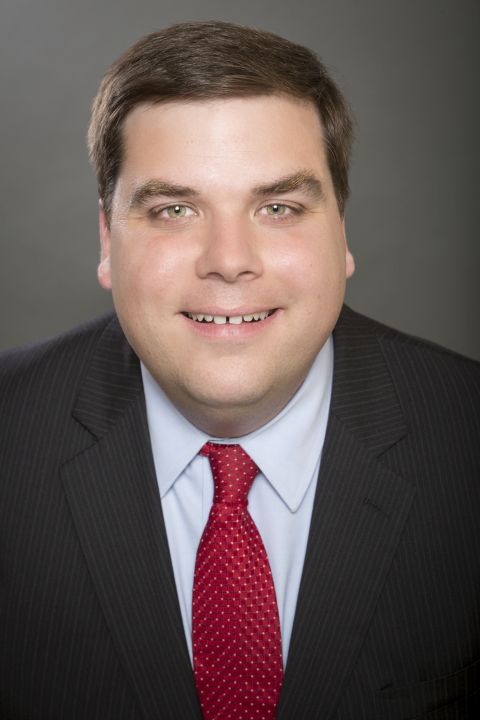 Adam Wright, PhD, FACMI, FAMIA, FIAHSI, will be presented the Donald A.B. Lindberg Award for Innovation in Informatics at the AMIA 2021 Annual Symposium in San Diego. The award is given annually to an individual for advancing biomedical informatics at the national or international level.  
---
Trent Rosenbloom, MD, MPH, to serve as DBMI Interim Chair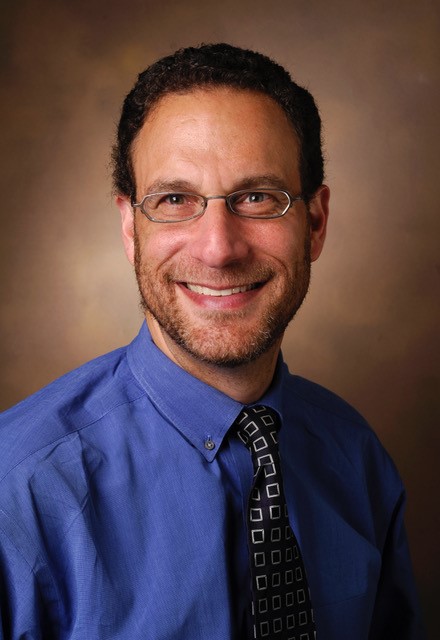 S. Trent Rosenbloom, MD, MPH, FACMI, FAMIA was chosen to serve as the Interim Chair of Biomedical Informatics beginning on November 1st, 2021. He is currently the Vice Chair for Faculty Affairs and a Professor of Biomedical Informatics with secondary appointments in Medicine, Pediatrics, and the School of Nursing at Vanderbilt University. He also directs the My Health at Vanderbilt patient portal, one of the oldest and best-used patient portals in the country. 
---
Fellows of AMIA Announced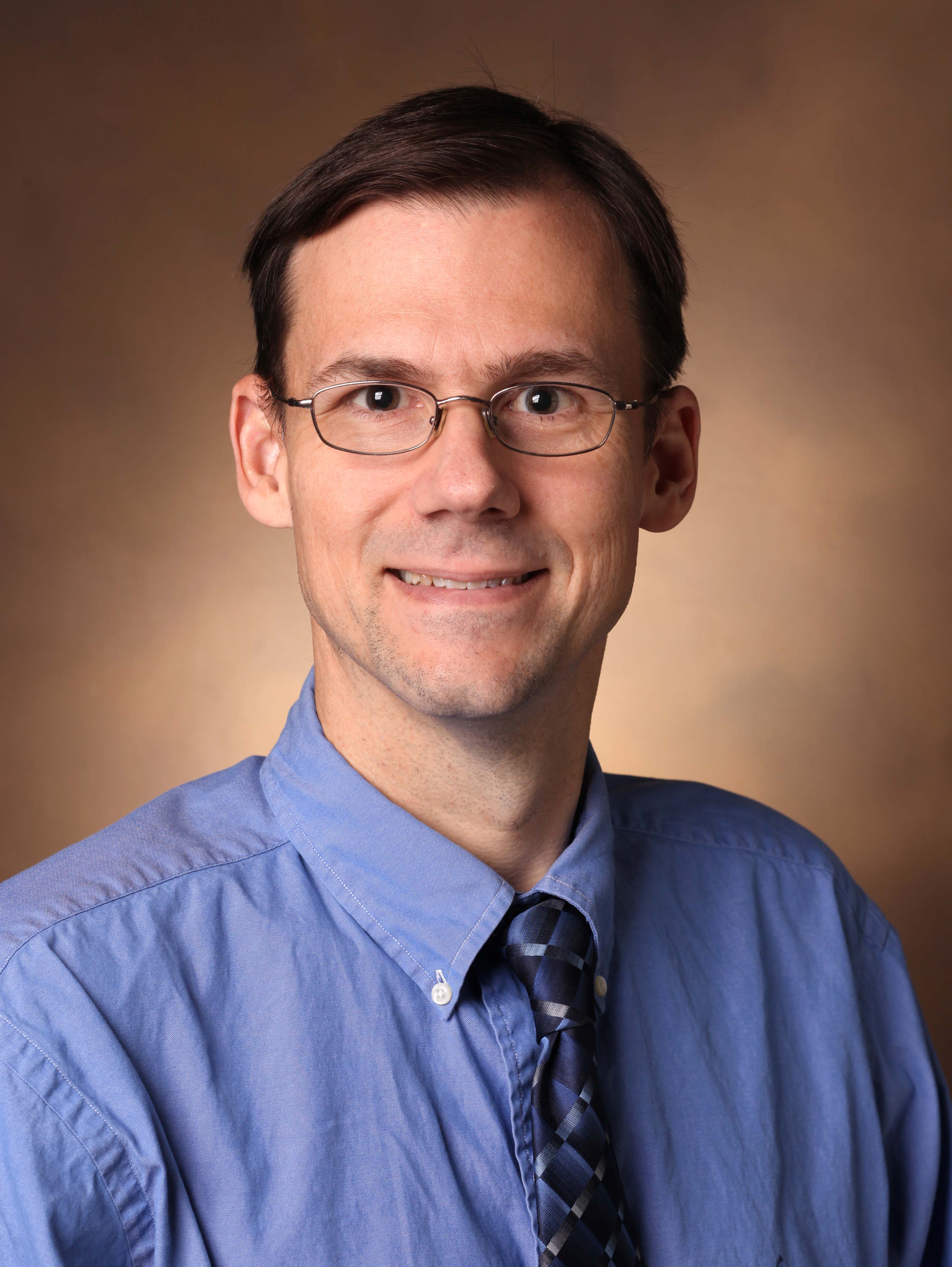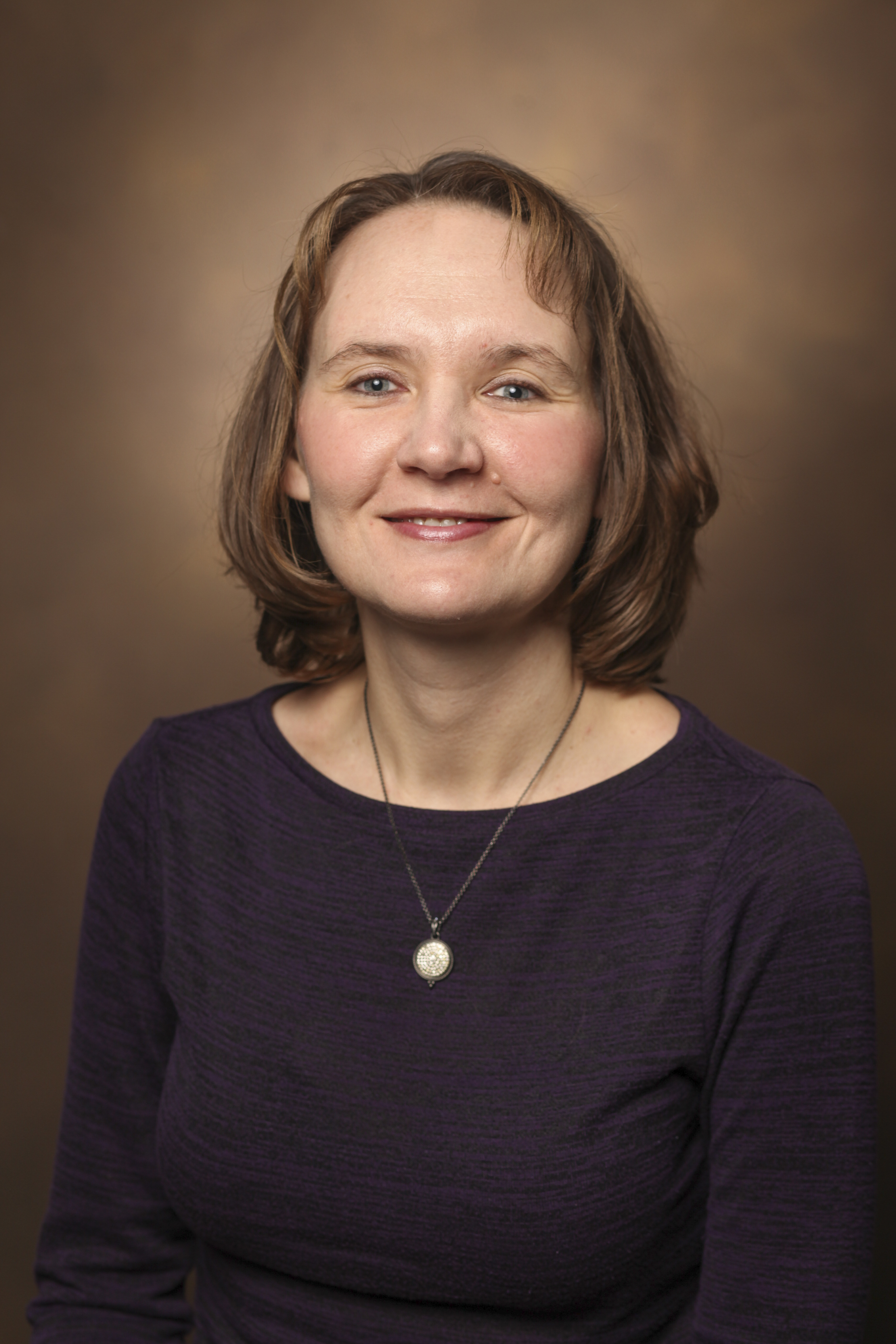 Michael Matheny, MD, MPH (left) and Sharidan Parr, MD, MSCI, MS (right) are part of the 2022 class of the Fellows of AMIA (FAMIA). A formal induction ceremony will be held at the 2022 Clinical Informatics Conference May 24-26th in Houston, TX. 
---
ACMI Fellows Announced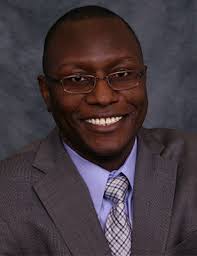 Patty Sengstack, DNP (left) and Martin Were, MD, MS (right) were elected as fellows in the American College of Medical Informatics (ACMI). The induction ceremony will take place on October 31st at the AMIA 2021 Annual Symposium in San Diego. 
---
Presentations, Awards, and Honors
Congratulations to Jonathan P. Wanderer, M.D., M.Phil, FASA, FAMIA for being voted President-Elect for the Society for Technology in Anesthesia! 
Congratulations to Alvin Jeffery, PhD, who finished his Master's thesis this semester! It will be awarded from the Graduate School as an MS in Biomedical Informatics.  
Ashley Spann, MD has taken on the role of the hepatology steering board chair for Epic, and was also selected to moderate a session on November 13th at the American Association for the Study of Liver Diseases (AASLD) Meeting: Meet the Expert: Applying Machine Learning to Liver Disease. 
Michael Ripperger and Colin Walsh, MD, MA were featured in an AI in Healthcare article, "Opioid overdoses more readily preventable with ensemble learning." 
Stuart Weinberg, MD was mentioned in a HIMSS article, "Integration Program Executive Committee Selects 2022 Priorities for Improving Immunization Interoperability and Information Sharing". 
Jon Wanderer, MD gave a talk through the Clinical Informatics Program Director's Didactic Series on October 1st, 2021, titled "Individual and Organizational Performance Metrics." 
Stuart Weinberg, MD, was recognized as a contributor to the VUMC Mass Vaccination Project with a VUMC Team Elevate Award. 
Joseph Legrand, PharmD, MS was one of six members of CodeRx who won the Synthetic Health Data Challenge, a coding challenge hosted by the Office of the National Coordinator for Health IT (ONC). Their solution was called Medication Diversification Tool (MDT). On October 19th, 2021, Joey presented this work in an informational webinar via healthit.gov. The HealthIT.gov announcement is here, and the challenge.gov announcement is here (in addition to the HHS announcement linked above).  
Megan Salwei, PhD was elected to the Human Factors and Ergonomics Society (HFES) Healthcare Technical Group Executive Committee as the "Student Affairs Chair" from 2021 to 2023. 
Sunil Kripalani, MD, MSc is part of a multiple-PI team, including Alan Storrow, MD and Dandan Liu, PhD, that was awarded a four-year R01 grant from NIH/NHLBI. The central objective of the project is to develop a multilevel approach and the necessary statistical methods to close the gap in implementation of our AHF risk prediction tool, as a model for other automated risk prediction approaches within an electronic health records system. Adam Wright, PhD and Asli Weitkamp, PhD are co-Investigators on the grant. 
Michael Ward, MD, PhD, MBA was awarded a R34 grant from NIH/NHLBI titled "PORTAL: Patient Outcome Reporting Tool for emergency medicAL services". The project will develop, refine, and implement a scalable feedback system for EMS providers delivering acute cardiovascular emergency care to patients with chest pain. 
Jeremy Warner, MD, MS, started the ASCO Leadership Development Program, in which participants learn valuable leadership skills, gain exposure to the roles and mission of ASCO, and learn about the Society's place in developing the future of cancer care.
Siru Liu, PhD, is one of 8 recipients of the AMIA Leadership and Education Award Donation (LEAD) Fund. The purpose of the award program is to cover trainee registration for the 2021 AMIA Annual Symposium in order to present their research.
Stuart Weinberg, MD, was featured in "Improving the EHR, Longitudinal Outcomes of MIS-C", an episode of the American Academy of Pediatrics' Pediatrics On Call Podcast. He described ways pediatricians can use Web applications and services to improve functionality of the Electronic Health Record.
Ashley Spann, MD, MS, was selected as the social media editor for the Journal of Medical Systems (JOMS), led by Jesse Ehrenfeld.
In addition, Dr. Spann created the Hepatology Sub-specialty Steering Board for Epic, which is a national group, containing about 8-12 members from Epic sites with a focus on hepatology. Ashley noticed that a hepatology steering board was missing, and she worked with Epic and hepatologists from other sites to bring a group together to create the Hepatology Steering Board. They had their first meeting 8/19/21, and haven't quite made it to the landing page yet on Galaxy, but here's the link for that on Userweb: https://galaxy.epic.com/?#Browse/page=1!68!601!2290373,3774815. The group's focus is developing CDS for providers across the Epic ecosystem taking care of patients with liver disease or those undergoing evaluation for or have received liver transplants.
Alvin Jeffery, PhD presented at the Sepsis Alliance Summit on September 15th, 2021, participating on a panel entitled "AI and Sepsis: How Can It Inform Bedside Care?"
Yaa Kumah-Crystal, MD, MPH, MS, Michelle Griffith, and Amber Humphrey were on a virtual panel presenting at the Telehealth Academy on September 14, 2021
Stuart Weinberg, MD presented as a panelist on "Data Quality Improvement Success Story: Collaborating Through the Immunization Integration Program" as part of the AIRA Discovery Session Webinar at the American Immunization Registry Association. 
Patty Sengstack, DNP, RN-BC, has been invited to speak at ANIA (American Nursing Informatics Association)'s annual conference on a panel regarding "Documentation Burden." The panel will discuss the current and future state of documentation burden in the electronic health record and efforts at the national level to address the impact on clinical practice and patient safety, as well as the role of the informatics nurse. (please see the link for more information about this conference, which will occur from August 5-7th in San Diego, CA).  
Patty Sengstack, DNP, RN-BC and Trent Rosenbloom, MD, MPH, also recently presented at VU's Ethics Grand Rounds on Ethical Complexities in the New Era of Open Notes.  
Siru Liu, PhD presented "Leveraging Transfer Learning to Analyze Behavioral Intentions Toward COVID-19 Vaccines" at the 9th Annual Oak Ridge Postdoctoral Association (ORPA) Research Symposium. 
---
Woman to Watch 
Gretchen Jackson, MD, PhD has been named one of the Nashville Medical News 2021 Women to Watch. Congratulations, Dr. Jackson! Reading your career story is certainly inspiring!  
---
Siru Liu, PhD Selected into Women in AMIA Leadership Program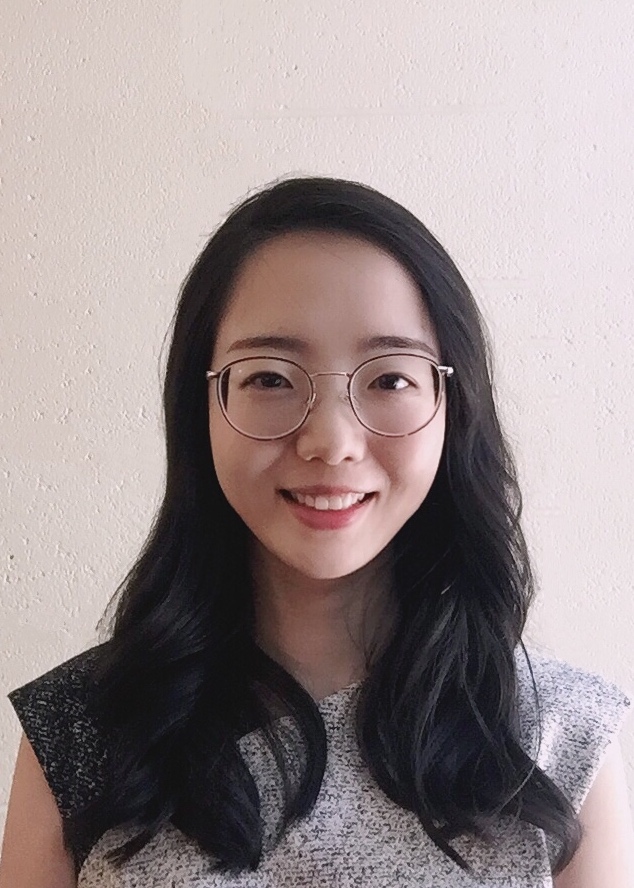 Siru Liu, PhD, was selected into the Women in AMIA (WIA) Leadership Program, a seven-month leadership development program for women researchers from across the health informatics ecosystem.  
---
Catalyzing Informatics Innovation (CI2) Program has 3 VCLIC Awardees 
3 VCLIC members were recently funded as awardees of the Catalyzing Informatics Innovation Program, run by DBMI Faculty member, Daniel Fabbri, PhD. 
"The DBMI Catalyzing Informatics Innovation (CI2) Program supports the development of creative, feasible informatics-based ideas that have the potential to improve health, healthcare, or discovery.   CI2 Program awardees receive not only modest funding to pursue their proposed project, but also join a cohort of CI2 Scholars who work closely with faculty and VUMC leadership. Cohorts learn about using real-world data and evidence to advance innovation, evaluate methods and impact change. CI2 awardees work closely with their mentor and the CI2 Advisors to ensure that their project is moving forward and leading to publications and extramural funding, as appropriate." 
Congratulations to Bryan Steitz, PhD; Wael Alrifai, MD, MS; and Justin Bachmann, MD, MPH on their acceptance into this program!  
Bryan's Project is: A Real-Time Dashboard to Visualize Time-Based Organizational Stress 
Wael's Project is: The Development and Validation of a Multidimensional Model to Measure Provider Workload in the Neonatal Intensive Care Unit (also note that this is Wael's second year participating in the program)! 
Justin's Project is: Decreasing Heart Failure Readmissions with Patient-Reported Outcome Measures