Welcome! This page highlights and celebrates activities of VCLIC members and their teams, across VUMC and beyond! 
Please reach out to Elise Russo with updates and additions to this page.
Read about VCLIC in the VUMC Reporter. 
Read about our Center Director, Dr. Adam Wright, at HIStalk.
---
EPIC XGM Recap 
It was so much fun to see and hear from many of our wonderful VCLIC members at Epic's 2023 XGM conference May 8th – 12th in Verona, WI! The pictures are only a snippet of all the fun we had. 
VCLIC Member Presentations: 
·       Yaa Kumah-Crystal, MD, MPH, MS: No Thank You: In Basket Volume Reduction 
·       Allison McCoy, PhD, Adam Wright, PhD & Elise Russo, MPH, PMP: Enabling Clinical Research and Innovation through a Clinical Informatics Core 
·       Elise Russo, MPH, PMP, Adam Wright, PhD, & Allison McCoy, PhD: Enabling Informatics Innovators to Access Data 
·       Jonathan Wanderer, MD: Quality Improvement for Obstetric Anesthesia: Tales from Two Institutions

DBMI Annual Employee Celebration Award Winners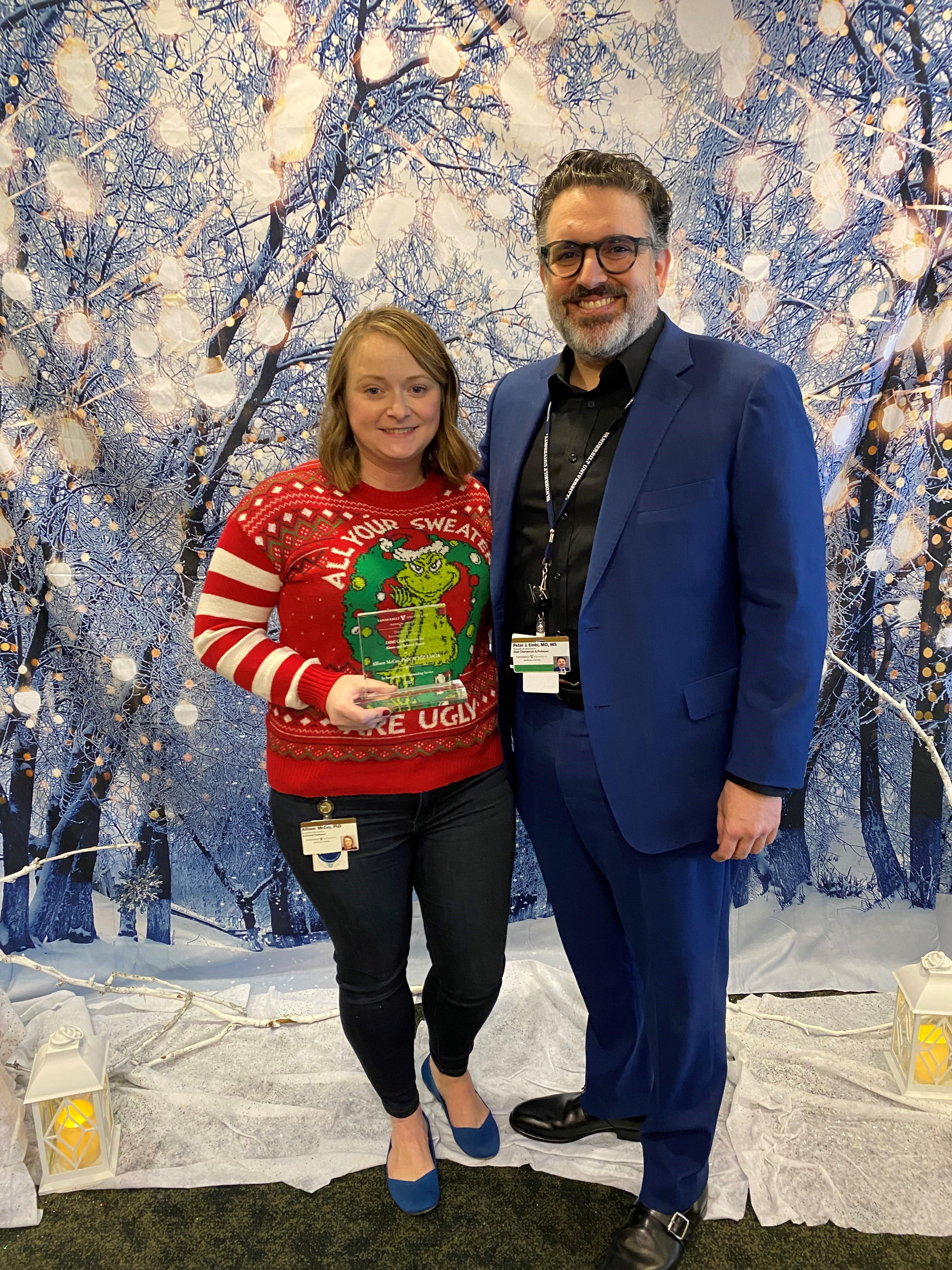 During the DBMI Annual Employee Celebration and Holiday Party on December 6th, 2022, Allison McCoy, PhD, was awarded the Above and Beyond Award for Faculty by the Department Chair, Peter Embi, MD, MS. Allison received this award for her productivity and service to VUMC and the department, especially in consideration of her work as the Scientific Director of the Clinical Informatics Core. In the Core's first year of operation (August 2021-August 2022), the Core received 101 total requests from 87 individual researchers (15 were repeat customers). In that time, 42 of the requests were completed, with about 20 projects in progress, 13 waiting funding (grants), and the remainder either awaiting decisions by the requestor or determined out of scope. The Core continues to acquire new and additional business and is improving its cost recovery each month—several customers have submitted feedback stating that Allison and her team are doing a phenomenal job and validating the importance of having such a service at VUMC. Through her work with the Core, Allison has facilitated and built several Epic-based interventions, including clinical decision support and predictive models, which have led to several publications and improved care and outcomes at VUMC. 
In addition to Allison's award, two other VCLIC members received departmental awards at the celebration:  
Laurie Novak, PhD, received the DBMI Outstanding Educator Award for her fantastic teaching and course instruction. 
Yaa Kumah-Crystal, MD, MS, MPH, received the DBMI TODE Award for her outstanding work as Clinical Director, especially her projects on voice recognition and EHRs. 
AMIA Annual Symposium Recap

 
It was so wonderful to see so many VCLIC members, future VCLIC members, past VCLIC members, and VCLIC friends at AMIA last week! We are still recovering but wanted to highlight some of the impressive accolades our members received during the week!  
Announcing the vclic theme for the 2022-2023 academic year
Re-envisioning the EHR to Reduce Burnout and Improve Wellbeing 
Each year, VCLIC chooses a theme to organize our programming around. Our theme this year is "Re-envisioning the EHR to Reduce Burnout and Improve Wellbeing." When we went to choose our theme for the year, burnout and wellbeing quickly bubbled up to the top. Concern about burnout is everywhere in our modern society, and health care workers are particularly impacted by burnout. The causes of burnout are many, but we believe that clinical informatics will play a role in the solution. Though the evidence is complex and not entirely consistent, physicians and nurses have reported that EHRs and document burden contribute to burnout. The promise of EHRs has always been that they will make health care safer, more effective, and more efficient for those who administer care as well as those who receive it. We plan to spend our year exploring the relationship between EHRs and burnout—and hopefully developing some solutions along the way.  
AHIC DIPLOMATeS
Congratulations to Allison McCoy, PhD; Adam Wright, PhD; Scott Nelson, PharmD, MS; Kim Unertl, PhD; and Sina Madani, MD, PhD for passing the AMIA Health Informatics Certification (AHIC) exam! They were among 96 professionals named to the inaugural class of AHIC diplomates. AMIA recently established the AMIA Health Informatics Certification (AHIC) program to provide a certification process for health informatics professionals, primarily focused on operational informatics, whose work impacts organizational performance or affects public safety. To become certified, individuals must be determined eligible, at demonstrate competence through examination. Read more here! 
awards, honors, & appointments