This July, Julie Bauml, MD, embarked on a two-year clinical informatics fellowship in the Department of Biomedical Informatics at Vanderbilt University Medical Center. Fortunately, Dr. Bauml will also be working part-time with the Department of Radiology in breast and body imaging.
Dr. Bauml completed her undergraduate degree in Chemical and Biomolecular Engineering at the University of Illinois Urbana-Champaign in 2006. She then returned home to complete medical school at the University of Illinois Chicago. She graduated in 2010, where she continued on to an internal medicine internship and radiology residency at UI Chicago Hospital. Next, Dr. Bauml completed an MRI fellowship at University of Wisconsin-Madison. The clinician has worked as an attending at Mercy Hospital in Chicago, an assistant professor in radiology at UI Chicago Hospital and, most recently, in private practice in Elmhurst, IL.
Eager to push the world of health care forward, she sees great opportunity for improving medicine through health informatics, both in radiology and in other clinical fields. While at VUMC, Dr. Bauml is excited to complement her experience in the MS in Applied Clinical Informatics program with hands-on work within the Department of Radiology. As she explains, it's important to keep practicing to maintain her skillset and understand the workflow in order to help optimize it.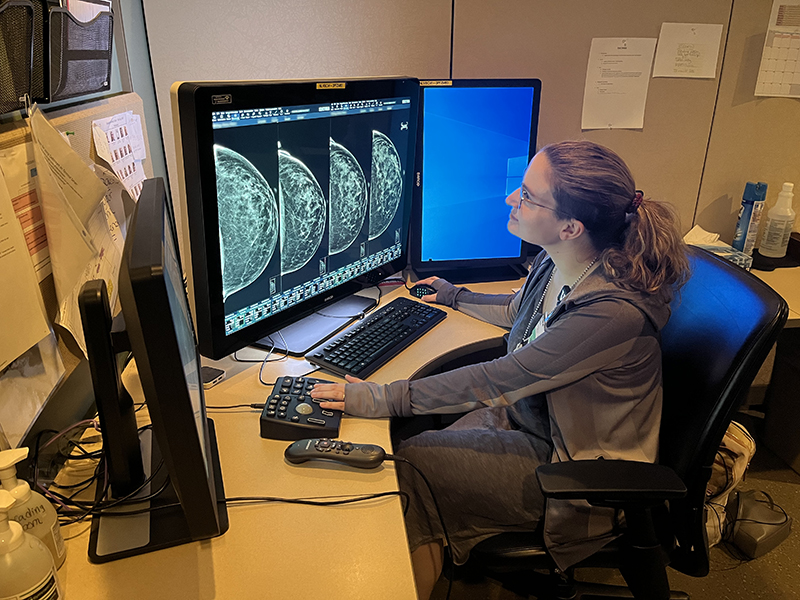 Dr. Bauml has been interested in informatics and artificial intelligence for some time. It started out of curiosity, when she took a side job consulting for an AI imaging start-up, after which she taught herself Python (a high-level programming language) to take a course about machine learning. As her career progressed, she become interested in logistical and burnout issues that many radiologists faced: issues she believes can be helped with informatics. Now, her goal is to help radiologists move towards the future.
"Radiology needs a reasonable seat at the table," Dr. Bauml explains. She hopes that radiologists approach new technology with enthusiasm about the ways it can help the community—and understand that it will never be able to replace the experience and clinical understanding of a human radiologist.
Rather, Dr. Bauml says that AI will augment radiologists' capabilities and experience in the field. But first, they must step forward and voice their opinions on what could improve their work on a day-to-day basis.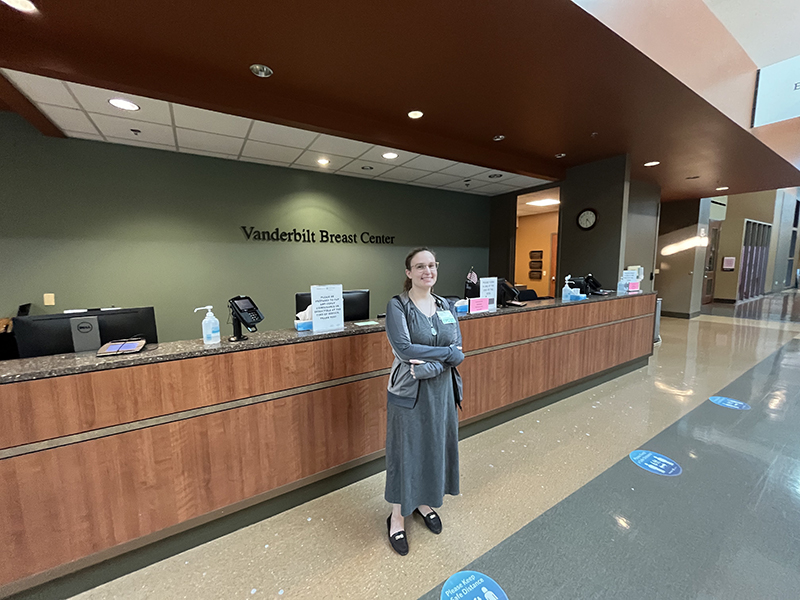 As for the operations informatics side, Dr. Bauml asserts that solutions must be conceived to handle unmanageable volume loads and decrease the burden on individual radiologists. And she's excited to get started.
Dr. Bauml possesses the same type of enthusiasm that Reed Omary, MD, Carol D. & Henry P. Pendergrass Professor and Chair of Radiology and Radiological Sciences, exhibited while recruiting the fellow and explaining what VUMC's radiology team is all about. Dr. Bauml found his eagerness to engage with challenging issues, like environmental impact, as a refreshing quality that matches his forward-thinking leadership style. Likewise, she's found a strong value placed on collaboration across all her interactions at VUMC so far.
"Everyone here seems genuinely interested in informatics and solving problems," Dr. Bauml says. "It's not an environment where I feel I'd have to fight for a seat at the table. Everyone is welcoming and happy to be here. " As for working with VUMC's radiologists, she's excited to hear about ways she can help the team, both big and small.
"I want them to let me know if there's anything that they want me to work on: anything really bothering them in their job, whatever the worst part of their day is from a technology perspective, I want to hear it," Dr. Bauml says. "I want to know how we can make their lives better"