VCLIC Seminar, March 30th, 2022 from 12:00-1:00 pm CT: Exploring the Wond'ry: The Biomedical Innovation Continuum at VU and VUMC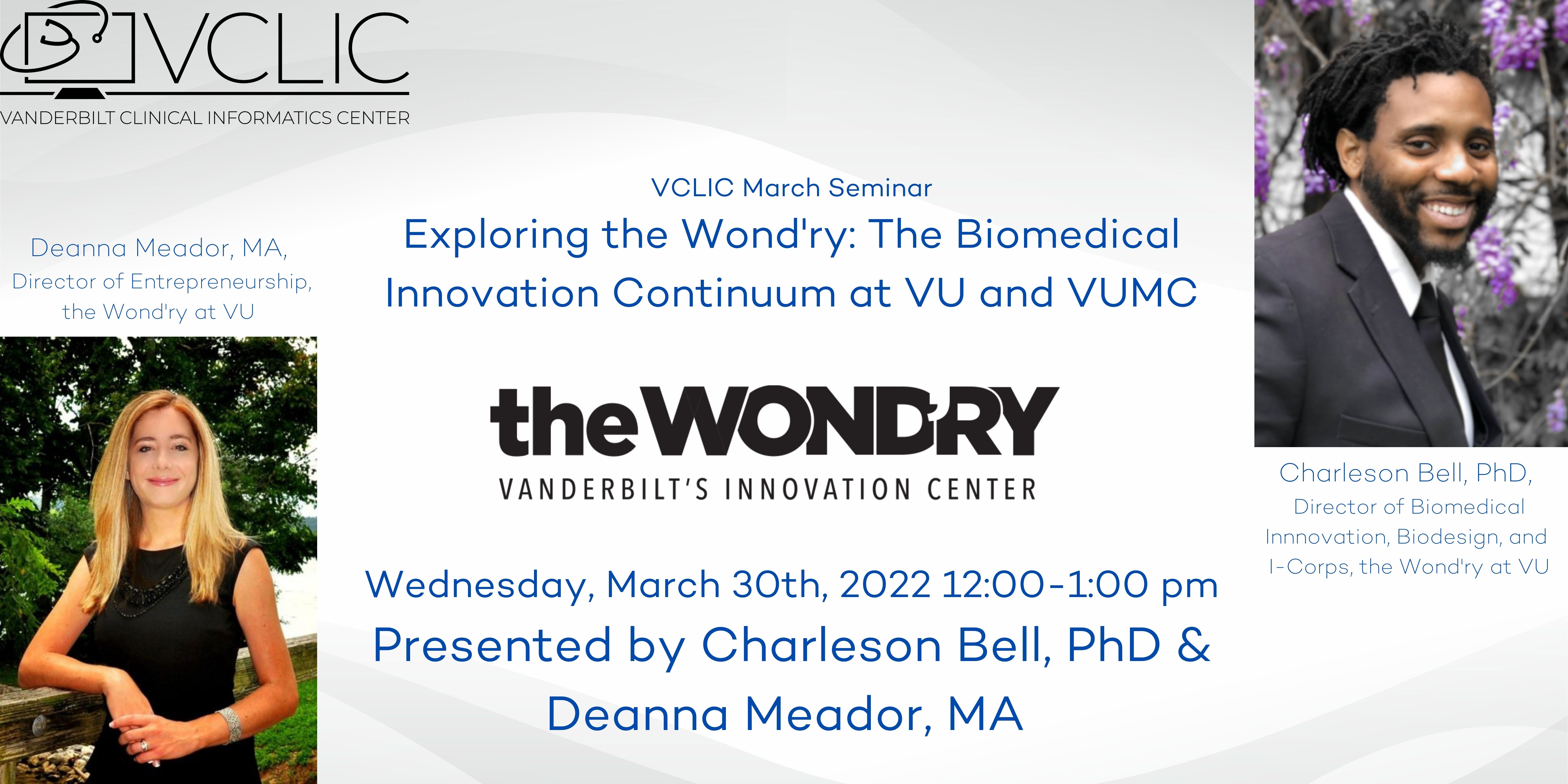 Charleson Bell, PhD and Deanna Meador, MA will be presenting virtually on the Biomedical Innovation Continuum at VU/VUMC and how that is facilitated at the Wond'ry. In its three story, 13,000-square foot space, located in the heart of campus in Nashville, Tennessee, the Wond'ry provides the tools and resources for students, faculty, staff, and community members to bring ideas to life. Learn about all the resources at the Wond'ry that are designed to support anyone from budding entrepreneurs to community change-makers.
Join us via Zoom. 
---
VCLIC Seminar, April 6th, 2022, from 12:00 pm-1:00 pm CT: Using artificial intelligence to improve mental health care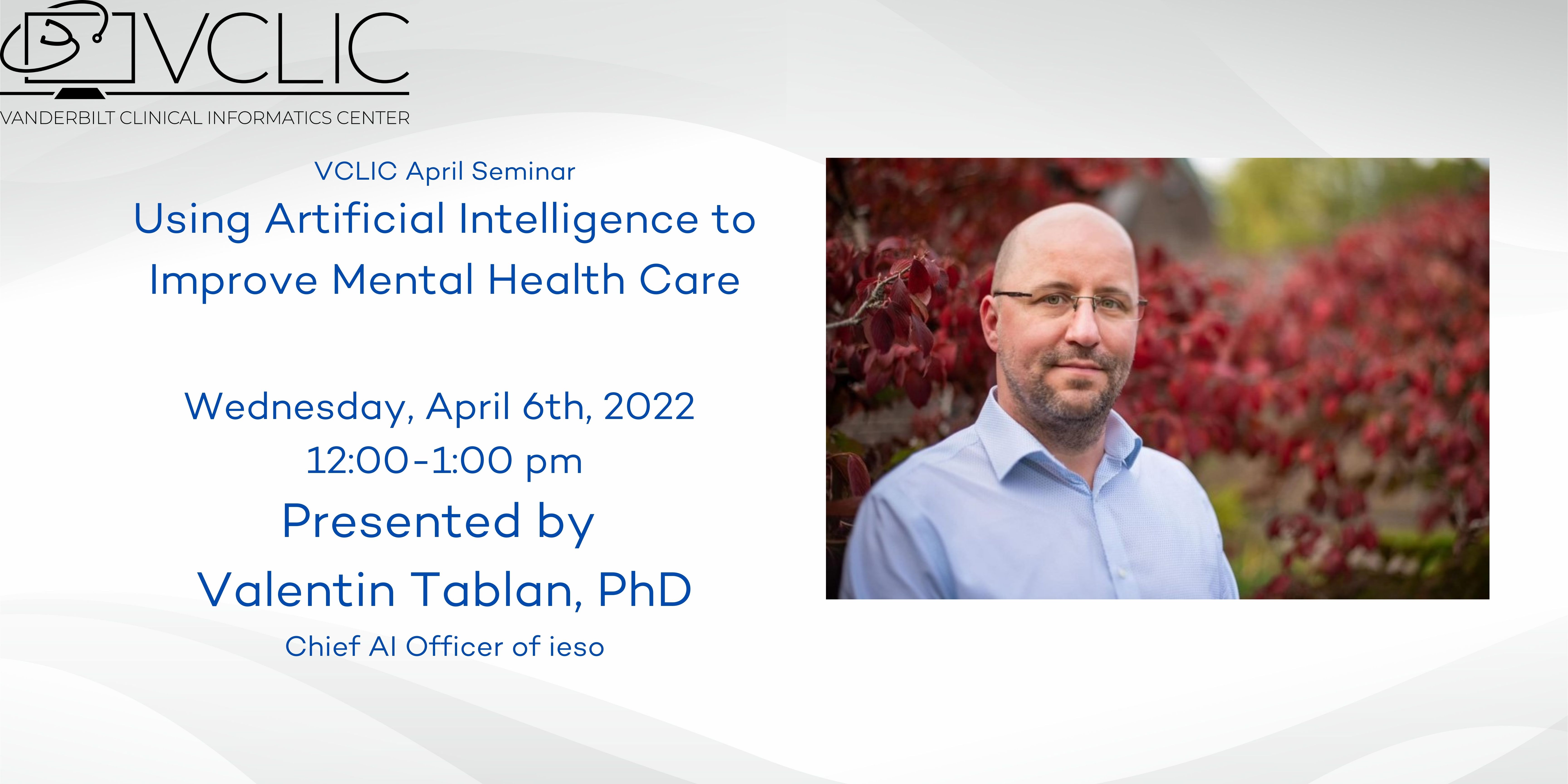 For our April VCLIC Seminar, we are thrilled to announce some "visitors" from across the pond. Valentin Tablan, PhD, of ieso health will give a talk on Using Artificial Intelligence to Improve Mental Health Care.
This talk will cover the use of artificial intelligence techniques, including natural language processing and deep learning, to the domain of mental health care. These include the generation of novel insights into how psychotherapy works, and the production of smart tools to monitor the quality of care delivered by a large therapists network. Another aspect covered will include research into the applicability of conversational agents (health bots) to increase the dose of therapy delivered to patients.
Join us via Zoom. 
VCLIC Seminar, March 2nd, 2022, from 12:00 pm-1:00 pm CT: Bringing Machine Learning Models to the Bedside

 

For our March 2nd seminar, we are excited to introduce the work of Karandeep Singh, MD, MMSc! Dr. Singh is an Assistant Professor of Learning Health Systems, Internal Medicine, Urology, and Information at the University of Michigan. 

In this talk, he'll discuss common implementation questions that arise in the process of integrating and using machine learning models as part of a clinical workflow, with a focus on models used as part of early warning systems. He'll share their approach to addressing each of these questions in their health system: Is there infrastructure to implement models? Should we implement a model? Once implemented, how do we measure model performance? Is a model "good enough" to use? Do users agree on how to use the model? Is the model effective when used? What does governance look like for machine learning models?

---

FHIR App Building Workshop: February 8th, 2022 from 1:00-4:00 pm

 

The second workshop in our pre-Innovation Challenge and Hackathon series will take place on February 8th, 2022 from 1:00-4:00 pm and will cover developing FHIR applications used the SMART on FHIR API. In this session, Tim Coffman and Simeon Hearring from VUMC HealthIT will provide a hands-on experience with FHIR App development. 

Please sign up for this workshop here: https://redcap.link/FHIRapps

For more information about the upcoming Innovation Challenge and Hackathon, please go here: https://www.vumc.org/vclic/innovation-challenge-and-hackathon

Email elise.russo@vumc.org with any questions.  

---

VCLIC Seminar, February 2nd, 2022, from 12:00 pm-1:00 pm CT: Motivational Enhancement Therapy (MET) to Support Adoption of Digital Therapeutics in a Low Threshold Bridge Clinic – A Pragmatic Trial of Pear Therapeutics RESET-O application

 

 

VCLIC is thrilled to announce our February 2022 seminar topic and speakers: In this session, one of the VUMC addiction psychiatry faculty, Dr. David Marcovitz, will partner with Dr. Scott Schepers, the chief medical science liaison for Pear Therapeutics, to discuss the use of Pear's innovative digital app "RESET-O" in the VUMC Bridge Clinic.  Dr. Schepers will discuss the infrastructure of the app and the evidence supporting its use for patients with opioid use disorder (OUD).  Dr. Marcovitz will provide background information about the VUMC Bridge Clinic and will discuss the development of this industry sponsored research trial in collaboration with Pear and the VUMC Learning Health System.

Join us via Zoom. 

---

App Design Workshop: January 18th, 2022 from 1:00-4:00 pm

 

Join us for the first workshop in our pre-Innovation Challenge and Hackathon series: App Design. This hands-on instructional session will be led by Tom Reese, PharmD, PhD, and Megan Salwei, PhD, and will cover using design principles in the development of applications, including defining user needs, iterative design, and evaluation. This interactive session will take place via Zoom and will demonstrate methods and tools used in developing applications while considering human factors and human-centered design approaches. 

We hope you can join us on Tuesday, January 18th, 2022 from 1:00-4:00 pm.

Please sign up for this workshop here: https://redcap.link/appdesignworkshop

For more information about the upcoming Innovation Challenge and Hackathon, please go here: https://www.vumc.org/vclic/innovation-challenge-and-hackathon

Email elise.russo@vumc.org with any questions.  

 

---

VCLIC Seminar, January 12th, 2022, Presented by John Torous, MD, MBI: Beyond Telehealth: Advances in Digital Mental Health Research and Practical Clinical Considerations for Smartphone Apps in Care 

 

VCLIC is excited to announce our January seminar speaker: John Torous, MD, MBI of Beth Israel Deaconess Medical Center. Dr. Torous will speak about his work in the digital psychiatric space: 

As use of telepsychiatry in mental health via video/phone visits soars, it is important to also consider how asynchronous telepsychiatry tools like smartphone apps can also advance care. This talk will focus on the evolving field of smartphone digital phenotyping and consider the potential of real time data capture via smartphones, methods necessary to analyze such data, and practical clinical applications of these tools. Looking at the evolving smartphone mental health ecosystem, the talk will also cover the APA app evaluation framework as a tool to help make more informed choices about any related smartphone app for use in research or patient care. 


Join us via Zoom. 

---

VCLIC Seminar, December 8th, 2021 12:00 pm: Does an age limit exist? Facilitators and challenges to incorporating technology into mental health treatment for older adults, presented by Natalie Benda, PhD, Weill Cornell Medicine

 

 

VCLIC is thrilled to have Nat Benda, PhD, present our December Seminar. Dr. Benda is a faculty member with the Division of Health Informatics in the Department of Population Health Sciences at Weill Cornell Medicine. Dr. Benda's work utilizes human factors methods to improve the quality, safety, and equity of healthcare, with a special focus on consumer and clinical informatics technologies.

Current treatments for major depressive disorder are either less effective for older adults (i.e. pharmacotherapy) or are challenging to extend to community settings (i.e. psychotherapy). To improve and extend mental health treatment for older adults, our team designed Engage-M, a streamlined therapy that, in addition to talk therapy, incorporates patient-reported outcome questions (sent via SMS) and a smartwatch. In this talk, we will report on the results of a pilot study that assessed and improved the usability, usefulness, and acceptability of the technology package, and also describe interim results of subsequent clinical trials evaluating the impact of the intervention on mental health outcomes for older adults. We will conclude with a discussion of facilitators and challenges to incorporating technology (specifically mHealth and wearable devices) into mental health treatment for older adults.  

Please join us via Zoom on December 8th at 12:00 pm. 

---

VCLIC Seminar, November 17th, 2021 12:00 pm: Simple Steps for Safer EHRs, presented by Dean Sittig, PhD, SBMI, UTHSC-Houston

 

 

For our November seminar, we are excited to announce that Dean Sittig, PhD, Professor in the School of Biomedical Informatics at the University of Texas Health Science Center at Houston will present on "Simple Steps for Safer EHRs." Electronic Health Record (EHR) Safety is not an accident. It is always the result of intelligent effort. This talk will present a 5-step approach to help health care organizations realize a safer EHR. These steps include: Identifying potential risks or actual events that could or did result in patient harm; Investigating the issue(s) that are identified; Fixing the underlying causes of the problems identified; Implementing proactive practices, processes, and procedures to prevent issues from occurring; and developing the tools and techniques to monitor real-time data streams to identify additional EHR-related issues before they harm patients. 

 

Please join us via Zoom on November 17th at 12:00 pm. 

---

 

Data Resources and Analytics: Intermediate Workshop on November 16, 2021 from 9:00 am to 12:00 pm

 

 

To expand on skills and topics covered in our Data Resources and Analytics: Basics workshop, Bryan Steitz, PhD, and Sanjay Mishra, PhD, will present a more advanced workshop, focusing on R and the R Shiny platforms. In order to participate, it is suggested that you have some basic experience with STATA, R, Python, and/or SQL.

This workshop focuses on using R for large scale data analysis and statistical computing. Through hands-on experience, participants will learn about data structures; important packages for analytics and visualization; and scaling analyses using the R Shiny platform. 

If you have questions, please email elise.russo@vumc.org or complete this REDCap form to sign up: https://redcap.link/intermediateanalysisworkshop 

 

---

VCLIC Seminar, October 27th, 2021 12:00 pm: Vanderbilt SafeCourse: Multidisciplinary Informatics to Prevent Suicide, presented by Colin Walsh, MD, MA

 

 

For our October seminar, we are thrilled to welcome Colin Walsh, MD, MA, Associate Professor of Biomedical Informatics, Medicine, and Psychiatry at VUMC. Dr. Walsh and his team have several completed and ongoing projects that focus on topics related to optimizing mental healthcare delivery through informatics and using artificial intelligence approaches to predict suicide risk at point-of-care. For this seminar, Dr. Walsh will discuss Vanderbilt SafeCourse: Multidisciplinary Informatics to Prevent Suicide.

Please join us on October 27th from 12:00-1:00 pm central via Zoom. 

 

---

Data Resources and Analytics in Mental Health: Basics Workshop on October 5th, 2021 from 9:00 am to 12:00 pm

 

Please join Allison McCoy, PhD, and Bryan Steitz, PhD for our October workshop. In this workshop, participants will learn about available data sources at VUMC within Epic (SlicerDicer, Reporting Workbench, Clarity) and developed locally (Synthetic Derivative, Research Derivative) and gain hands-on experience in manipulating data. This workshop will cover similar concepts to the Disparities Data Lab workshop from February 2021 but will use mental health data and examples.

---

VCLIC Seminar September 22, 2021 at 12:00 pm: Innovative Care Delivery Models for Mental Health, Cheryl Cobb, MD 

 

For our second year, VCLIC is focusing our attention on Innovative Care Delivery Models for Mental Health. Mental illnesses are some of the most common health conditions in the United States, and "more than 50% of people will be diagnosed with a mental illness or disorder at some point in their lifetime" (cdc.gov). We hope to spend the year learning about how informatics can assist or support care delivery as it pertains to mental health services. 

For our kick-off, we are honored and excited to welcome VUMC's own Cheryl Cobb, MD, who is the Associate Professor of Clinical Psychiatry and Behavioral Sciences as well as the Medical Director of Outpatient Services for Psychiatry and Behavioral Sciences. Dr. Cobb will give an overview of mental health, including definitions, prevalence, burden on the system, etc., and will discuss the ways that technology impacts (including benefits and challenges) the provision of mental health care as well as some potential ideas for a way forward using technology and innovative care delivery methods to enhance this area.  

Please join us for this talk, which will take place during the DBMI Seminar time (12:00-1:00 pm on Wednesday, September 22nd, 2021) via Zoom.  

---

Intro to eStar: Workshop on September 14th, 2021 from 9:00 am-12:00 pm

 

VCLIC is back with our first workshop of this academic year! Please join us on Tuesday, September 14th, 2021 to learn about Epic! This workshop will be co-led by Allison McCoy, PhD and Aileen Wright, MD, MS. The first half of the course will focus on clinical workflows (led by Dr. Wright), and the second half will focus on CDS and build capabilities in Epic (and will be led by Dr. McCoy). Participants are welcome to join for either half of the session or the entire session, and we are determining the possibility for in-person attendance (you will be able to indicate all of these selections on the sign up form, linked below). We hope you can join us!

---

Discovery Lecture: "Next Steps in Health Care Transformation: The Moral Determinants of Health," by Donald Berwick, MD, MPP. 

Mark your calendars for 4:00pm CT on April 15, 2021. This will be an event you won't want to miss!

Donald M. Berwick, MD, MPP is President Emeritus and Senior Fellow at the Institute for Healthcare Improvement (IHI), an organization that Dr. Berwick co-founded and led as President and CEO for 19 years. He is one of the nation's leading authorities on health care quality and improvement.

In July, 2010, President Obama appointed Dr. Berwick to the position of Administrator of the Centers for Medicare and Medicaid Services (CMS), which he held until December, 2011. A pediatrician by background, Dr. Berwick has served as Clinical Professor of Pediatrics and Health Care Policy at the Harvard Medical School, Professor of Health Policy and Management at the Harvard School of Public Health, and as a member of the staffs of Boston's Children's Hospital Medical Center, Massachusetts General Hospital, and the Brigham and Women's Hospital.

He has also served as vice chair of the U.S. Preventive Services Task Force, the first "Independent Member" of the Board of Trustees of the American Hospital Association, and chair of the National Advisory Council of the Agency for Healthcare Research and Quality. He is an elected member of the American Philosophical Society, the American Academy of Arts and Sciences, and of the National Academy of Medicine (formerly the Institute of Medicine). Dr. Berwick served two terms on the IOM's governing Council and was a member of the IOM's Global Health Board. He served on President Clinton's Advisory Commission on Consumer Protection and Quality in the Healthcare Industry.

He is a recipient of numerous awards, including the 1999 Joint Commission's Ernest Amory Codman Award, the 2002 American Hospital Association's Award of Honor, the 2006 John M. Eisenberg Patient Safety and Quality Award for Individual Achievement from the National Quality Forum and the Joint Commission on Accreditation of Healthcare Organizations, the 2007 William B. Graham Prize for Health Services Research, the 2007 Heinz Award for Public Policy from the Heinz Family Foundation, the 2012 Gustav O. Lienhard Award from the IOM, and the 2013 Nathan Davis Award from the American Medical Association. In 2005, he was appointed "Honorary Knight Commander of the British Empire" by Her Majesty Queen Elizabeth II, the highest honor awarded by the UK to non-British subjects, in recognition of his work with the British National Health Service. Dr. Berwick is the author or co-author of over 200 scientific articles and six books. He also serves now as Lecturer in the Department of Health Care Policy at Harvard Medical School. 

We are thrilled and honored to hear Dr. Berwick speak. His talk, "Next Steps in Health Care Transformation: The Moral Determinants of Health," will cover a variety of topics related to the future of health care: 

Health care is largely a repair shop, trying to fix damage to health whose causes lie far from the care system. Much is known about Social Determinants of Health (SDOH), which affect longevity, functional status, and comfort far more than medical care does. And yet investments in care delivery continue to dwarf investments in improving social determinants. This lecture will review the evidence on the true causes of illness, injury, and disability, and will explore why that illogical imbalance of investment continues. Assuming both pragmatic and moral reasons for addressing social determinants of illness, where, ideally, would resources flow?

Please register for the lecture using the following link: https://redcap.vanderbilt.edu/surveys/?s=XPT44FMJTX. The day before, all registered participants will be emailed the Zoom information. "See" you there!

---

Tableau Workshop: April 7th, 2021 from 1:00-4:00 pm CT

 

Join us for our final workshop of the year on April 7th, 2021 from 1:00-4:00 pm CST where we will focus on data visualization using Tableau! In this workshop, given by Scott Nelson, PharmD, MS, and Joseph LeGrand, PharmD, MS, participants will learn what Tableau is, why they should use it, when they should use it, and how to use it, including connecting data sources, what visualizations work best with certain data types, and how to create various visualizations and dashboards from sample data. Workshop leaders will demonstrate various functionalities of Tableau, and participants will also be asked to follow along. We will provide details as the workshop gets closer on what resources you will need and how to get set up. 

---

Techquity Design Challenge Final Presentations

The VCLIC Techquity Design Challenge is an 8 week program that invited teams of students, clinicians, faculty, and staff from different scientific disciplines and of various backgrounds to propose novel solutions to problems related to healthcare equity and technology. We welcomed a range of informatics, technical, and socio-behavioral approaches to solving these complex problems and have been repeatedly impressed by the passion and tenacity demonstrated by the participating groups, who are all striving to make VUMC a more equitable system and place. Teams worked with each other as well as with mentors from VCLIC to develop either a low-or high-fidelity prototype of their solution which will be recorded, judged, and then presented on April 7th at 12:00 pm.

Please join us on April 7th at 12:00 pm Central by using this Zoom link. (DBMI Faculty and Staff: please note that this is the link for the Wednesday seminars on your calendar as sent by Rischelle—this talk will be the DBMI seminar for Wednesday the 7th of April). 

---

Panel: How to kick-start your career in clinical informatics, March 10th, 2021 at 12:00 pm CST

 

Technology now touches almost everything we do in healthcare. The world of clinical informatics can be a new experience for many of us, with all the additional education requirements, new terms, and new ways of seeing the world all around us. However, once you have the training and desire needed to pursue a career in clinical informatics, how do you kick-start your career? This panel of experts will help to answer this question, and many more you may be having. How can I get my department to buy down my time to do more informatics work? How can I become more integrated with HealthIT at my organization? Where do I go now that I finished my training? How can I get connected to the data? Come join us and bring your questions for this interactive discussion with panelist from several different backgrounds and experiences. 

Moderator: 

Scott Nelson, PharmD, MS, CPHIMS, FAMIA 

 Speakers:

Lindsey Knake, MD 

Dara Mize, MD, MS, FAMIA 

Yaa Kumah-Crystal, MD, MPH, MS, FAMIA 

Jake Lancaster, MD, MS 

Claude Pirtle, MD, MS 

Sharidan Parr, MD, MSCI, MS 

Josh Peterson, MD, MPH 

 

The Zoom link for this talk is here. (DBMI Personnel, please note that this is the link for the Wednesday seminars on your calendar as sent by Rischelle). 

---

FHIR Application Building Workshop: March 10th, 2021 from 1:00-4:00 pm CST

 

The FHIR App Building Workshop will be a wonderful opportunity to get hands-on experience with FHIR App development! VCLIC and HealthIT will cohost a 3-hour workshop for those wishing to learn how to conceptualize, build/develop, test, and put into production a FHIR application that meets all standards and interfaces with Epic. Participants will build an app, which will involve a user interface for summarization and visualization. There will be an Epic App Orchard overview at the end of the session.

---

In Conversation with Judy Faulkner: February 17th, 2021 at 12:00 pm CST

 

Judy Faulkner, CEO of Epic systems corporation will join VCLIC and DBMI for a presentation and conversation moderated by Dara Mize, MD. Judy will speak about Epic's values and culture; available and upcoming resources for researchers, clinicians, and developers; the EHR vendor-customer relationship; and EHR policy. 

We are thrilled to host this talk and hope to "see" you there on February 17th at 12:00 pm CST. 

The Zoom link for this talk is here. (DBMI Personnel, please note that this is the link for the Wednesday seminars on your calendar as sent by Rischelle). 

---

Disparities Data Lab: February 9th, 2021 from1:00-3:00 pm CST

 

Allison McCoy, PhD and Bryan Steitz, PhD will offer an interactive, hands-on session for anyone interested in learning about available data sources at VUMC within Epic (e.g., SlicerDicer, Reporting Workbench, Clarity) and developed locally (e.g., Synthetic Derivative and Research Derivative). Participants will receive de-identified data sets from these sources and will gain hands-on experience in manipulating the data sets in programs such as Microsoft Excel and Tableau to answer questions about health disparities, patient portals, and telemedicine. 

---

"Patient and Clinician Perspectives on Open Notes: How Note Transparency Can Forge Better Care and Stronger Relationships," January 27th at 12:00 pm Central  

 

 

 

 

 

Director of Patient Safety & Discovery, OpenNotes, Associate Professor of Medicine, Harvard Medical School 

 

Senior Strategist of Research Dissemination, OpenNotes, Beth Israel Deaconess Medical Center 

 

OpenNotes aims to strengthen patient-clinician relationships through more transparent communication. In this presentation Liz Salmi and Sigall Bell, MD, will share their experiences; first from the perspective of a patient who reads their notes and then from a physician researching the impact of open notes over the last decade. 

Based at the Beth Israel Deaconess Medical Center in Boston, OpenNotes is not a product or software, but a non-profit academic research and advocacy group studying the effects of sharing visit notes with patients and families on patient engagement, safety, and quality of care. 

Please join us on January 27th at 12:00 pm Central by using this Zoom link. (DBMI Faculty please note that this is the link for the Wednesday seminars on your calendar as sent by Rischelle—this talk will be the DBMI seminar for Wednesday the 27th of January). 

 

---

VCLIC November Seminar: 

Best practices for effective mHealth: how to reach, engage and improve outcomes in underrepresented groups

On Tuesday, November 10th at 1:00 pm, we are honored and excited to have Lindsay Mayberry, MS, PhD and Lyndsay Nelson, PhD present their phenomenal work on using text messages to engage patients, especially those who are underserved.

Please register for the webinar here: https://zoom.us/webinar/register/WN_oemT9vD_QHOd0dwTtFFCPw 

 

| | |
| --- | --- |
|   |   |
| Lindsay Mayberry, MS, PhD | Lyndsay Nelson, PhD |

 

---

VCLIC Special Seminar: 

How design thinking can put theory into practice

On Tuesday, November 3rd, 2020 at 1:00 pm, we are thrilled to have Thomas Reese, PharmD, PhD, a researcher in the School of Medicine at the University of Utah and ambulatory care pharmacist in a clinic for underserved patients, present on designing information displays for critical care. 

Please register for Dr. Reese's talk here: https://zoom.us/webinar/register/WN_yNx1MtyLRNmWdVkzoH9s4g

 

Bio: Thomas Reese, PharmD, PhD is a researcher in the School of Medicine at the University of Utah and an ambulatory care pharmacist in a clinic for underserved patients. He serves on the Editorial Board for the Journal of American Medical Informatics Association. Broadly, Dr. Reese is interested in improving healthcare decisions through health IT and evidence-based interventions. While Dr. Reese's research training was focused on the human-computer interaction, he has experience with interoperable clinical decision support and health services research.

---

VCLIC October Seminar: 

Telehealth: A Virtual Background (get it?!)

In conjunction with the DBMI Colloquium series, VCLIC is excited to have DBMI Faculty and VCLIC Member Yaa Kumah-Crystal, MD, MPH, MS present on her work related to increasing telehealth access and use for VUMC providers and patients. She will be joined by Trent Rosenbloom, MD, MPH, fellow DBMI Faculty member and one of this year's VCLIC Theme Champions!

| | |
| --- | --- |
|   |   |
| Yaa Kumah-Crystal, MD, MPH, MS | Trent Rosenbloom, MD, MPH |

 

The lecture will take place on Thursday, October 22nd, 2020 at 12:00 pm central time (during the "usual" DBMI colloquium bloc). 

Zoom link (no registration required): https://vanderbilt.zoom.us/j/95141172180?pwd=MkdGb1FqTk9JdWFGcDZLeWFDQkIxZz09

*Please note that this is the link the department has set up and sent out previously, so if you already have the invitation from Rischelle on your calendar, you are all set!

 

---

VCLIC Keynote and 2020-2021 Focus Area Kickoff Seminar 

In partnership with the Department of Biomedical Informatics Retreat Week, the Vanderbilt Clinical Informatics Center held our first event:

Making Health Care More Equitable through Technology

A Seminar given by VUMC's own Consuelo Wilkins, MD, MSCI 

Friday, September 18th, 2:00-3:00 pm