VCLIC 2021 Techquity Design Challenge Participants and Projects
The VCLIC Techquity Design Challenge was an 8 week program that invited teams of students, clinicians, faculty, and staff from different scientific disciplines and of various backgrounds to propose novel solutions to problems related to healthcare equity and technology. We welcomed a range of informatics, technical, and socio-behavioral approaches to solving these complex problems and were repeatedly impressed by the passion and tenacity demonstrated by the participating groups, who were all striving to make VUMC a more equitable system and place. Teams worked with each other as well as with mentors from VCLIC to develop either a low-or high-fidelity prototype of their solution, and the resulting presentations were recorded, judged, and then shown on April 7th at 12:00 pm during the DBMI Seminar. 
All the projects developed over the course of this program are significant in their impact and were extremely well articulated despite the crunched timeline. We'd like to announce our winners as well as recognize all of the teams that worked incredibly hard on this innovative set of projects. 
First Place:  
Capture of Smoking History in EHR for Assessment of Lung Cancer Screening Eligibility 
Team members: Melinda Aldrich, PhD, MPH; Kim Sandler, MD; Melissa McPheeters, PhD, MPH; Jennifer Richmond, PhD, MSPH; Jeffrey Blume, PhD; Travis Osterman, DO, MS 
Mentor: William Martinez, MD, MS 
Project Summary: Lung cancer screening is proven to provide early detection and reduce mortality, but only 6-14% of eligible smokers are screened nationally, with substantial disparities seen by race. Of particular concern is that existing eligibility measures inadvertently exclude Blacks, even though their actual risk may mirror or exceed their White counterparts. However, eligibility assessment requires data collection at the patient level, and the best way to obtain this information is yet unknown. We sought to develop a low-fidelity prototype patient-facing interface to collect patient-level data for assessing eligibility for lung cancer screening.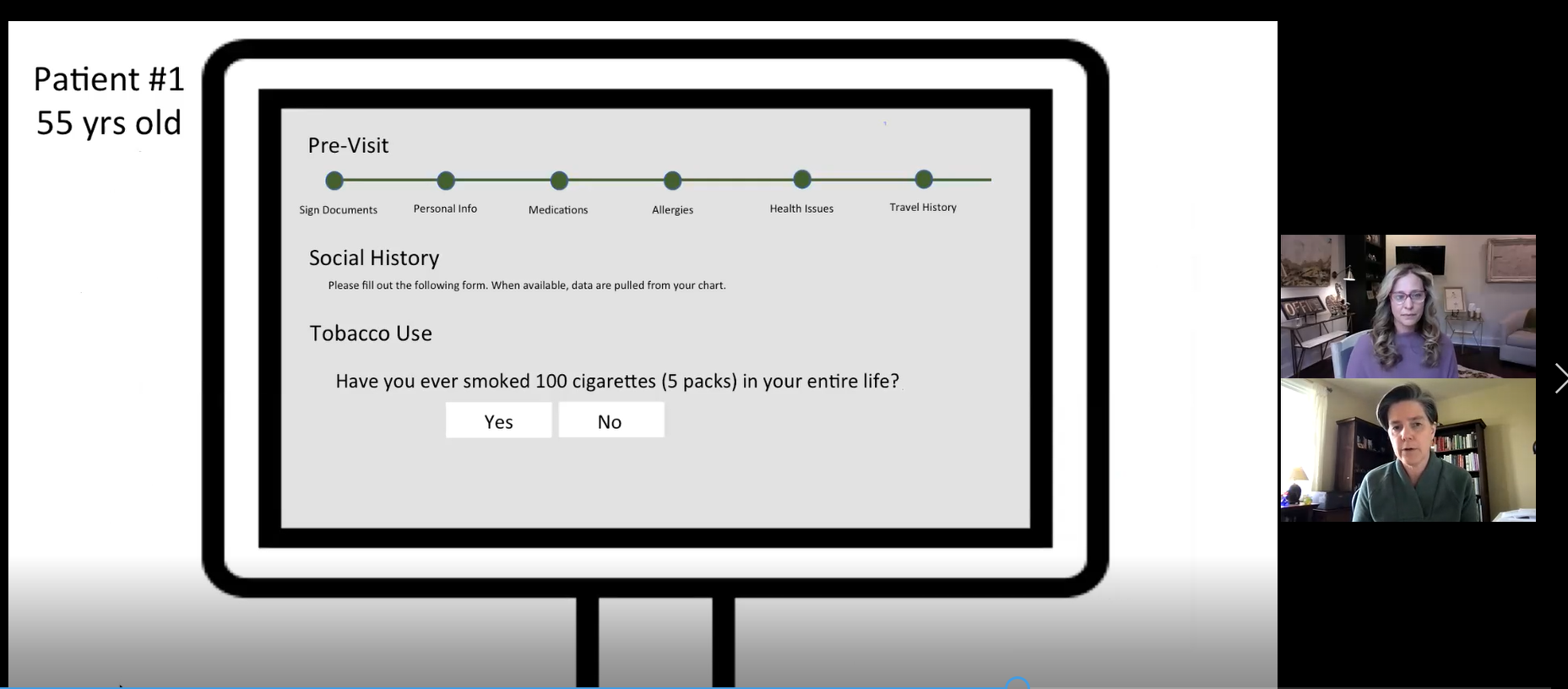 Second Place:  
VICC IMPACT: Interventions to Maintain and Promote Adherence to Cancer Therapies 
Team Members: Ryan Whitaker, MD, PhD; Evan Osmundson, MD, PhD; Brian Bingham, MD 
Mentor: Dan France, PhD, MPH 
Project Summary: Complex treatment regimens combined with the physical, social and financial stressors of cancer care can contribute to missed and delayed treatments, compromising patient outcomes.  VICC IMPACT (Interventions to Maintain and Promote Adherence to Cancer Therapies) is a novel digital solution that identifies patients at highest risk of nonadherence to cancer therapies and deploys targeted physician and patient-facing digital tools to reduce barriers to cancer care.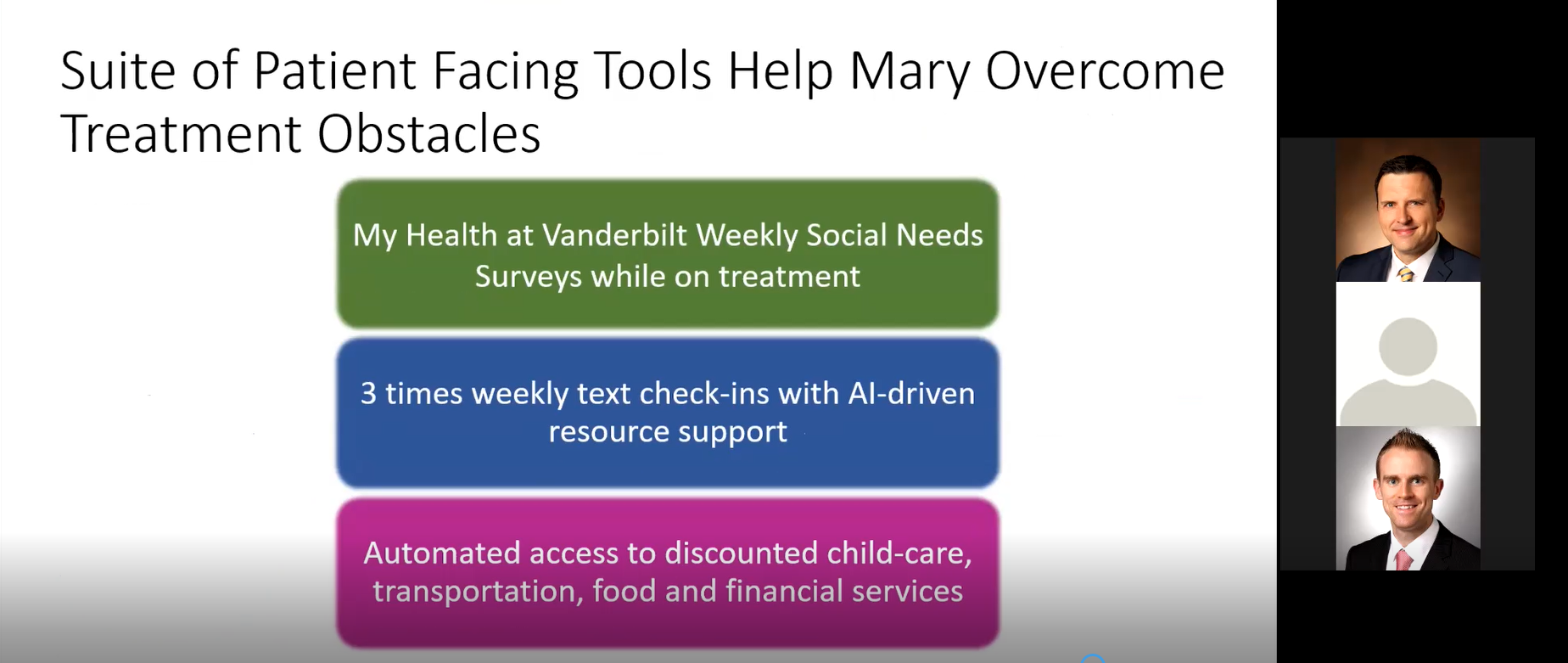 Third Place and People's Choice Winner:  
Food Insecurity Resource Connection 
Team members: Cristin Fritz, MD, MPH; Holly Hanson, MD, MS; Lauren Sanlorenzo, MD; Hannah Smith, MD; Sophia Kostelanetz, MD, MPH; Britta Roach, DO; Rosemary Hunter, MD; Shani Jones, MD; Mia Letterie, BA 
Mentors: Lindsay Mayberry, PhD, MS; Bryan Steitz, PhD; Wael Alrifai, MD, MS 
Project Summary: Connecting families with Food Insecurity, a worsening problem since the beginning of the COVID-19 pandemic, is known to mitigate the negative impact of FI on children's health.  Most current approaches to connecting Food Insecure families to resources from a medical setting rely on generic, pre-developed resource sheets that may be easily lost and introduce concerns about stigma by requiring conversations with providers. We propose utilizing automated text messaging in families' native language to provide a zip-code specific list of resources and tailored search within the national Aunt Bertha database that links directly to contact and direction information for community agencies. This approach empowers families to discreetly seek resources that are convenient to their home in a user-friendly manner.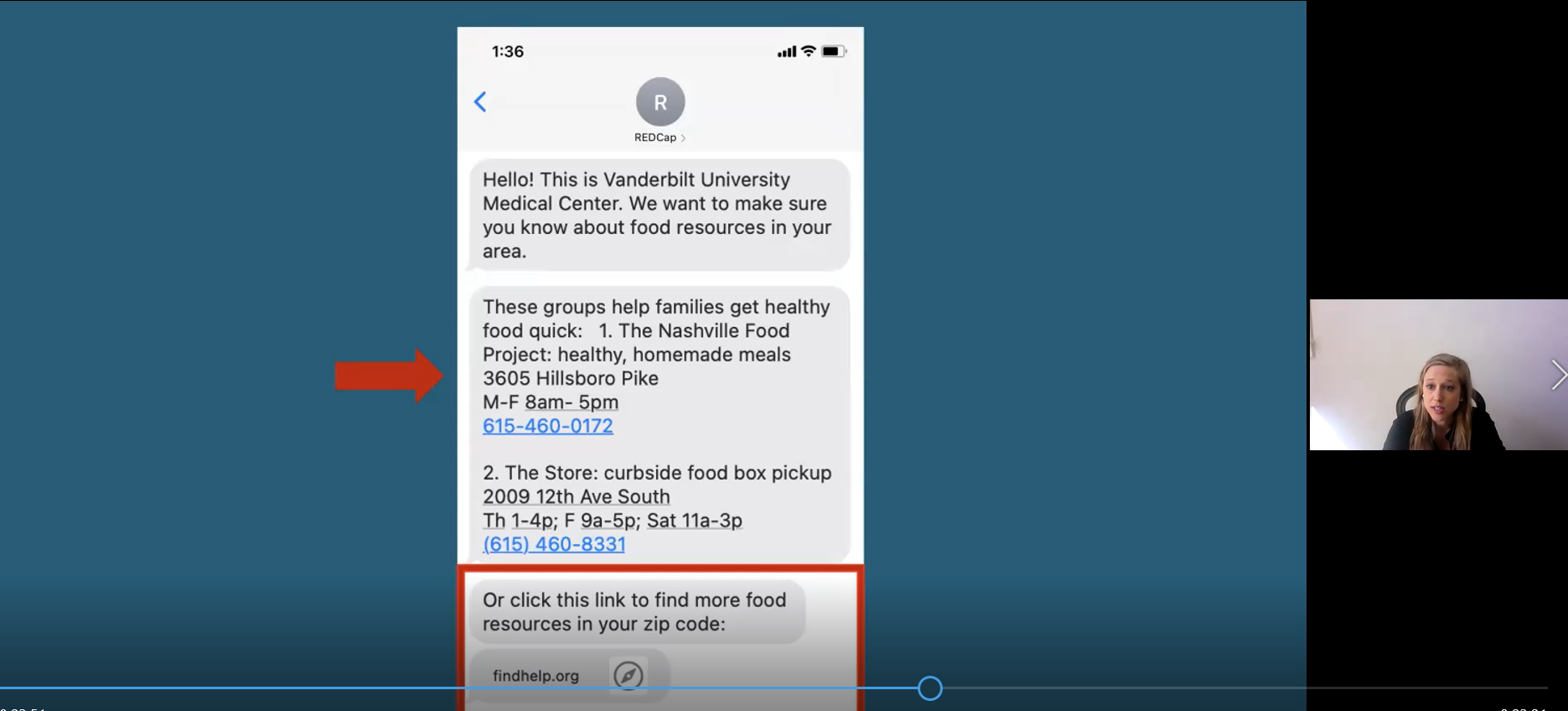 Other Competitors: 
Using Technology to Reduce Inequity in Discharge Medication Counseling for Hospitalized Children   
Team Members: Ali Carroll, MD; Derek Williams, MD, MPH; Amanda Mixon, MD, MS, MSPH; David Johnson, MD; John Wright, PharmD 
Mentor: Allison McCoy, PhD 
Project Summary: Caregivers of children who have been discharged from the hospital are asked to remember a lot of important information about their child's care once they get home. A big part of discharge teaching is about medicines that caregivers will be asked to give their child at home. Understanding medication instructions can be difficult for everyone but is particularly more challenging for individuals with low health literacy. Caregivers from lower socioeconomic groups, lower educational attainment, racial and ethnic minorities, and non-English speakers are disproportionately affected by low health literacy. Caregivers will low health literacy are more likely to make medication errors which could result in harm to their child. This is particularly true for liquid medications which are prone to more errors. There are evidence based health literacy informed communication strategies that should be used but, for a variety of reasons, are infrequently used and are not standardized.  One current challenge is that our after visit summary which includes a medication list does not utilize all the proven health-literacy informed communication strategies and is missing some medication information just as last dose given, indication for use, side effects and special instructions or storage information. We worked with Dr. Allison McCoy to customize the after visit summary medication list to add these missing elements. In the future, being able to include a syringe with the correct dose shown will be crucial for caregivers of infants and children discharged home on a liquid medication.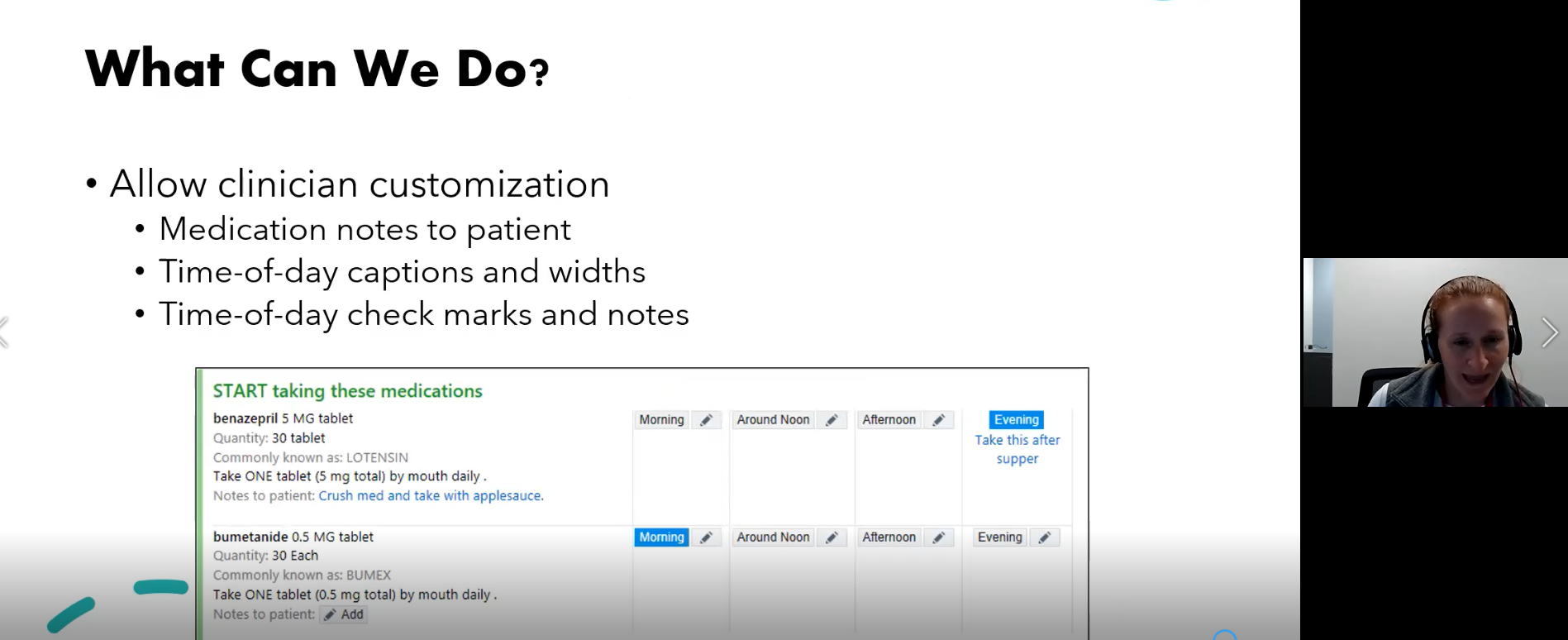 Bridging the Digital Divide: Addressing Inequality in Access to Telehealth 
Team Members: Michael Clark, BS; William Quach, BS: Olivia Henry, BA; Kathy Lee, BS; Megan McLeod, BBA; Thomas Li, BS; Sricharan Kadimi, BS; Jay Kang, BA; Roman Gusdorf, BS; Chi Le, BS; Amany Alshibli, BS 
Mentor: Sara Horst, MD, MPH 
Project Summary: Use of telehealth at Vanderbilt has increased dramatically in response to the COVID19 pandemic. With increased reliance on technology-driven healthcare delivery and continued diversification in Vanderbilt's catchment area, the "digital divide" in healthcare access has grown more apparent. Consequently, there exists a need to identify patients who may lack the resources or technological literacy to utilize telehealth services and intervene to ensure they have equitable access to care. We propose a health technology response to this need, including a predictive model to identify patients at risk of telehealth failure, EHR tools to identify specific barriers to telehealth utilization, and targeted access interventions that meet patients' individual needs.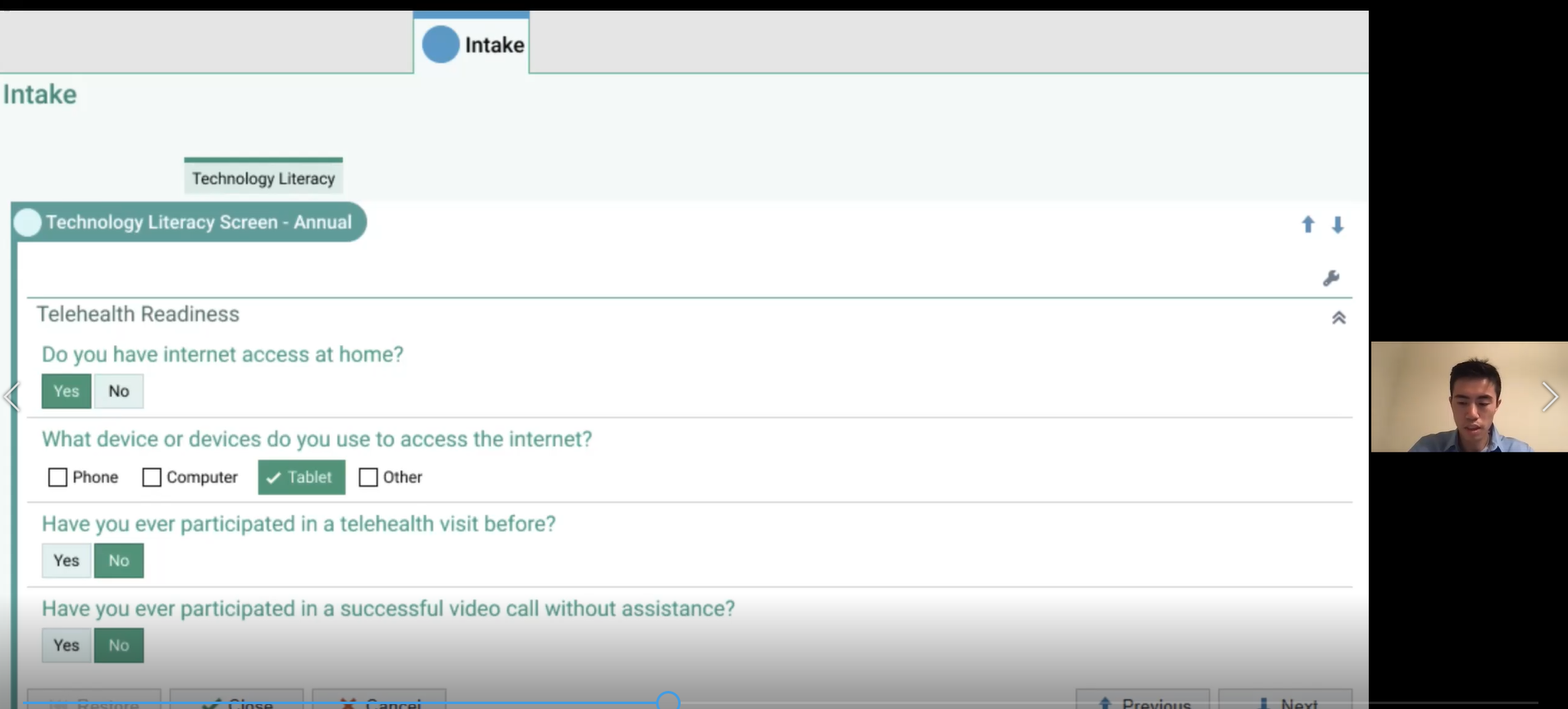 PROgnosIS CKD: Patient Reported Outcome Intake for Self-Care, Cognitive, and Functional Decline 
Team Member: Devika Nair, MD, MSCI 
Mentors: Sharidan Parr, MD, MSCI, MS; Justin Bachmann, MD, MPH 
Project Summary: Patients with chronic kidney disease face prognostic uncertainty and lack awareness of factors that may affect their prognosis. Nephrologists do not routinely discuss prognosis with their patients. Implementing and visualizing patient-reported outcomes (PROs) that affect prognosis alongside clinical prognostic indicators could increase patients' prognostic awareness, improve patient-provider prognostic communication, and identify patients who need early psychosocial and behavioral support.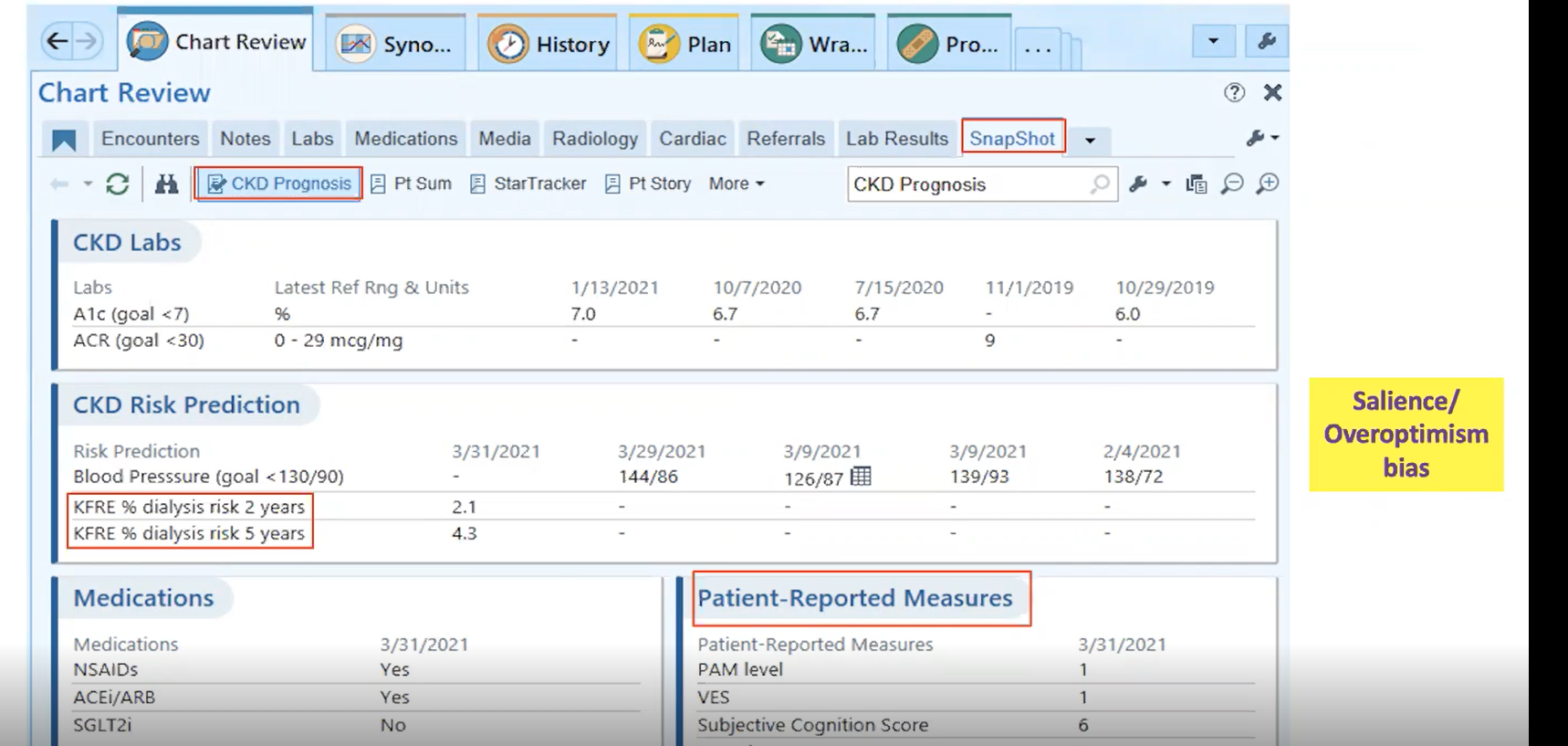 Thank you so much to our esteemed Judges, Robert (Bob) Miller, MD; André Churchwell, MD; and Neal Patel, MD, MPH; and to our VCLIC Theme Leaders, William Martinez, MD, MS, and Trent Rosenbloom, MD, MPH.