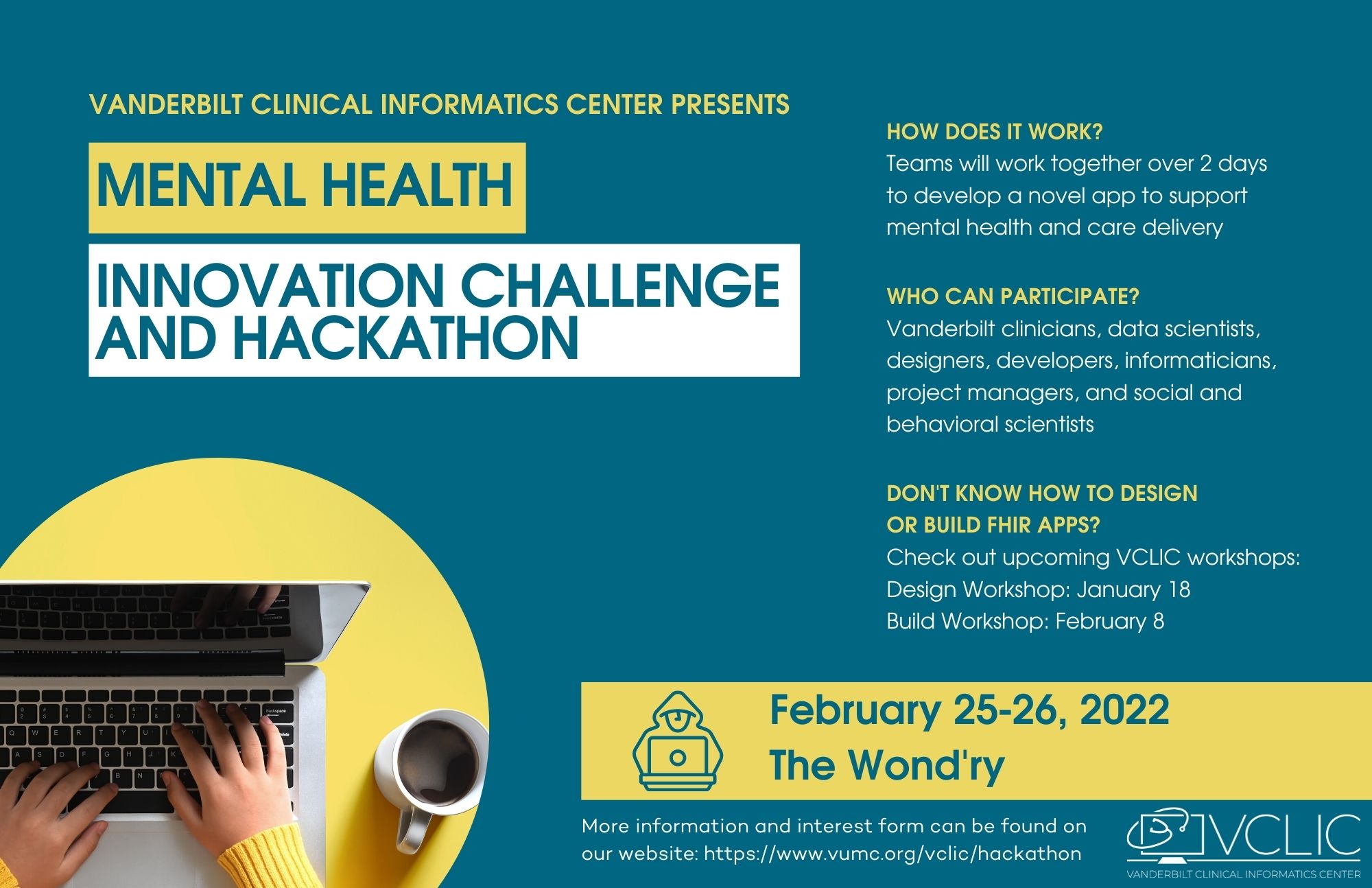 According to the CDC, "mental health includes our emotional, psychological, and social well-being," and mental illnesses are "conditions that affect a person's thinking, feeling, mood or behavior, such as depression, anxiety, bipolar disorder, or schizophrenia" (cdc.gov). Mental illnesses are some of the most common health conditions in the United States, and "more than 50% of people will be diagnosed with a mental illness or disorder at some point in their lifetime" (cdc.gov).   
Vanderbilt has been a long-time user of electronic health records (EHRs). Vanderbilt's EHR, eStar, contains data about every patient we treat, and new features can be developed and implemented to support new care models. Vanderbilt also offers our patients MyHealth at Vanderbilt (MHAV), a patient portal where patients can access their medical data, and even connect to external apps. Both the provider and patient-facing components of our EHR support the SMART on FHIR standard, allowing external applications to be seamlessly integrated.  
The Vanderbilt Clinical Informatics Center (VCLIC), in partnership with VUMC HealthIT, will host an innovation challenge and hackathon to support development of novel apps for patients and healthcare providers to support our Innovative Care Delivery Models for Mental Health theme.  
The innovation challenge and hackathon will take place from a Friday to Saturday, February 25th-26th, 2022, and will be held at The Wond'ry on Vanderbilt University's campus. The event is open to all VUMC and VU affiliates, including students, faculty and staff in all disciplines and departments – whether based at the University of the Medical Center. Participating teams can be comprised of several different types of roles, including developers, clinicians, project managers, social and behavioral scientists, designers, data scientists, informaticians, and others, which you can indicate on the interest form, linked below.
The goal of the innovation challenge and hackathon is for teams to come together and develop a novel apps to support mental health, defined broadly. We welcome apps for patients and providers, apps integrated with or external to the EHR, and apps for any phase of mental health care, including screening, diagnosis, treatment, or wellness. VCLIC will award prizes to the top teams. The applications developed will be judged based on creativity, functionality, design, clinical impact, and relevance to the theme.  
Related Workshops
VCLIC will host two workshops leading up to the innovation challenge and hackathon that will help participants prepare for the competition, though participation in the workshops is not mandatory or a prerequisite for participation in the innovation challenge and hackathon event.  
The first workshop will be on Tuesday, January 18th, 2022 from 1:00-4:00 pm and will feature VCLIC members Thomas Reese, PharmD, PhD, and Megan Salwei, PhD, who will provide a hands-on instructional session on using design principles in the development of applications.  
Then, on February 8th, 2022, also from 1:00-4:00 pm Tim Coffman and Simeon Hearring of VUMC HealthIT will teach a practical session on developing FHIR applications using the SMART on FHIR API.  
More information about both the workshops and the hackathon will be disseminated shortly.  
If you are interested in participating in the design challenge and hackathon, please fill out the interest form, here:  https://redcap.link/VCLICDesignChallengeandHackathon 
email elise.russo@vumc.org with any questions!