Vanderbilt University Medical Center has a long history of innovation in clinical informatics.  Until 2017, VUMC developed its own clinical information systems, but has now transitioned to Epic. VUMC has also seen increasing interest in clinical informatics research and operational projects throughout the university and medical center, including frequent requests for data, as well as ideas for clinical informatics interventions.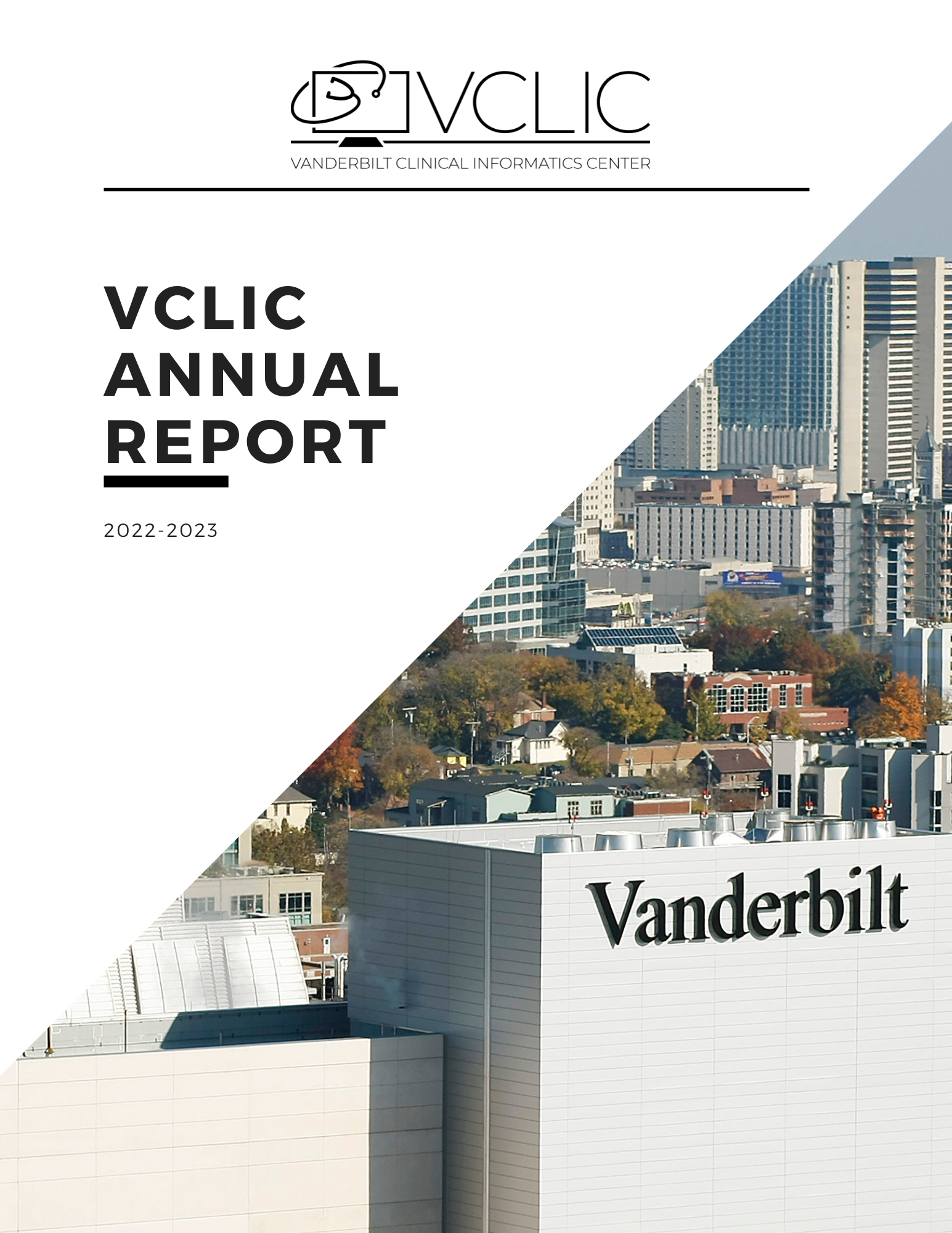 Vision: VUMC is the best place to practice, research, and learn clinical informatics in the world, and our work together makes healthcare better everywhere. 
Mission: To form and nurture an outstanding community of clinical informaticians at VUMC and "pave the road" so that Vanderbilt faculty, students, and staff find it easy to access data, test innovations, and evaluate results in support of informatics practice, research, and education.  
Goals:  The goal of VCLIC is to enable clinical informatics research and practice.  The Center's goals are:  
Faculty, students, and staff in DBMI and Vanderbilt clinical departments find it easy to access data, test innovations, and evaluate results.  
VCLIC members are a trusted source of strategic advice and consultation and work on projects of strategic and clinical importance to VUMC.  
Center members are recognized locally, nationally, and internationally for their expertise in and contributions to the field of clinical informatics.  
VCLIC is the centralized repository of clinical informatics resources in the medical center, providing synergy across departments and disciplines.  
Lessons learned from VUMC are disseminated widely through traditional academic channels (conferences and journals) as well as new channels (Epic's UGM, social media, open source). 
Vanderbilt is recognized as a top educational program in clinical informatics nationally.  
Vanderbilt is a top recipient of NIH funding for clinical informatics research. 
VCLIC's current activities include:
Research
Paving the road for clinical informatics initiatives

How to access to Epic
How to get trained and certified
How to build and evaluate interventions
How to get data
How to disseminate results within and beyond VUMC

Creating and facilitating access to infrastructure needed by informaticians

Innovation sandboxes
Web services

Helping investigators design, plan, and execute their clinical informatics research
Identifying topics of interest for new research initiatives
Education
Supporting undergraduate and graduate medical education, including EHR-enabled simulation, assessment, and learning
Supporting nursing and allied health education
Offering educational opportunities for those interested in informatics, including:

Clinical informatics lab course for informatics graduate students
Opportunities to learn more about building and extending Epic
Resident elective in clinical informatics
Regular local trainings on FHIR and APIs
Opportunities to purse Epic training and certification
Clinical informatics grand rounds
Service
Providing informatics expertise to operational Health IT initiatives at VUMC
Coordinating evaluations and research collaborations between Health IT and VCLIC members
Informatics consultation with researchers and quality improvement staff throughout the organization
Administering data access programs