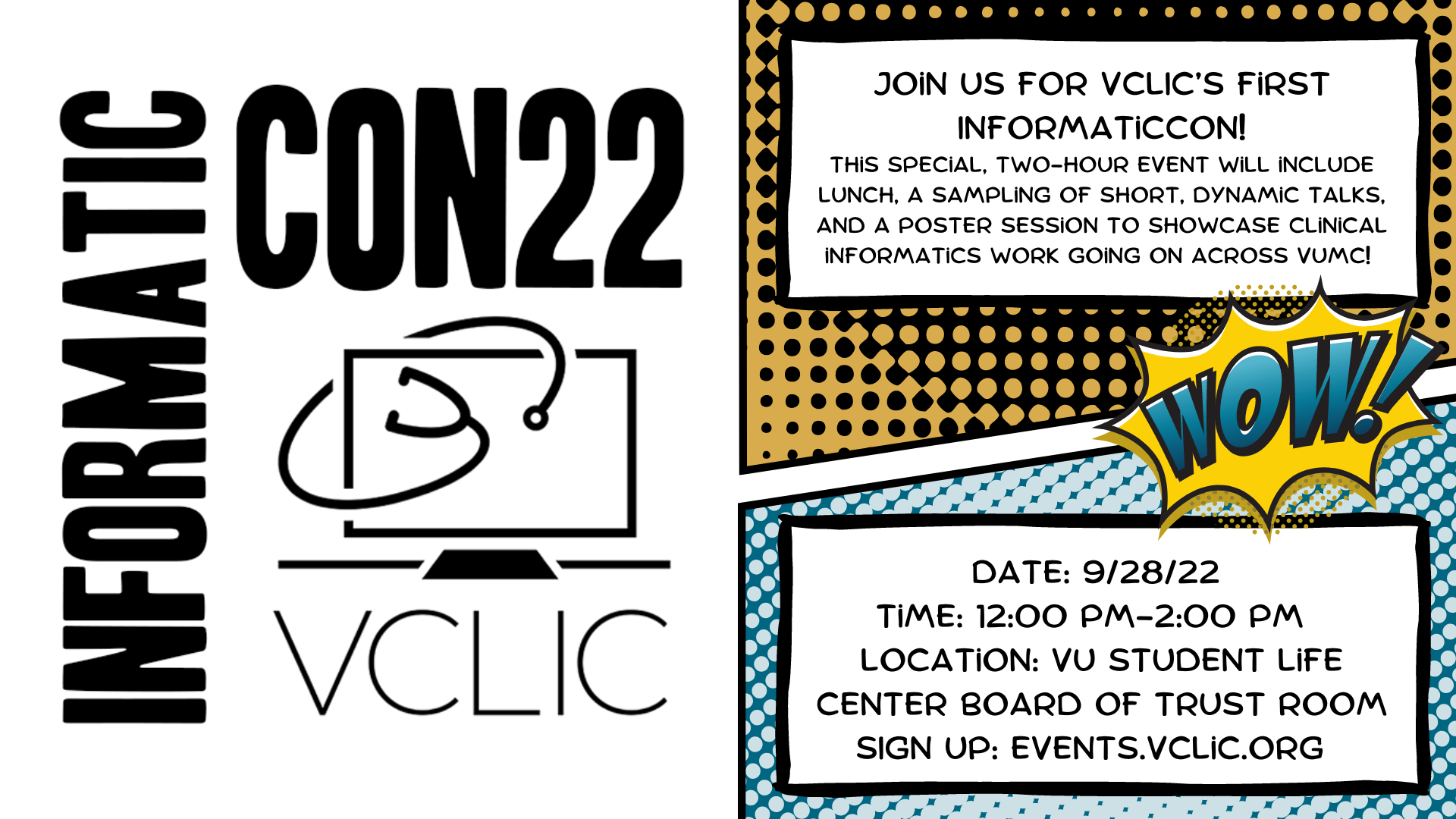 VCLIC hosted its first ever InformaticCon event on Wednesday, September 28th, 2022 from 12:00-2:00 pm in the VU Student Life Center Board of Trust Room. The event celebrated and showcased a variety of clinical informatics-focused projects that people from across VUMC are or have worked on, and we believe the end result was a display of a truly diverse array of impactful work! During the first hour of the event, eight speakers gave lightning-style (no longer than 7 minute) talks, and for the second hour, we held a poster session with 27 presenters. 
Please find an archive of all the talks and posters we are able to share from the event below! We are already looking forward to next year. 
Lightning Talks: 
Sara Horst – IBD Care: EPIC Clinic Enhancements
Benjamin Collins – Attention to the Influence of Race and Ethnicity on Patient Trust in Artificial Intelligence for Healthcare
Cheryl Gatto – VICTR's LHS Platform: Supporting Pragmatic Trials with Research Infrastructure
Carolynn Nall – VUMC Health IT Immersion Program
Scott Nelson – Naloxone Co-Prescribing Alert
Cosby Stone – Informatics Enabled Penicillin Allergy Risk Stratification and Delabeling
Jonathan Wanderer – The VUMC Physician Builder Program—Oh, the Things You'll Build!
Posters: 
Shane Stenner – Building the Vanderbilt Integrated Teaching and Learning System (VITALS) and VITALS Spotlight Tool
Mark Naguib – Collecting the Puzzle Pieces: Creating a Better Patient List for the Pediatric Hospital Medicine Services
Casey Distaso – AgileMD - Clinical Pathways to Streamline Provider Workflow
Dan Albert – Building a Pipeline for Clinical Decision Support using Natural Language Processing
Dario Giuse – The Word Cloud NLP: Natural Language Processing for Concepts Extraction in Real-Time and At Scale
Zhiyu Wan – Privacy-Preserving Collection and Sharing of Unbiased Human Voice Data for Automatic Assessment of Voice Disorders and Respiratory Diseases
Henry Domenico and Ryan Moore– "The Last Mile" for AI in Healthcare: Sustainably Improving Patient Health Outcomes – The Essential Role of Multidisciplinary Cooperation and Collegiality
Christopher Guardo – Predicting Long Covid Risk Using EHR, Genetic, and Survey Data
Sam Al-Droubi – Machine Learning Modeling to Support Cardio-Oncology Medical Practice
Siru Lu – Develop and Evaluate an Intelligent Clinical Decision Support Tool to Predict New Onset of Delirium
Aileen Wright – Development and Validation of Inpatient Hypoglycemia Models
Kerry Schaffer – Developing an Informatics-Based Algorithm to Capture Patients who Qualify for Germline Testing in Advanced Prostate Cancer
Hannah Slater – Evaluation of Breast Cancer Screening Order Completion
Cristin Fritz – Novel Mobile Resource for Food Insecurity (No MoRe FI)
Brian Douthit – Does Documentation Matter? Examining the Association between Nursing Documentation Granularity and Pressure Injury Prevalence
Thomas Reese - Bridging Recovery Initiative Despite Gaps in Entry (BRIDGE): Study Protocol for a Randomized Controlled Trial of a Bridge Clinic Compared with Usual Care for Patients with Opioid Use Disorder
Bryan Steitz – Impact of Open Results on Patients and Providers
Marco Barbero Mota –Measuring Changes in Funding Relationships between Pharmaceutical Companies and Research Hospitals from Pre- to Intra-COVID-19: A Network Analysis Study
Jen Andrews – Successful Rollout of a Transfusion Dashboard
Randy Winstead – Creating a Streamlined Blood Documentation Workflow for Apheresis Procedures
Austin Fitts – Price Transparency at the Point of Prescribing with Real-Time Prescription Benefits (RTPB)
Joseph LeGrand – CodeRx Medication Diversification Tool
Kristen Whelchel – Harnessing the EHR to Streamline Workflow & Reporting
Allison McCoy – Enabling Clinical Research and Innovation through a Clinical Informatics Core
Cheryl Gatto – Learning Healthcare: Managing the Partnerships, Pathways, and Projects in Pragmatic Trials
Susan Taylor – Nova Palooza: Joint Review of Epic Upgrade Changes in eStar
Evonne McArthur – Schematify: Developing a Web Application to Visualize Medical Diagnostic Schemas