Hiring for Application Developer Position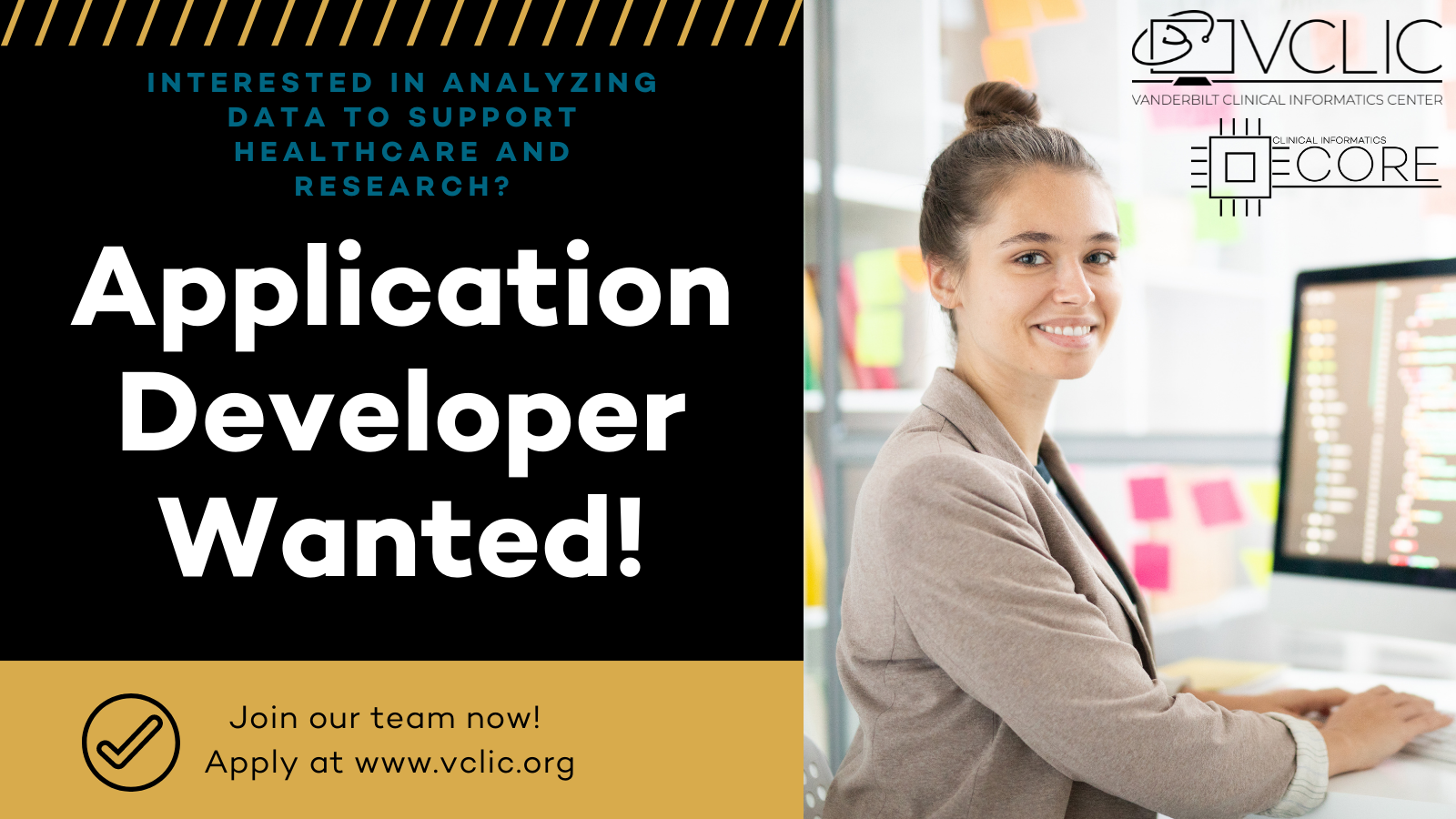 Link to posting on VUMC HR Website
JOB SUMMARY
Over the last decade, hospitals and doctors' offices have embraced Health Information Technology (HIT) and Electronic Health Records (EHRs). EHRs have the potential to improve quality, safety, and efficiency of health care. A byproduct of using EHRs is the production of huge amounts of clinical data, which can be analyzed to optimize the delivery of care and better understand human health.
The Vanderbilt Clinical Informatics Center, a world-leading group of researchers and practitioners studying how to make EHRs work better, with a particular focus on innovative clinical decision support systems, artificial intelligence, and machine learning, has recently initiated a Clinical Informatics Core. The Core will support a range of research (and some operational) activities and work with and across clinical departments at Vanderbilt to optimize clinical care. We are seeking a full time Application Developer to join our team and support these projects.
Candidates for the Application Developer role will have an interest in and aptitude for data science and data analytics, especially in health care. They will be working with Epic (VUMC's EHR) databases and reporting tools, especially Clarity, to support several research and operational projects with a diverse range of clinical impacts. Potential projects include querying Clarity to pull specific subsets of data for various research and operational projects, developing or improving clinical decision support tools to detect adverse events in the VUMC patient population, developing dashboards to understand trends and criteria of specific subsets of patients that see VUMC providers, and using data to understand and improve several other EHR-related functionalities. Competitive candidates will have extensive SQL experience, and skill in programming languages such as Python or R is beneficial.
Through the VUMC Department of Biomedical Informatics (DBMI) and the Vanderbilt Clinical Informatics Center (VCLIC), the Application Developer will have numerous opportunities for training and career development. For instance, as part of this role, the Application Developer will be expected to complete Clarity database training through Epic (unless the candidate already has obtained the requisite training), the most widely-used EHR system in the United States. DBMI and VCLIC also hold regular seminars and journal clubs and offer trainings on research skills and data management. Opportunities to observe and shadow healthcare providers and Health IT professionals are also available.
In this role, candidates will learn from and be mentored by world-renowned academic leaders in clinical informatics. They will have the ability to make a significant impact on patient care while mastering skills necessary to manage and manipulate large, complex data sets and build related interventions.
KEY RESPONSIBILITIES
Leverage available data sources, including Epic reporting tools (Clarity, reporting workbench), to support a variety of research and operational projects.

Pull, analyze, and correlate data from a variety of sources within the EHR.

Summarize data through statistical analyses, data-visualization techniques, and taxonomy development.

Develop and/or use statistical algorithms and modeling techniques to evaluate scenarios and predict future outcomes

Consult with clinical leaders to understand problems and goals, and translate these needs into analytics solutions

Develop subject-matter expertise by fully understanding the complex methodologies used for measurement of healthcare outcomes

Apply statistical rigor to analyze large amounts of data using data science techniques

Wrangle structured and unstructured data to solve complex business problems

Closely collaborate with analysts and data engineers to develop technical and business approaches and/or enhanced technical tools

Create innovative visualizations of the data to effectively communicate analytical results

Adjust dashboards as needed, monitor, fix, and report on resulting usage metrics.

Demonstrate superior communication skills, and ability to develop and participate in presentations and consultations on analytics results and solutions

Work closely with thought leaders in clinical, analytics and data science areas at VUMC to reuse and share knowledge, tools and methodologies

Assist in the development of clinical decision support and other EHR-related programs/tools.

Participate in project teams and work related to the projects.

Assist with the preparation of formal research reports and manuscripts for publication in journals.
BASIC QUALIFICATIONS
Bachelor's degree in computer science, mathematics, informatics, statistics, or related field, and an interest in healthcare and the use of information technology to support clinical care.

2 years relevant experience.

Strong SQL skills.

Experience with software development and algorithms.

Knowledge of machine learning and artificial intelligence desirable.

Experience with industry-leading interactive data visualization and digital business intelligence products such as Tableau preferred.

Strong analytical and problem-solving skills, with the ability to independently draw conclusions from data.

Strong PC Skills required, including extensive knowledge of MS Excel, knowledge of other MS Office suite applications, and at least one Statistical Analysis Program (R, SPSS, SAS, etc.).

Excellent interpersonal skills required for working with leadership and healthcare professionals.

Ability to work independently with only general supervision.

Excellent organizational skills and ability to prioritize a variety of tasks.

Careful attention to detail.
Interest in joining us? Apply here.
---
Accepting Applications for Postdoctoral Researchers
We are accepting applications for postdocs interested in working on clinical informatics-related research projects. If you would like to be considered for a postdoc role, please email a letter of interest, CV, and contact information for three references to Elise Russo (elise.russo@vumc.org) and Adam Wright, PhD (adam.wright@vumc.org).