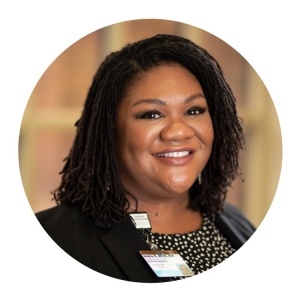 Jessica Raines, MMHC, BSN, PHC-BC
Manager, Patient Care Services
Child/Adolescent
Vanderbilt Psychiatric Hospital
 
I began my career at Monroe Carell Jr. Children's Hospital at Vanderbilt in the pediatric Emergency Department and later joined the Hepatic, General, Trauma, Vascular (HGTV) service line in the VUMC operating room. I came to Vanderbilt Psychiatric Hospital in 2012 and have worked as a staff RN, clinical staff leader, and in my current role as a nurse manager. I obtained a Master of Management in Health Care degree in the fall of 2020 from the Owen Graduate School of Management at Vanderbilt. The best part about being a nurse leader at VUMC is that I can continuously learn and grow with a multidisciplinary team of individuals that are focused on innovating, implementing, and managing change for the best outcomes possible.