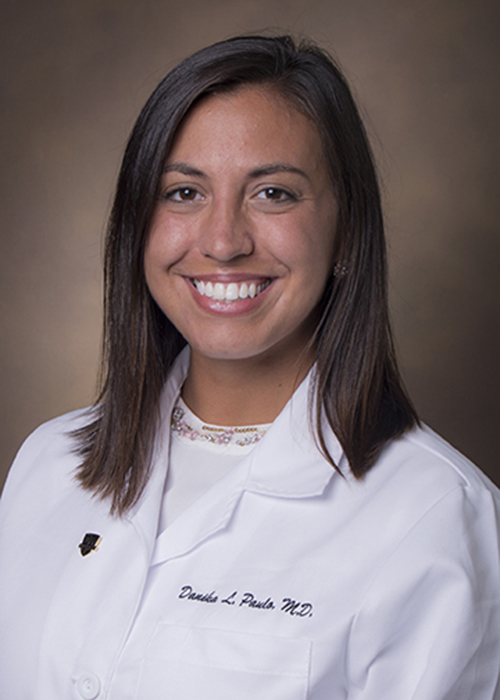 Danika Paulo, MD
Undergraduate- Boston College 2012
Medical School-Rutgers-Robert Wood Johnson Medical School
Danika L. Paulo, MD was born in New York City and raised in Morristown, NJ. She attended Boston College for her undergraduate education, earning a Bachelor of Science degree with a major in Biology and a minor in French Language in 2012. During college, she volunteered her time working as an EMT for her hometown and college ambulance squads, which spurred her interest in clinical medicine. She also participated in basic science research at BC studying neuroprotective medications for ischemic stroke in animal models and clinical research at NYP Weill-Cornell studying long-term outcomes of minimally invasive spine surgery. With an early interest in neurosurgery, she began medical school at Rutgers-Robert Wood Johnson Medical School in 2012. While there, she served several leadership roles, including Founder and President of the Students Interested in Neurosurgery Group, Vice President of Student Affairs, Co-Director of the International Health Interest Group and Social Chair. Her research pursuits involved studying psychiatric and functional neurosurgery at NYP Columbia as well as several projects at Rutgers including unique pediatric spine cases, laser hippocampectomy for epilepsy, dorsal root ganglion stimulation for complex regional pain syndrome, historical evolution of neurosurgical hemostatic agents, and implications of leptomeningeal spread of glioblastoma multiforme. She has also travelled to Peru and India on global health mission trips.
Dr. Paulo began her neurosurgery residency at Vanderbilt in July 2017 and plans to complete her training by 2024. Her clinical interests include functional neurosurgery, neuro-oncology and global health.
Outside of the hospital, you may find her exploring new restaurants, practicing yoga, listening to or playing music, skiing, travelling or spending time with family and friends.