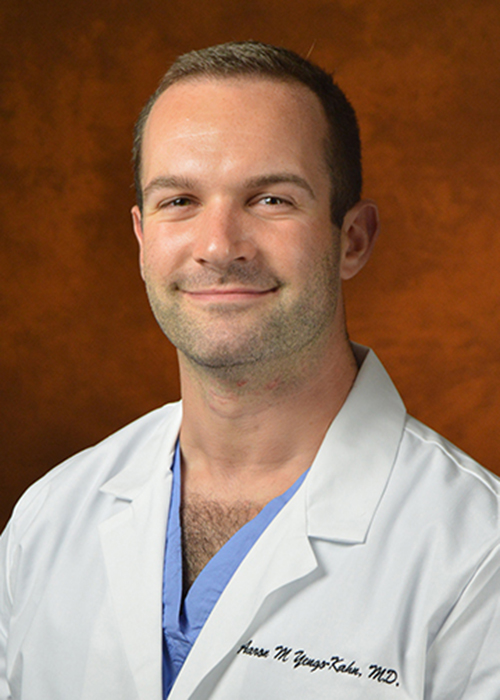 Aaron Yengo-Kahn, MD
(PGY 7) Undergraduate- Boston University, 2011
Medical School-Vanderbilt University, 2016
Aaron Yengo-Kahn, MD was born in Pittsburgh, PA and grew up near Boston, MA in Lexington, MA. He attended Boston University where he graduated in 2011 with a degree in Human Physiology earning summa cum laude honors. He spent a year before medical school teaching anatomy to undergraduate students as well as working as a research coordinator at New England Baptist Hospital. He received his medical degree from Vanderbilt University School of Medicine in 2016. At the end of his 3rd year he was inducted into both the Alpha Omega Alpha medical honor society and Gold Humanism Honor Society. While a medical student, he pursued interests in medical education, serving as the Co-Chair of the Student Curriculum Committee during his fourth and receiving the Geoffrey David Chazen Award for contributions to Vanderbilt's education program. He remains interested in medical student and resident education contributing to medical student clinical skills evaluations, developing and coordinating resident anatomy sessions and mentoring medical students in clinical outcomes research and neurosurgery.
His main research interests include sport-related concussion, specifically novel diagnostic methods, outcomes prediction and cost-benefit analyses. He has served as the Co-Director for Research at the Vanderbilt Sport Concussion Center since July 2019. He has additional research interests in pediatric neurosurgery, adult neurotrauma and systems-of-care. 
In his free time, you may find him staying active in the gym or outside participating in one of many recreational activities he enjoys, including disc golf.