The GOL2D Project, AMA Reimagining Residency
Collaboration Across Academic Health Systems to Better Align GME with Learner, Patient, and Societal Needs

What is The GOL2D Project?
The Goals of Life and Learning Delineated (GOL2D) Project is a collaboration between Vanderbilt University Medical Center (VUMC) and the University of Mississippi Medical Center (UMMC) that addresses professional identity development in graduate medical education. The model trains residents in different physician personae tracks—Structural Competency, Health Systems Sciences, and Leadership and Advocacy—and uses them to support their career development.
The goal of the GOL2D project is to build a community of outward-facing learners who have strong commitments to both their clinical field and areas of structural competency, health systems science (HSS), and leadership and advocacy, with deliverable outcomes that yield both individual and institutional impact.
Background & Goals
The GOL2D Project ambitiously embraces the call for novel curricula to prepare physicians for their future practice, to support flexibility and curiosity within residency training and beyond, and to inculcate habits of lifelong learning and reflection, while simultaneously promoting a goal of human flourishing—both for the patients to whom residents deliver care and for the residents themselves, now and into their futures.
Through its unique private/public institutional partnership (VUMC and UMMC), the GOL2D Project will: 
Describe five capacity domains, illustrated by unique personae, crucial for future physicians, transcendent of specialty. 

Create novel interdisciplinary, integrated curricula & experiences (IIEs) that enable residents to develop within these domains, helping them flourish in a complex environment while maturing their identities.  

Pilot and scale opportunities for competency-based progression from UME into GME. 

Demonstrate the utility of asynchronous, workflow-based quizzing in advancing individual learning and the learning health system. 

Develop processes for longitudinal tracking of life and learning goals for residents and graduates of GME programs using a platform that supports life-long learning and persona reflection. 
The Five Personae / Capacity Domains
Over time, and with completion of curricular content specific to each of the Five Personae (Clinical Excellence (baseline for all physicians), Master Adaptive Learning & Teaching, Structure Competency & Humility, Leadership & Advocacy, Health Systems Science, and Innovation & Discovery), user progress will be plotted by filling in (from outside to inside) the specific level of completion (from Level 1, the outer portion of the circle, to Level 4, most inner circle).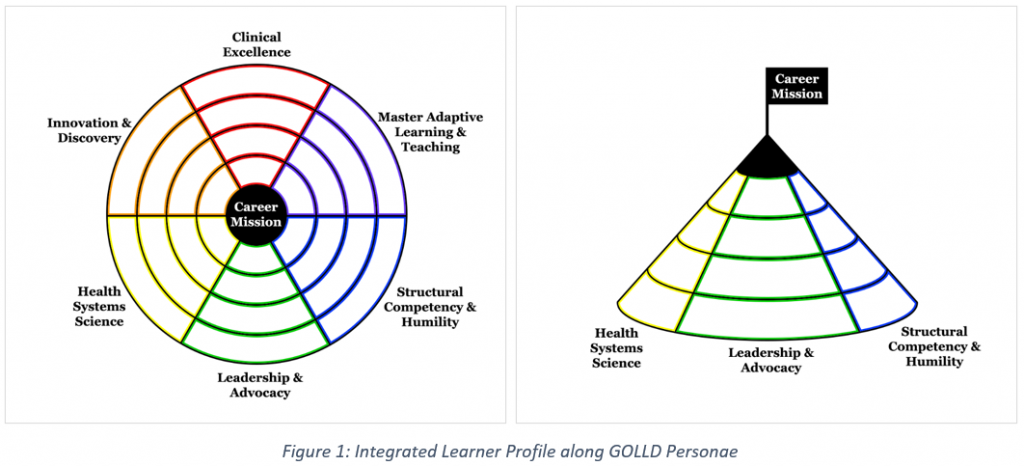 The four phases of the master adaptive learner (MAL) parallel what we would propose as the four phases of the master adaptive teacher (MAT): admitting knowledge/skills gaps to learners; engaging in learning with one's learners; testing what is learned and being willing to err in front of one's learners, and incorporating new learnings into future teaching. MAL practices will enhance one's ability to analyze clinical care gaps and hone one's ability as a life-long learner. In addition to benefiting others through effective teaching and role modeling, MAT practices will also amplify one's individual learning.

Core Characteristics:

Consistent growth mindset

Adroitly shifting between routine and innovative problem solving

Demonstrates resilience when work and learning are difficult

Drive to constantly improve

Reflective on one's approach to learning and practice

Demonstrates adaptive expertise in their own practice

Examples of Careers: (often Integrated with other personae)

Orthopedist coaching residents and medical students

Oncologist medical director who utilizes adaptive expertise to guide change

Pediatric quality improvement leader leading system improvements

Internist clinician-educator modeling shared mental model to team members

Pathologist fostering a cognitive apprenticeship with medical students

GOL2D Integrated, Interdisciplinary Experiences (IIEs):

Didactics: Exploration of adaptive expertise; master adaptive learner conceptual framework; contrasting routine and innovative problem solving; cognitive apprenticeship model
Example Individualized Experiences: Professional identity formation around roles as learner and teacher, coaching for personal growth and development; trying various teaching strategies with Academy faculty feedback; reflective learning groups
The GOL2D Project aims to systematically adapt it for residency. Focusing on the integrally related domains of health equity and community engagement, training will include modules on structural and social factors impacting health and how to incorporate these factors into shared decision making; effective communication with patients and families from different backgrounds; and successful engagement with community organizations. Immersions might include experiences with public health offices and clinics in rural and urban settings.

Core Characteristics:

Understands the importance of social and structural context

Collaborates outside healthcare

Has humility to learn from community

Advocates for policy change

Effectively builds/sustains trust

Examples of Careers:

Trauma surgeon in an urban area

Community Health Center leader and local internist

Obstetrician in rural area

Pediatrician as a health equity researcher

Clinician educator in an underserved setting

GOL2D Integrated, Interdisciplinary Experiences (IIEs):

Didactics: understanding structural social factors in incorporating practice; Engaging community organizations; affective communication.

Example Individualized Experiences:

rural and urban settings (TN & MS); public health departments; nurse dash run clinics; mobile clinics; EversCare clinic.
The GOL2D Project will develop a leadership IIE that incorporates organizational leadership, teamwork, advocacy, management, finance, and conflict resolution across VUMC and UMMC GME programs, building off a model developed by VUMC's Otolaryngology residency Experiential components might include internships with health system leaders, involvement with advocacy groups, health-related policy development, and lobbying activities with our government liaisons and faculty consultants.

Core Characteristics

Servant leader

Understands organizational complexity

Advocates based on principles

Balances management with leadership

Emotionally Intelligent

Demonstrates interpersonal literacy

Examples of Careers

Family physician as public health commissioner

Anesthesiologist becomes hospital system CEO

Surgeon advocating for transplant patient issues

Chair of OB at a public hospital

Pediatrician lauded as a local community leader

Psychiatry program director

Preparation for positions not yet Invented

GOL2D Integrated, Interdisciplinary Experiences (IIEs):

Didactics: Coaching and feedback; management vs leadership; emotional intelligence; principled advocacy at all levels; organizational leadership; case-based team-learning; resident as a mentor; social responsibility
Example Individualized Experiences: Internships with system leaders; advocacy work in the community; rotation with Health Policy department; time with government affairs representatives; work inside of foundations; mentoring of disadvantaged youth for medicine
The Health Systems Science & Innovation (HSSI) Curriculum is a tiered curriculum for residents & fellows at Vanderbilt University Medical Center (VUMC) and the University of Mississippi Medical Center (UMMC) with built-in opportunities for faculty co-learning and radical interprofessional collaboration.  The goal is to encourage our residents and fellows to view their daily practices through a lens of HSSI, identify problems and develop the agency to fix them.

Core Characteristics:

Demonstrates team science approach

Applies QI principles to daily work

Understands the interrelatedness of care financing, organization, and delivery

Patient safety champion

Advanced knowledge of data analytics

Examples of Careers:

Surgeon as chief patient safety officer

Pediatric professor of population health

Internist with a career in implementation science research

Urologist becomes CIO at a community hospital

Neurologist as telehealth director for regional network

Clinician-educator as an instructor in team-based care

GOL2D Integrated, Interdisciplinary Experiences (IIEs):

Didactics: Understands principles of implementation, team, and population science; data analytics; QI methodologies and applicability; telehealth applications

Example Individualized Experiences

: Rotation In biomedical informatics; work with UMMC's Telehealth Center of Excellence; rotation through VUMC Center for Clinical Quality and Implementation Research; Quality Committees
Adult learning focuses on self-directed, problem-centered efforts carried out in safe environments. In contrast, "play" centers on recreational activities carried out for enjoyment rather than for practical purposes. Combining these two orientations in a "play-learn" model can help us creatively address vexing problems in our care environments. Medical education should provide opportunities for residents to be design thinkers and innovators, encouraged to utilize both their creativity and their curiosity to solve problems in their own work-life worlds. Imaginative inquiry can also lead to creative modes of dissemination that joyfully connect people across disciplines, within and outside medicine, to empathetically designed improvements in health promotion and healthcare delivery.

Core Characteristics:

Entrepreneurial mindset

Enjoys connecting people & ideas across diverse disciplines

Uses storytelling to inspire change

Embraces the arts & social sciences

Curiosity, creativity, and imagination as core values

Examples of Careers:

Physician entrepreneur

Physiatrist designing back pain solutions

A clinical informatician founds a startup

Pediatrician leading a nonprofit

Internist becoming a chief innovation officer

Radiologist ultimately working in industry or government

GOL2D Integrated, Interdisciplinary Experiences (IIEs):

Didactics: Design thinking; leading through storytelling; communication; improvisation; arts as emotional connection; business & entrepreneurship.
Example Individualized Experiences: Immersion within the industry; "power pitches" & hackathons; right-brain activities; using human-centered design to develop innovation products or services; rotation with VUMC's Office of Strategy & Innovation.