Educator Development Core (EDC)
The mission of the Educator Development Core (EDC) is to provide educator development initiatives across the VUSM continuum, serving students, residents, fellows, and faculty through UME, GME, and faculty development.
Educator Development Program (EDP)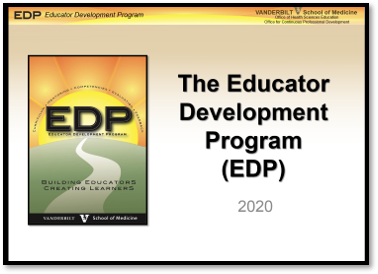 The goal of the Educator Development Program (EDP) is to enhance the medical education knowledge, attitudes, and skills of all Vanderbilt University Medical Center faculty members (physicians, nurses, and scientists), learners (students, residents, and fellows), and other (administrators, department leaders) who teach in the medical graduate, or nursing school environment.
Click on the picture to learn more about EDP Program activities.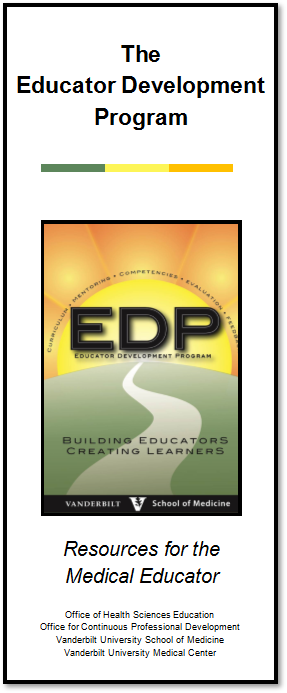 In the context of the changing medical environment -- including continuous improvements to the curriculum -- resident teaching skills and faculty development are more important than ever. At Vanderbilt University School of Medicine, we are committed to providing educator development initiatives to assist faculty in their quest to become outstanding, up-to-date, nationally recognized teachers and leaders in medical education.
Participants in the Educator Development Program (EDP) can increase knowledge, enhance teaching skills, challenge attitudes toward teaching, explore learning styles and strengthen their scholarly approach and scholarship.
Click on the picture to download the EDP Brochure.
EDP Activities and Offerings
EDP workshops are designed to be interactive learning experiences. All EDP facilitators have been trained in workshop design and presentation. In EDP workshops, participants will gain new knowledge, enhance previous knowledge, practice skills, create projects, and receive mentoring on individual work activities when appropriate. Most EDP workshops are open to Vanderbilt University Medical Center faculty and learners. A small number of workshops are by invitation only. Topics covered range from educational theory to technology in teaching.

Workshops have limited seating; RSVP is required. See our EDP Newsletter for registration.

Below is a list of the seventeen major topic content areas covered within the EDP workshop offerings.

 

For a List of all EDP Teaching Tops and Potential Facilitators (Click on the table below)

 

 

For all EDP Workshop Schedule: Click here to listen to the workshops. 

 

 

 
Log into the EDP Zoom webinars to get quick teaching tips and ask expert educators questions on real clinical teaching cases.

Click on the picture for the schedule of webinar topics and facilitators.

For all EDP Webinar Schedule: Click here to listen to the EDP webinars                         

 

 

 

                                                                                                                                                                                                                                                            

Join our mailing list to receive information about upcoming webinars.

 
The EDP Team provides consults to improve teaching skills in all teaching environments. All EDP consults require an online submission request. EDP consults are provided based on team availability. To request an EDP consult click on the consult icon.

 

 

 

 

EDP Curriculum design and evaluation
EDP Educator peer review and coaching
EDP Medical education research project
EDP Workshop development
EDP RATL™ - Residents as Teachers and Leaders
EDP Educator career mentoring session
EDP Development of enduring educational materials
EDP Scholars Program - Information Session
The EDP Scholars program is a 2-year faculty development, career development program that develops future leaders within the field of medical education. The program promotes career development, scholarly work (educational materials and teaching activities) and scholarship (posters, publications and presentations). The Curriculum Design and Evaluation Track focuses on designing, implementing and evaluating medical education curricula for any level of learning (students, residents/fellows, and faculty) across all specialties.

 

---

 

For a summary of the program click on the EDP Scholars Program Picture

The 2020-22 Scholars Program submission process is now closed. We will post the  next cycle and call for applications cycle starts December 2022.

 

 
The Residents as Teachers and Leaders (RATL ™) Program is a blended learning program consisting of web-based, self-learning modules and an interactive hands-on learning workshop. The purpose is to improve students, residents, fellows, and faculty members clinical teaching skills. RATL™ is currently available to all residency programs at Vanderbilt University School of Medicine.

Educator Development Program Fall 2021 RATL Modules and Workshop are                                    scheduled from 5-6PM on Zoom.

                             Session 1: Wednesday, October 6th

                             Session 2: Wednesday, October 13th

                             Session 3: Wednesday, October 27th

                             Session 4: Wednesday, November 3rd 

 

 

Please sign up for an EDP Consult if you would like to request RATL™ for your training program. Please email us to request access as an individual: edp@vumc.org. Students can sign up for MS-RATL™ during the capstone course.

 
The EDP Feedback program was developed to improve efforts to provide feedback to all learners at VUSM/VUMC and is a competency-based training program

 

Click on the feedback picture to follow instructions and complete the program.

Or click on the link to enroll directly through the CME portal: https://vumc.cloud-cme.com
The 14th Annual Gerald S. Gotterer Health Professions Education Research Day or HPERD will be held on Friday, December 16, 2022, from 10AM to 1PM  202 Light Hall 202.  The poster presentation is scheduled for 10AM to 12PM and the keynote speaker address begins at 12 noon.

The keynote speaker Charlene M. Dewey, M.D., M.Ed., MACP., The Joseph A. Johnson, Jr., Distinguished Leadership Professor (2018 - 19), Assistant Dean for Educator Development, Director of the Education Development Program, Director, Center for Professional Health, Chair, Faculty Wellness Committee, Professor of Medicine and Public Health, Center for Professional Health.   Keynote Address  "Teaching Professionalism"

 

Register/Add to Calendar
The EDP library consists of a catalog of previous EDP workshops and materials for self-learning. All content is in Spark Learn. To request access, email us at edp@vumc.org
The EDC newsletter announces upcoming and important educator events and activities. The EDC Newsletter is distributed on the first Monday of each month. Please join our mailing list to receive the newsletter.