Outpatient Imaging
Vanderbilt Imaging Centers offer the best diagnostics available in the region for adults and children. In addition to the radiological clinical services offered at Vanderbilt University Hospital, Monroe Carell Jr Children's Hospital at Vanderbilt, The Vanderbilt Clinic, and Vanderbilt Orthopaedic Institute, Vanderbilt Imaging Centers provides accessibility at our outpatient facilities (Belle Meade Imaging, Breast Center, Cool Springs Imaging, Hillsboro Imaging, One Hundred Oaks Imaging, Spring Hill Imaging and the Center for Women's Imaging). 
We provide an array of services at each of our outpatient centers. Each center is equipped with state-of-the-art imaging technology that is managed by experienced technicians and board-certified radiologists. For most procedures, patients can be seen the same day of the referral.
The faculty is composed of nationally and internationally recognized sub specialists in all fields of radiology, including abdominal, chest, musculoskeletal, GI/GU, pediatrics, neuroradiology, neurointerventional radiology, interventional and cardiovascular radiology, breast, ultrasound, nuclear medicine, position emission tomography and emergency radiology.
---
Section Chief and Members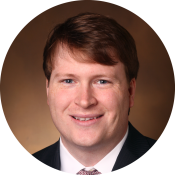 Morgan Anderson, MD
Section Chief, Outpatient Imaging
Assistant Professor of Clinical Radiology and Radiological Sciences