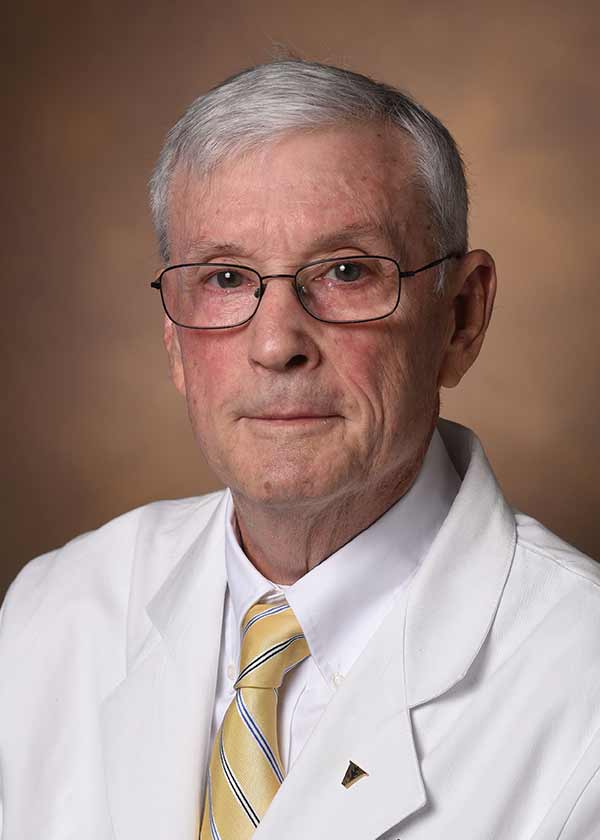 Robert Macdonald, MD, PhD
Robert L. Macdonald is professor and Chair Emeritus of Neurology, as well as professor of Pharmacology and Professor of Molecular Physiology & Biophysics.
An accomplished lecturer, Dr. Macdonald is a frequently invited speaker at universities and meetings around the country and around the world. He has served on a variety of review boards and committees, has participated in a number of study sections, and has served as a consultant in establishing epilepsy programs at Duke University and the Mayo Clinic.

Dr. Macdonald is licensed to practice medicine in Tennessee, and has been a member of the American Board of Psychiatry and Neurology since 1979.
Dr. Macdonald has been the recipient of numerous awards and honors, including the Cotzias Award and Lecture of the American Academy of Neurology in 1996, the Milken Basic Neurosciences Award Epilepsy of the American Epilepsy Society in 1997, the Foundation of Michigan Lifetime Achievement Award in 2000 and the Clinical Teaching Award in Neurology at Vanderbilt in 2002.

Dr. Macdonald earned a SB degree in Electrical Engineering in 1966 from the Massachusetts Institute of Technology. He attended two years of medical school at Case Western Reserve University, and then transferred to the University of Virginia, where he earned a PhD in Neurophysiology in 1969. Dr. Macdonald stayed at the University of Virginia for an NIMH-supported postdoctoral fellowship in Physiology (1969-70), and in 1970 he joined the faculty as assistant professor of Physiology. Two years later, he enrolled in medical school there and earned his MD in 1973. He stayed at UVa for an internship in Medicine and a residency in Neurology, following which he also served as research assistant professor of Neurology and as a research associate in the Laboratory of Developmental Neurobiology at the NICHHD.

In 1978, Dr. Macdonald joined the faculty at the University of Michigan as an associate professor of Neurology. He was made professor of Neurology in 1981, professor of Physiology in 1982, and in 1995 was named the Russell N. DeJong Professor of Neurology. He stayed at Michigan until 2001, when he moved to Vanderbilt to assume chairmanship of Vanderbilt's department of Neurology. He has been professor of Neurology, Pharmacology, and Molecular Physiology & Biophysics since that time.
Research Information
Dr. Macdonald's laboratory is focused on understanding the structure and function of recombinant and native gamma aminobutyric acid (GABA) type A (GABAA) receptor channels, and the basic mechanisms of epilepsy and anticonvulsant drugs. GABAA receptor channels are the major inhibitory neurotransmitter receptors in the brain. Reduction of GABAA receptor function produces seizures and epilepsy in animals and man, and enhancement of GABAA receptor function has been used to treat seizures. At least four forms of human epilepsy have been linked to mutations in the alpha1 and gamma2 GABAA receptor subunits. The mechanisms for neurotransmitter activation, regulation of the opening and closing (gating), desensitization and intracellular trafficking of these channels are unknown.

The lab studies recombinant and native GABAA receptor channels using single channel and whole cell patch clamp recording and ultra rapid drug application techniques. Single channel and whole cell recordings of native neurotransmitter receptor channels are made from acute hippocampal slices to study their physiological and biophysical properties and regulation by drugs and phosphorylation. Recombinant receptors and channels are studied using acute transfection of mammalian cells with expression vectors containing receptor subunit cDNAs followed by whole cell or single channel recording. Site-directed mutagenesis and construction of receptor chimeric cDNAs are used to determine binding and kinase phosphorylation sites, and to characterize receptor channel gating and desensitization. Human mutations are made in relevant receptor channel subunits to determine the basic mechanism underlying these genetic human epilepsies. Receptor trafficking is studied using flow cytometry, confocal microscopy and biotinylation and Western blotting of receptors.