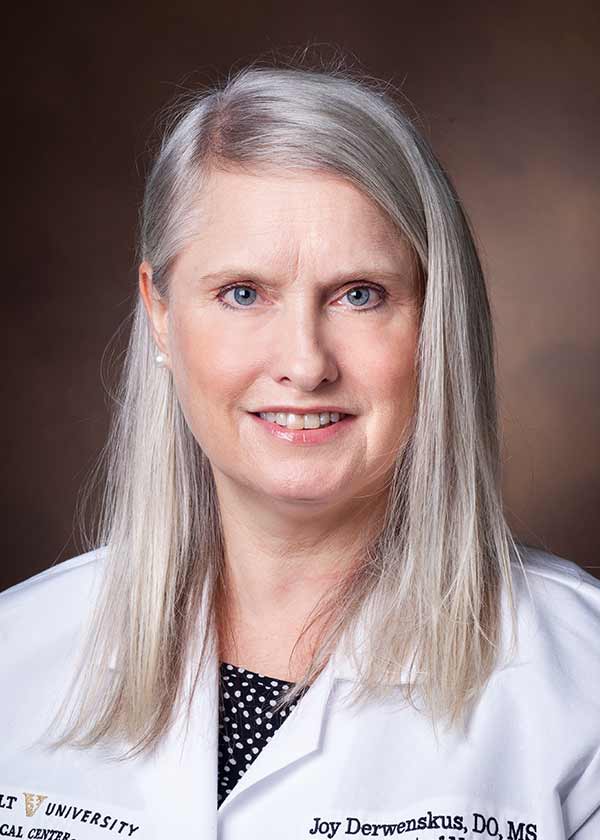 Joy Derwenskus, DO
Vanderbilt Women's Neurology Clinic
Dr. Joy Derwenskus is an Associate Professor of Neurology at Vanderbilt University Medical Center and head of the General Neurology Division since joining the faculty in 2019. Her primary clinical interests are in general neurology and headache, and she regularly administers botox for the treatment of migraines. She manages patients at both the One Hundred Oaks Clinic and The Vanderbilt Clinic, while also managing patients with Multiple Sclerosis and other related conditions at the Vanderbilt MS Center at Green Hills. Dr. Derwenskus has a strong interest in women's neurology, especially as it relates to headaches and MS.
Dr. Derwenskus is a member of the American Academy of Neurology. She also works closely with the National MS Society and served as the chairperson of the Healthcare Provider Council for the society's Mid-South chapter. She regularly engages in clinical trials, both grant- and industry-sponsored. Her publications include peer-reviewed journal articles, book chapters, and invited review articles. Throughout her career, Dr. Derwenskus has presented and lectured on MS regionally and nationally. She engages in teaching activities for medical students, residents, and fellows in both clinical and classroom environments. She is certified in neurology by the American Board of Psychiatry and Neurology.
Prior to her appointment at Vanderbilt, Dr. Derwenskus worked as a private practice neurologist in Tennessee before transitioning back to academic medicine. She was on faculty at Northwestern University for ten years as part of the comprehensive MS program. In that time, she served as the Multiple Sclerosis Fellowship Director and Acting Director of the Women's Neurology Center.
Dr. Derwenskus received her fellowship training in Multiple Sclerosis at the Mount Sinai School of Medicine, Corinne Goldsmith Dickinson Center for Multiple Sclerosis in New York. In 2005, she earned a Master of Science in clinical research, also from Mount Sinai. Prior to her fellowship, she completed her Neurology residency at Case Western Reserve University following a preliminary internship year at Northwestern University. She earned her DO from the University of Osteopathic Medicine and Health Sciences (Des Moines University). She completed her undergraduate degree at Hope College (Holland, MI), and earned a Master of Arts in physiology from Ball State University (Muncie, IN).
A Midwestern native, Dr. Derwenskus stays busy with her twins and enjoys traveling and experiencing the world.