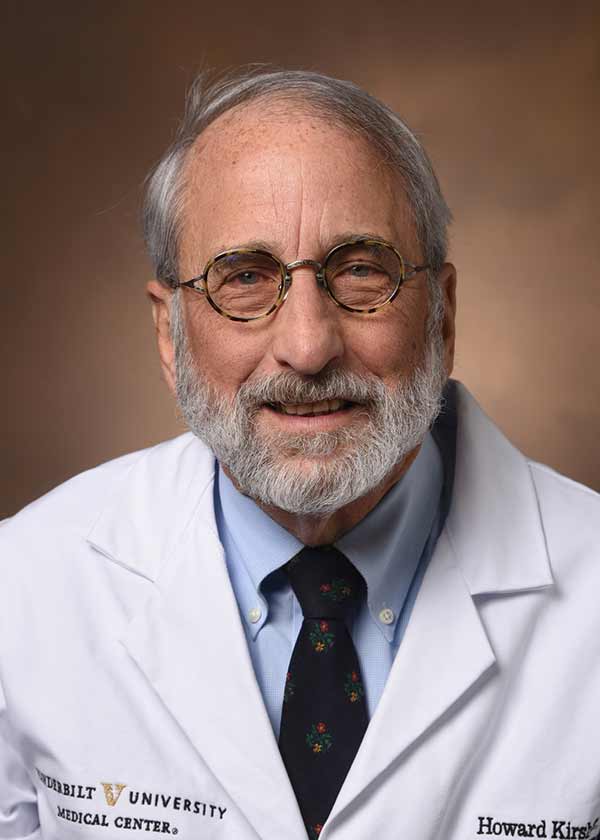 Dr. Kirshner is a professor of Neurology, Psychiatry, and Hearing and Speech Sciences. He also holds the positions of vice chairman for the Department of Neurology, director of the Vanderbilt Stroke Center, consultant at the Vanderbilt Stallworth Rehabilitation Hospital, and chief of the Neurology Stroke Division. He formerly served as the Founding Director of the Vanderbilt Stroke Service, and the division head of Behavioral and Cognitive Neurology. Dr. Kirshner is board certified in Neurology, Vascular Neurology, and Behavioral Neurology and Neuropsychiatry. He has served on the Editorial Boards of Neurology and Stroke, and he serves as the Book Review Editor for Cognitive and Behavioral Neurology, Behavioral Neurology Editor for Current Reviews in Neurology and Neuroscience, and Editor for MedLink Neurology.
Dr. Kirshner earned his B.A. from Williams College in 1968, graduating summa cum laude. He received his medical degree from Harvard Medical School in 1972, cum laude, and served as an intern in Medicine at Massachusetts General Hospital. Dr. Kirshner spent two years as a staff associate in the Laboratory of Perinatal Physiology at the National Institute of Neurological and Communicative Disorders and Stroke from 1973-1975. He completed his residency in Neurology at Massachusetts General Hospital, and also served a clinical fellowship at Harvard Medical School from 1975 – 1978. In 1978, Dr. Kirshner joined the faculty at Vanderbilt University School of Medicine as assistant professor in neurology. In 1980 he also took an adjunct position as assistant professor of the Division of Hearing and Speech Sciences, and later in Psychiatry, and he became an associate professor in both entities in 1983.
Research Information
Dr. Kirshner has led many clinical trials addressing strokes. Currently, he is the local Primary Investigator on the BMS study of a novel Factor X1 inhibitor in stroke. He is also involved in several other trials and is the head of the adjudication committee for the new C3FIT study, with Primary Investigator Kenneth Gaines.