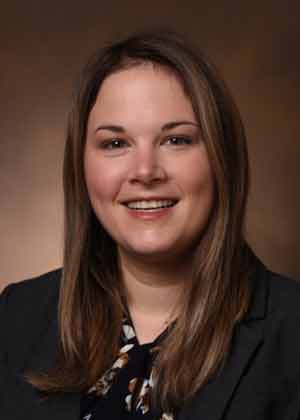 Amy E. Brown, MD, MS
Movement Disorders Division
Dr. Brown is a movement disorder specialist who is licensed to practice medicine in Tennessee and Kentucky, and has been a member of the American Board of Psychiatry and Neurology since 2019. She joined Vanderbilt University Medical Center faculty in July 2019 as a postgraduate movement disorders fellowship and has stayed on as an Assistant Professor.
Dr. Brown has obtained several honors, including induction to the Gold Humanism Honor Society in 2014 and participating in the American Academy of Neurology (AAN) Palatucci Advocacy Leadership Forum in 2019. She has also advocated for her patients with the AAN Neurology on the Hill in 2017 and 2020, and participates with the American Medical Association and local medical societies. 
Dr. Brown is a Chicago-native who earned a BA in Biology and History in 2009 from Case Western Reserve University (CWRU) in Cleveland, OH. She then completed a Master's in Science in Biology with a focus on neurobehavior at CWRU in 2011. She attended University of Illinois at Chicago College of Medicine in Chicago, IL, where she earned her MD in 2015. She completed her neurology residency at Loyola University Medical Center, Maywood, IL. 
Research Information
Dr. Brown is currently participating in research on Parkinson's disease and Huntington's disease.