In person interviews will be held on the mornings of October 5th and 20th.
Message from the Fellowship Program Director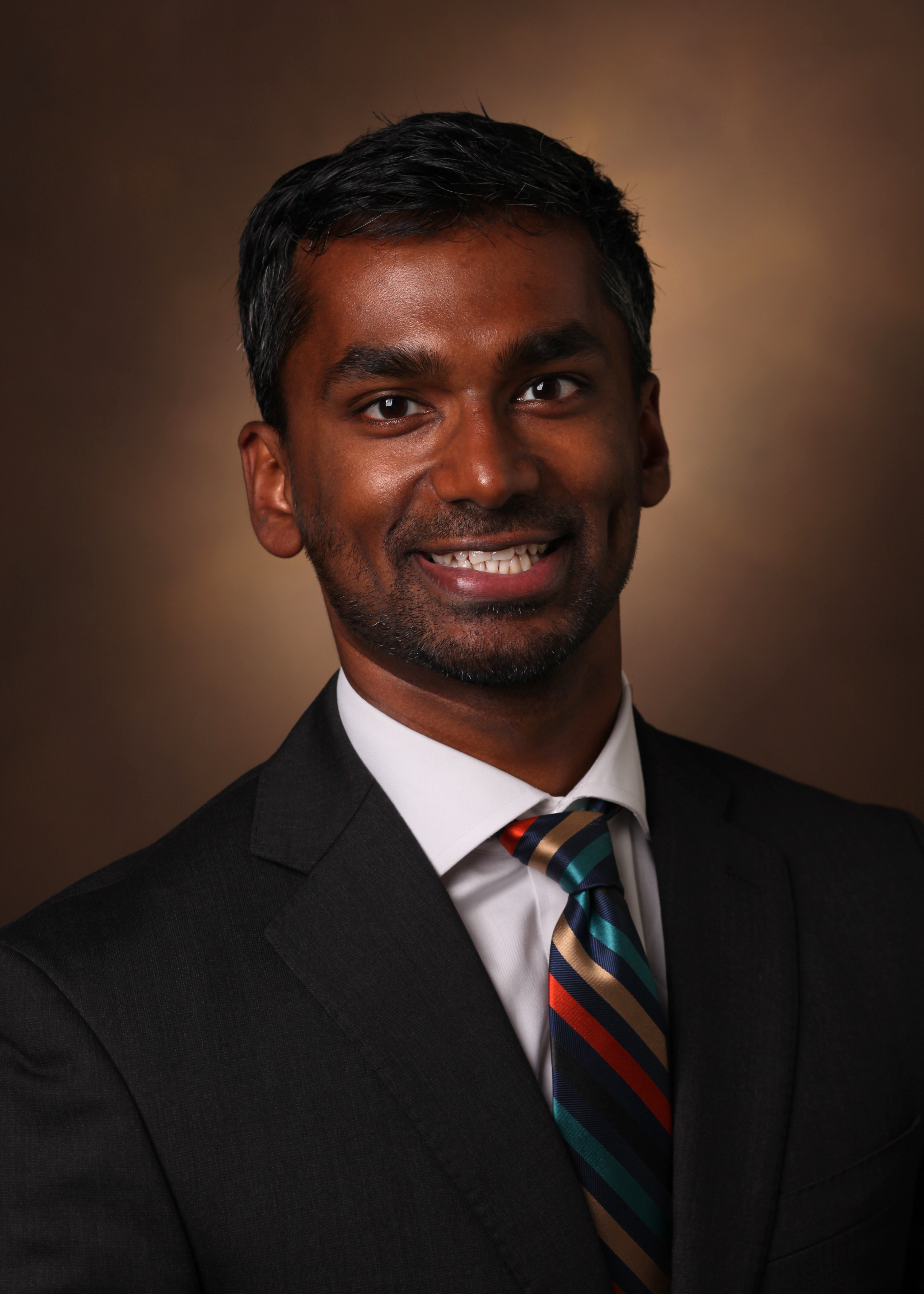 The goal of the fellowship is to provide training for a comprehensive practice in pediatric ophthalmology.  While strabismus is the mainstay of the pediatric practice, the fellowship also emphasizes pediatric cataract and anterior segment surgery.  Fellows can expect to receive experience in ROP, neuro-ophthalmology, oculoplastics, and glaucoma as well.  The schedule balances clinical examination and surgical exposure with opportunities for research and resident teaching.  By the completion of the fellowship, we hope to have trained a confident and compassionate clinician that can become a leader in the field of pediatric ophthalmology.   
Anvesh Reddy, M.D.
Fellowship Director
Preceptors
Sean Donahue, M.D. Ph.D.
Nancy Benegas, M.D.
Meghan Flemmons, M.D.
Karla Johns, M.D.
Dolly Ann Padovani-Claudio, M.D., Ph.D.
Anvesh Reddy, M.D.
Allison Umfress, M.D.
David K. Wallace, M.D., MPH (Chair)
Appointment
The fellow has an appointment as a Clinical Fellow / Instructor in the Department of Ophthalmology and Visual Sciences. The fellowship lasts for one year starting in July.
Affiliated Hospitals
The majority of the fellowship experience is provided in the Tennessee Lions Eye Center for Children at the Vanderbilt Eye Institute and at Monroe Carell Jr. Children's Hospital at Vanderbilt. The Lions Eye Center is a state of the art facility, which includes twelve fully-equipped 20 ft. examining lanes. Additional clinical experiences are available at several satellite clinics in the Middle Tennessee area.  Fellows perform most adult strabismus cases at Cools Springs Surgery Center in Franklin, approximately 15 miles south of Nashville.  
Clinical Activities
The Fellowship provides a comprehensive experience in all aspects of pediatric ophthalmology, including extensive experience with pediatric and adult strabismus, pediatric cataract surgery and intraocular lens management from infancy through teenage years, pediatric neuro-ophthalmology, ptosis, NLDO, and ROP.  Additional exposure to pediatric subspecialty clinics in pediatric retina, uveitis, ocular oncology, oculoplastics, glaucoma, and cornea is available. Roughly 60% of the time will be spent in the clinic and 40% in the operating room during the year.  Fellows can expect to perform 300 – 400 cases as primary surgeon.  The fellow has an autonomous clinic on Friday afternoons to encourage development of confidence in clinical decision-making and management.
Ancillary Services
The Lions Eye Center includes rooms for in-office procedures, ultrasound, and electrophysiologic tests. The Eye Institute has state-of-the-art diagnostic equipment, including digital photography, fluorescein and indocyanine green angiography, spectral-domain, optical coherence tomography (OCT-3), I3 ultrasonography, and electroretinography, which is available for difficult diagnostic problems. Monroe Carell Jr. Children's Hospital at Vanderbilt has high-resolution imaging capabilities including CT, MRI, and PET scanning with sedation support provided by the Anesthesia Department.
Lectures and Conferences
Pediatric ophthalmology lectures, Grand Rounds, and research seminars are held regularly at the Vanderbilt Eye Institute. A weekly surgical case conference is held on Wednesday mornings to discuss the management of upcoming complex strabismus, cataracts and anterior segment disorders, and other cases of interest, allowing the fellows to gain insight into surgical decision making. Journal club meetings dedicated to Pediatric Ophthalmology are scheduled bimonthly.
Research Activities
Clinical research opportunities in amblyopia and vision screening are available. Clinicians participate in the Infantile Aphakia Treatment Study, Amblyopia Treatment Studies and PEDIG in addition to several basic science projects. Presentation of original research at national conferences is encouraged and supported.
Evaluations
Semi-annual meetings will be held to evaluate the fellow's performance and to provide an opportunity to discuss the fellowship experience.
Compensation
The salary is commensurate with PGY-5 status set by GME, with an additional supplement due to appointment as a Clinical Fellow / Instructor.
A stipend is available for educational development and travel to national meetings for presentations. Malpractice and health insurance premiums are covered.
Vacation
Three weeks. This does not include days spent presenting at national meetings.
Call Schedule
The fellows will share subspecialty call for the pediatric ophthalmology division, one week at a time, with Drs. Donahue, Benegas, Flemmons, Flowers, Reddy, and Umfress. The fellows will also participate in the Ophthalmology department trauma call schedule, serving about 2 weeks during the course of the year.  Optional, additional call is available for additional compensation.
SF Match Participation
Please refer to the SFMatch website to register for the match and read about the new process using CAS for applying to Ophthalmology Fellowship training programs. After registering you can view our program listing on the SFMatch directory website for all required documents.
Living in Nashville
When not immersed in learning Pediatric Ophthalmology, fellows have ample time to enjoy the restaurants, live music, museums, festivals, hiking, and more that Nashville provides.
 
Former Fellows
David Morrison, M.D.
(2004-05)
St. Petersberg, FL
Kathy Whitfield, M.D.
(2005-06)
Boise, ID
Steve Howell, M.D.
(2006-07)
Louisville, KY
Taressa Gillig, M.D.
(2007-08)
Charlotte, NC
Allyson Schmitt, M.D.
(2009-10)
Knoxville, TN
Peter Chang, M.D.
(2011-12)
Miami, FL (University of Miami Bascom Palmer Eye Institute)
Daniel Brooks, M.D.
(2010-11)
Boise, ID
Samantha Roland, M.D.
(2012-13)
Tampa, FL
Derick Holt, M.D., Ph.D.
(2013-14)
Fresno, CA
Anvesh Reddy, M.D.
(2015-2016)
Nashville, TN
Sasha Strul, M.D.
(2016-2017)
Minneapolis, MN
Collin Hair, M.D.
(2017-2018)
Hershey, PA
Rachel Cooley, M.D.
(2018-2019)
San Antonio, TX
Samantha Feldman, M.D.
(2019-2020)
Baltimore, MD
Kathryn Maier, M.D.
(2019-2020)
Austin, TX
Alex de Castro-Abeger, M.D.
(2020-2021)
Los Angeles, CA
Michael Langue, M.D.
(2021-2022)
Providence, RI
Alexis Flowers, MD
(2021-2023)
Nashville, TN
Kelly Ruland, MD
(2022-2023)
Richmond, VA