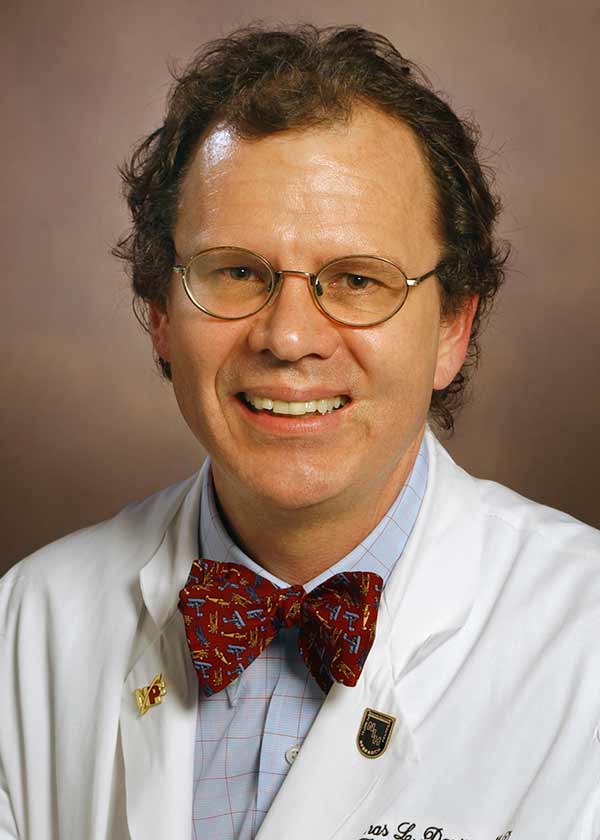 Thomas L. Davis, MD
Judith Payne Turner Chair, Professor
Dr. Davis specializes in the treatment of movement disorders and has been a member of the American Board of Psychiatry and Neurology since 1990. In addition to maintaining his clinical research activities and teaching responsibilities, he is currently director of the Division of Movement Disorders, Medical Director of the Vanderbilt Parkinson's Foundation Center of Excellence, an attending physician at Vanderbilt University Medical Center, and a staff neurologist at the Nashville Veterans Administration Hospital.
He has been the recipient of numerous awards and honors, including Phi Beta Kappa, the Sandoz award, and the Vanderbilt Neurology Resident Teaching Award in 2004 and 2011. He is a frequently invited speaker and has served on numerous review boards and NIH study sections.
Dr. Davis earned a B.A. in Chemistry in 1981 from the College of Wooster. He attended the University of Mississippi School of Medicine in Jackson, Mississippi where he earned a M.D. in 1985. He completed an internship at University of Mississippi followed by residency at Vanderbilt University where he served as chief resident in Neurology in 1981. He then completed a two-year post-doctoral fellowship in Neuropharmacology at the National Institute of Neurological Disease and Stroke in Bethesda, Maryland before returning to Vanderbilt to join the faculty in the Department of Neurology in 1991.
Research Information
Dr. Davis' research is patient-oriented and primarily involves various aspects of Parkinson's disease including outcomes research, markers of disease progression, and experimental therapeutics. The Division of Movement Disorders is actively involved with clinical trials in Parkinson's disease, Huntington's disease, Wilson's disease, Tourette syndrome, essential tremor, spasticity and dystonia.