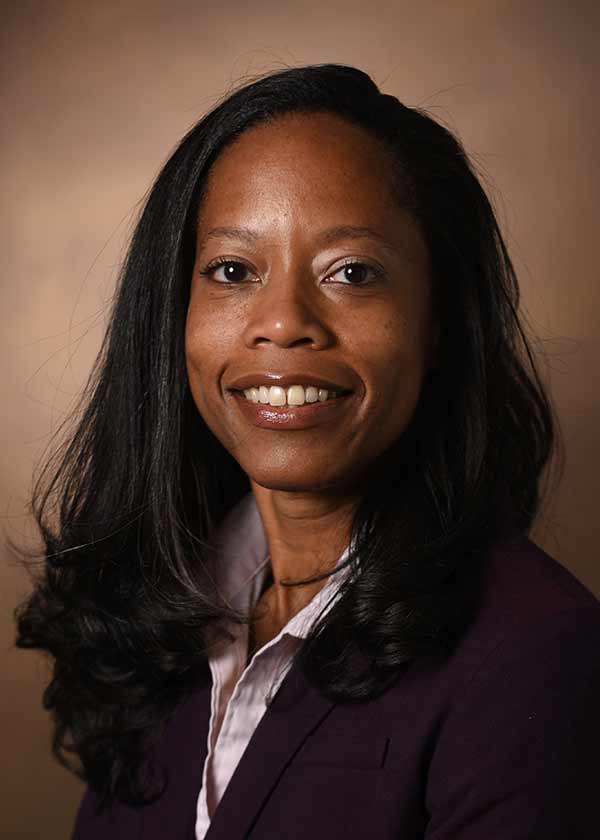 Shawniqua Williams Roberson, MEng, MD
Dr. Shawniqua Williams Roberson is an epileptologist and clinical neurophysiologist with dual appointments in the Departments of Neurology and Biomedical Engineering at Vanderbilt University. Her focus of work lies at the intersection of clinical neurophysiology, cognitive neuroscience, engineering and critical care. With advanced training in electrical engineering and computer science, Dr. Williams Roberson utilizes biophysical signal processing for the study and treatment of neurologic disease. Her clinical interests concentrate on the evaluation and management of refractory epilepsy, critical illness encephalopathy and related neurological disorders, with an emphasis on their cognitive and neuropsychiatric comorbidities. 
Dr. Williams Roberson has served on a number of boards and committees throughout her career, currently serving on the American Academy of Neurology Guidelines and Meeting Management subcommittees, the editorial board of Neurology Today, the Professional Advisory Board of the Epilepsy Foundation of Middle and Eastern Tennessee, the VUMC Early Career Physician Council, and the VUMC Department of Neurology Diversity Committee. She is a regularly invited presenter and lecturer in both academic and professional settings, and has served as a reviewer for such peer-reviewed publications as Chest, JAMA and Neurology, among several others. She is board certified in both Neurology and Epilepsy. 
Dr. Williams Roberson completed her Bachelor of Science and Master of Engineering degrees at Massachusetts Institute of Technology. She later earned her MD with Honors in Research at Weill Cornell Medical College, during which she had the privilege of participating in the Consortium for the Advanced Study of Brain Injury under the guidance of Dr. Nicholas Schiff. Her primary research initiative involved the study of neurophysiologic signals underlying chronic disorders of consciousness. This work was funded through the Rockefeller University Center for Clinical and Translational Science (PI: Dr. Barry Coller). She subsequently pursued residency training at Johns Hopkins, where she worked with Dr. Barry Gordon investigating EEG signal properties of acute coma. She went on to complete a clinical neurophysiology fellowship with specialization in epilepsy at University of Pennsylvania, where, under the guidance of Dr. Brian Litt, she used high gamma activity measurements in intracranial electroencephalography to probe the neuronal activation patterns associated with verbal fluency, a common neurocognitive assessment task. Dr. Williams Roberson then pursued a postdoctoral translational research fellowship at the Center for Neuroengineering and Therapeutics at University of Pennsylvania, during which she undertook a number of projects, including a collaboration with other clinicians and engineering graduate students to develop a platform for automated, real-time ICU physiologic data monitoring, signal processing and caretaker notification. 
Prior to her appointment at Vanderbilt, Dr. Williams Roberson worked as a Clinical Instructor at Pennsylvania Hospital, Penn Presbyterian Medical Center, and the Hospital of the University of Pennsylvania.
Research Information
Dr. Williams Roberson's research interests center around elucidating the neurophysiologic signal characteristics underlying consciousness and cognitive functions such as language production, perception and memory, and the use of these features to optimize the care of patients with central nervous system disorders such as delirium, dementia, epilepsy, and stroke. She applies computational and quantitative analysis techniques toward elucidating the neurophysiological basis of cognitive functions in health and in neurologically impaired states. 
As a member of the Critical Illness, Brain Injury and Survivorship (CIBS) Center, Dr. Williams Roberson established a new pilot study recording 24-hour EEGs in patients on mechanical ventilation in Vanderbilt ICUs. The primary goal of the study is to evaluate the behavior of several quantitative measures of EEG complexity in the acute phase of critical illness, and their relationship to intermediate- and long-term cognitive outcomes. The results from this study will inform a larger observational study developing quantitative EEG-based biomarkers of ICU delirium and post-ICU cognitive impairment. She plans to use these biomarkers to identify patients most at risk for post-ICU dementia and subsequently develop and validate targeted neuromodulatory interventions to prevent or slow cognitive decline in this most vulnerable of populations.