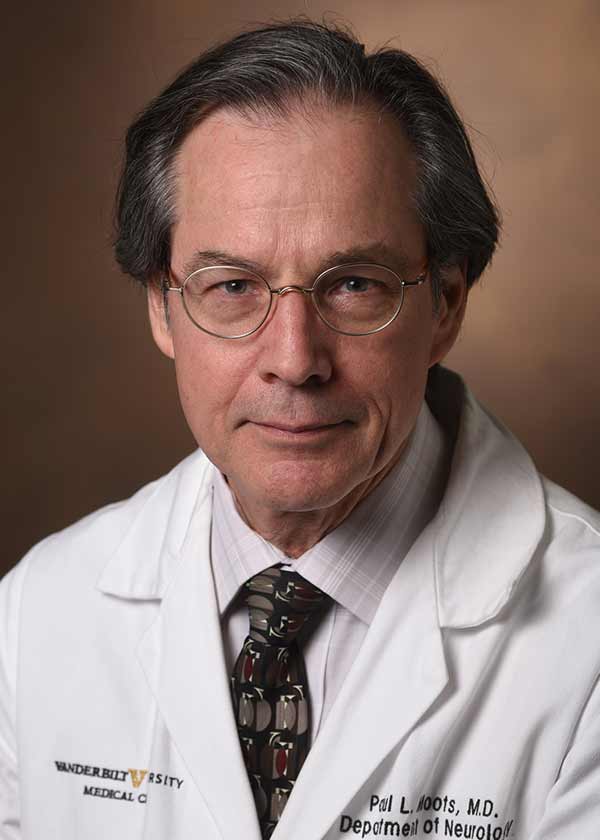 Dr. Moots serves as the Adult Co-director of the Vanderbilt Neurofibromatosis Clinic. He is a member of the Vanderbilt-Ingram Cancer Center. Dr. Moots is also Staff Neurologist at the Nashville Veterans Administration Medical Center. 
Dr. Moots' is board certified in Neurology. His clinical activities focus on the treatment of primary brain tumors including rare forms of CNS malignancy. He also is involved in the care of patients with metastatic cancer involving the nervous system, particularly carcinomatous meningitis, and patients with non-metastatic cancer-related neurological syndromes. 
Dr. Moots earned a B.S. at Duke University, graduating magna cum laude in 1976. He received his medical degree from The Ohio State University in 1980. He completed an internship in Internal Medicine and residency in Neurology at the University of Virginia in 1984 with Dr. T.R. Johns. From 1984 through 1986 he was a fellow in Neuropathology at the University of Virginia under Dr. Rubinstein and Dr. Vandenberg. From 1986 through 1989 he was a fellow in Neuro-oncology at Memorial Sloan Kettering Cancer Center under Dr. Posner and Dr. Shapiro. From 1989 through 1991 he was Assistant Professor of Neurology and Pediatrics at Memorial Sloan Kettering Cancer Center and was the recipient of an American Cancer Society Career Development Award. In 1991 Dr. Moots joined the faculty of the Vanderbilt University School of Medicine as Assistant Professor of Neurology. In 1998 he became Associate Professor of Neurology and Medicine, and in 2015, he became Professor of Neurology. He served on the CNS Tumor Guidelines Committee of the National Comprehensive Cancer Network from 2007 through 2019. He was the section editor for CNS tumors for multiple editions of the Textbook of Uncommon Cancer.
Research Information
Dr. Moots' research activities focus on chemotherapy trials for patients with primary CNS neoplasms including gliomas, medulloblastoma, ependymoma, plexiform neurofibronmas, CNS lymphoma and carcinomatous meningitis. He was the study chair for an ECOG adult medulloblastoma trial.