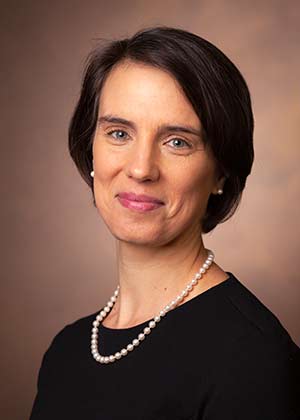 Dr. Brown joined the Vanderbilt Neurology Department in 2013 in the Division of Cognitive and Behavioral Neurology. As a clinical neuropsychologist, she works with adult patients with known or suspected neurodegenerative conditions and stroke. She provides comprehensive neurocognitive evaluations at the One Hundred Oaks Campus of VUMC.
After earning an undergraduate degree in psychology from Williams College summa cum laude, Dr. Brown worked as a research associate at Massachusetts General Hospital in Boston at the Alzheimer's Disease Research Center. She then earned her master's and doctoral degrees in clinical psychology (with specializations in aging and neuropsychology) from Washington University in St. Louis where she was awarded the Olin Fellowship for Women. She completed her clinical internship and post-doctoral fellowship at Brown University Medical School in Providence, Rhode Island. She has been a licensed clinical psychologist since 2005. Since that time, she has practiced in both private and academic hospital settings. 
Dr. Brown is a member of the National Academy of Neuropsychology and the International Neuropsychological Society.
Research Information
Dr. Brown has been involved in clinical trials investigating treatments for Alzheimer's disease and Parkinson's disease. Additionally, some of her research has focused on driving in mild cognitive impairment and dementia.