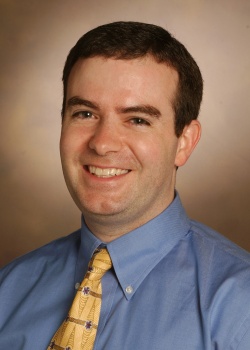 Dr. Kevin Haas joined the Vanderbilt Neurology Department faculty in 2004. His clinical focus is epilepsy and he serves as Clinical Director of the Epilepsy Surgery Program and as EEG Laboratory Director.  He rotates as an attending physician on the Neuro-ICU EEG and Epilepsy Monitoring Unit services. He is board certified in Neurology, Epilepsy, and Epilepsy Monitoring.  Dr. Haas is a fellow of the American Epilepsy Society, a fellow of the American Neurological Association, and a member of the American Academy of Neurology.
Dr. Haas earned his BS in biomedical engineering from Duke University in 1991, graduating magna cum laude with distinction. His completed his graduate and medical school training at the University of Michigan, where he earned his PhD degree in neuroscience in 1998 and MD degree in 1999. At Emory University, he completed his internal medicine internship in 2000, neurology residency in 2003, and clinical neurophysiology fellowship with an emphasis in epilepsy in 2004. He served as chief resident in neurology for the 2002-2003 medical year.
Research Information
Dr. Haas's clinical research projects focus on epilepsy surgery, ICU-EEG monitoring, epilepsy genetics, and status epilepticus. He is the Vanderbilt site principal investigator for the Critical Care EEG Consortium. In addition, he currently serves as the site principal investigator for multiple clinical trials evaluating new antiepileptic drugs and devices for diagnosis and treatment of medication-resistant epilepsy.  
Dr. Haas's past research has focused on GABA-A receptor physiology, synaptic roles of ubiquitination, and epilepsy in Angelman syndrome. He is an author on numerous original articles in these fields.