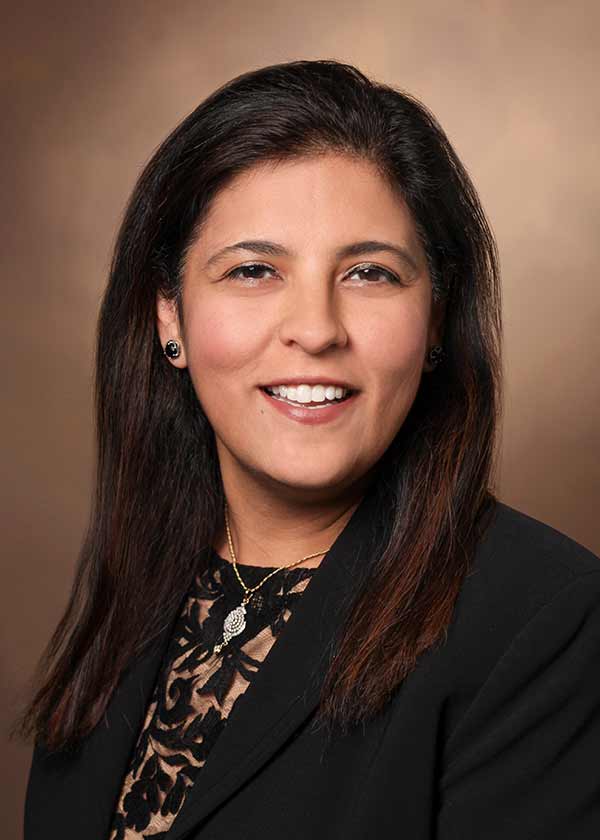 Office Address
Medical Center North
1161 21st Avenue South
Nashville
Tennessee
37232
Dr. Bagai is Professor of Neurology at Vanderbilt University Medical Center. She joined the Neurology faculty at VUMC as a Clinical Instructor in 2004 and was promoted to Assistant Professor in 2005. She has been serving as Director of the Sleep Medicine Fellowship Program at Vanderbilt since 2011. She was promoted to Associate Professor in 2017 and Professor in 2023. She is involved in the diagnosis and treatment of sleep disorders, and in teaching medical students, neurology residents and sleep medicine fellows.

She is board certified in Clinical Neurology, Diplomate of the American Academy of Sleep Medicine, and has also received certification in Sleep Medicine through the American Board of Psychiatry and Neurology (ABPN).
Dr. Bagai received her Bachelor of Medicine and Bachelor of Surgery degree from the University of Delhi, New Delhi, India in 1995. She spent two years as a research assistant at the Rush Cancer Institute, Rush Presbyterian St. Luke's University in Chicago, IL and the Department of Neurology at the University of Illinois at Chicago. Dr. Bagai completed her internship in Internal Medicine at the Rush Westlake Hospital, affiliated with the Rush University, Chicago, IL from 1998-99. This was followed by a residency in Adult Clinical Neurology at Loyola University Medical Center and the Edward Hines VA, Maywood, IL from 1999-2002. She served as Chief Resident in her final year of residency. She joined Vanderbilt as a fellow in Clinical Neurophysiology and Sleep Medicine in 2002. In 2010, she earned a Masters in Science and Clinical Investigation degree from Vanderbilt University.
Research Information
Dr. Bagai's research interests include studying the mechanisms of obstructive sleep apnea, Restless Legs Syndrome and related cardiovascular and cerebrovascular morbidity.