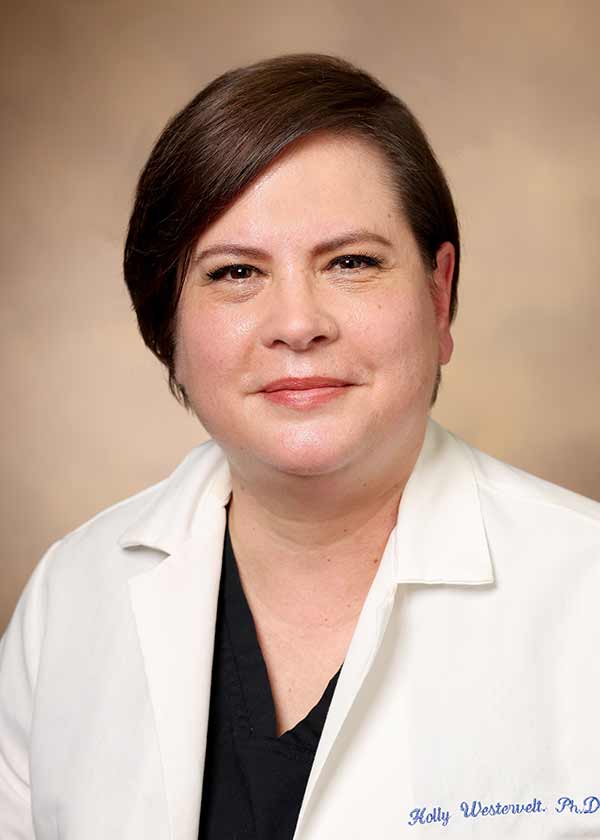 Dr. Holly Westervelt is an Associate Professor of Clinical Neurology and Director of Neuropsychological Services for the Department of Neurology at Vanderbilt University Medical Center. She is board certified in clinical neuropsychology through the American Board of Professional Psychology.  As a clinical neuropsychologist, she provides comprehensive cognitive assessment and diagnosis of patients experiencing a wide variety of neurological conditions, with particular expertise in degenerative conditions (e.g., mild cognitive impairment, Alzheimer's disease, Lewy body disease, frontotemporal dementia), autoimmune conditions such as multiple sclerosis, and metabolic disorders. Dr. Westervelt has served as a supervisor and mentor for medical students, residents, and neuropsychology interns and postdoctoral fellows. 
Dr. Westervelt is a regular editor and reviewer for a number of professional journals and funding institutions, and she was an associate editor for Archives of Clinical Neuropsychology for 8 years. She is a member of several professional organizations, including a fellow for the National Academy of Neuropsychology. 
Prior to her current appointment, Dr. Westervelt was an Associate Professor at the Warren Alpert Medical School of Brown University (Providence, RI), and Neuropsychologist in the Department of Psychiatry at Rhode Island Hospital. She completed a postdoctoral fellowship in Clinical Neuropsychology also at Brown University School of Medicine and Rhode Island Hospital, following an internship at Yale University School of Medicine. Dr. Westervelt earned both her BA (summa cum laude) and PhD from at the University at Albany, State University of New York. 
Research Information
Dr. Westervelt's research has covered the intersection of cognition and a variety of neurological conditions such as Huntington's disease, multiple sclerosis, Lewy body disease, mild cognitive impairment, and other kinds of dementia, as well as psychometric factors affecting assessment, and the impact/utilization of neuropsychological services.