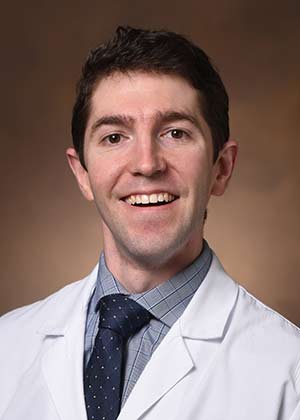 David Isaacs is an Assistant Professor of Neurology at Vanderbilt University Medical Center with fellowship-training in movement disorders. Clinically, he is part of the VUMC Parkinson's Disease Center of Excellence, Huntington's Disease Center of Excellence, and Deep Brain Stimulation Clinic. In 2019, he founded the Vanderbilt Adult Tourette Syndrome Clinic to promote specialized clinical care and advance research initiatives in this patient population. In collaboration with Dr. Heather Riordan, he established the Vanderbilt Tourette Syndrome Working Group in 2020, a cross-disciplinary, trans-institutional consortium that meets monthly to review journal articles, discuss challenging clinical case, and develop research projects centered on Tourette syndrome. In 2021, he received the Vanderbilt Faculty Research Scholar Award, a career development award that will provide protected time and pilot funding to support his Tourette syndrome research.
Dr. Isaacs is a current member of the Movement Disorders Society and the Vanderbilt Kennedy Center. In 2015, he received both the Medical Student Teaching Award and the James Tru Martin Award for the Vanderbilt Department of Neurology. 
Dr. Isaacs earned his B.S. in Biophysics from the University of Southern Indiana and subsequently graduated from medical school at the Indiana University School of Medicine. He completed his neurology residency at Vanderbilt University Medical Center in 2015, serving as Chief Resident his final year. The following year he completed his Movement Disorders Fellowship at Vanderbilt before joining the faculty in 2016. In 2019, he earned his master's degree in public health. 
Research Information
Dr. Isaacs' research interests primarily focus on the following: 1) Tourette syndrome, 2) non-motor manifestations of movement disorders; 3) translational neurophysiologic biomarkers; and 4) neuromodulation.
He oversees longitudinal studies assessing non-motor manifestations of Huntington's disease, Parkinson's disease, and Tourette syndrome; each of these projects are actively enrolling subjects. He is employing event-related potentials and quantitative electroencephalography to detect novel brain-based indicators of sensory dysfunction in Tourette syndrome, with the ultimate intent to identify and validate translational neurophysiologic biomarkers. 
Dr. Isaacs serves as site principal investigator for several industry-sponsored clinical trials in Tourette syndrome. Additionally, he participates as co-investigator and/or rater in clinical trials for Parkinson's disease, Huntington's disease, dystonia, and spasticity.