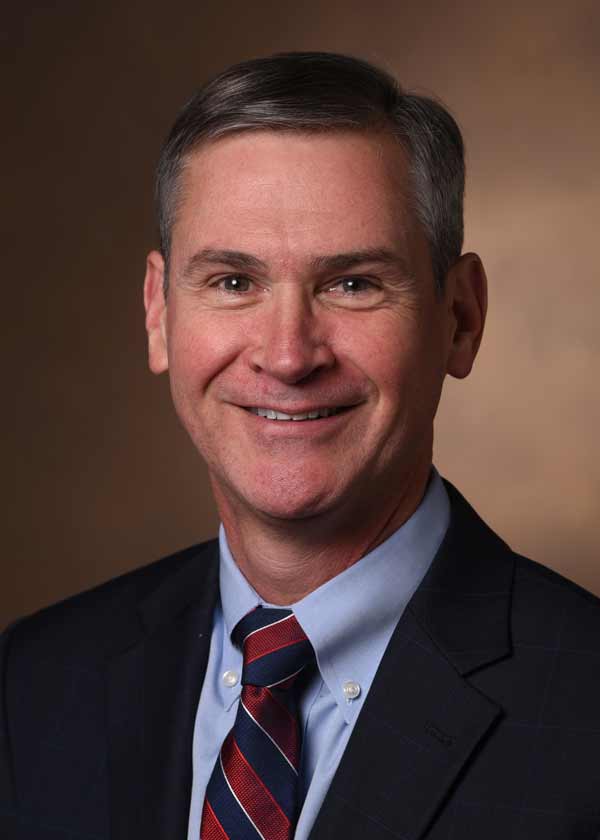 David Charles, MD, Professor and Vice-Chair
Business Development & Strategy
Dr. Charles is Professor and Vice-Chair of Neurology and Medical Director, Vanderbilt Telehealth. His research interests include the treatment of spasticity and cervical dystonia and he is currently leading the only clinical trial approved by the United States Food and Drug Administration to test deep brain stimulation in people with early stage Parkinson's disease. 
Dr. Charles is a member of the American Neurological Association, Fellow of the American Academy of Neurology, and Chair of the Alliance for Patient Access. He is a member of Alpha Omega Alpha honor medical society and in 2007 received the CANDLE Award. Recipients are chosen based upon their positive impact on the lives of physicians-in-training and are recognized by their students as examples of excellence in medical education. From 1997-98, Dr. Charles served as a Health Policy Fellow in the United States Senate on the staff of the Labor Subcommittee for Public Health and Safety. In 1998 he studied deep brain stimulation for the treatment of movement disorders as a Fulbright Senior Scholar at the Universitaire de Grenoble in Grenoble, France. In 2000 Dr. Charles was a nominee for the United States House of Representatives from Tennessee's Sixth Congressional District.
Dr. Charles graduated from Vanderbilt University School of Engineering in 1986 with a B.S. cum laude in Computer Science and Mathematics and earned his medical degree from Vanderbilt University School of Medicine in 1990. He did his internship in the department of Medicine and his residency in the department of Neurology at Vanderbilt. From 1993-94 he was Chief Resident in Neurology, and from 1994-95 he was a Fellow in Movement Disorders and Clinical Neurophysiology at Vanderbilt. In 1996, he completed a Health Care Management course at Vanderbilt's Owen Graduate School of Management, and in 1997 he completed the Harvard Macy Institute Program for Physician Educators at Harvard Medical School.
Research Information
Dr. Charles' clinical research group's focus is on improving the treatment of movement disorders, with specific interests in early stage Parkinson's disease, Spasticity, and Cervical Dystonia. It undertakes patient-oriented research in a variety of care settings including outpatient clinics, residential care homes, and long-term care facilities. 
Deep Brain Stimulation in Early Stage Parkinson's Disease: More than one million Americans are living with Parkinson's disease, a progressive neurodegenerative movement disorder characterized by loss of dopaminergic neurons. Deep brain stimulation of the subthalamic nucleus (STN-DBS) is an approved adjunctive therapy for mid- and advanced stage Parkinson's disease that improves motor symptoms, quality of life, and activities of daily living while also reducing medication burden and associated complications. Vanderbilt University Medical Center completed the only prospective, randomized clinical trial testing DBS in very early stage Parkinson's disease. Our ongoing line of research aims to investigate DBS in early stage Parkinson's disease to better understand if this treatment may slow the progression of the disease.
Spasticity in Adults: Spasticity is a form of muscle overactivity, which is often experienced by people with central nervous system illness or injuries. Spasticity can lead to many negative symptoms, such as increased incidence of urinary tract infection, pain and discomfort, and reduced quality of life. Additionally, spasticity may impair activities of daily living, making it difficult to perform care activities for patients who require support. Our current line of research aims to validate the use of newly developed tools to assist with the identification of spasticity, to understand the interaction of spasticity and urinary incontinence, and to improve healthcare policy affecting people living in long-term care facilities.  
TeleHealth: Our current line of TeleHealth research addresses treatment of people with cervical dystonia, spasticity, and headache. We also lead our continuous quality improvement of teleneurology services provided in community based hospitals by measuring physician and patient satisfaction and comparing results to in person care. 
Clinical Research Opportunities: We are accepting applications for undergraduate research roles within our team. Please send your résumé with an accompanying statement of interest to david.charles@vanderbilt.edu
Vanderbilt University has received or currently receives income from grants or contracts with Allergan, Boehringer-Ingelheim, Pharma 2 B, Revance, USWorldMeds, Voyager, DuPont, Elan, Hoffman-LaRoche, Ipsen, Kyowa, Medtronic, Merz, Novartis, and Smith-Kline to support Dr. Charles research efforts. Dr. Charles has received or currently receives income from Allergan, Alliance for Patient Access, Boehringer-Ingelheim, Ipsen, Medtronic, Merz, Mylan-Bertek, Novartis, Ovation, Pfizer, Prestwick, Revance, Schwarz, UCB, USWorldMeds, and Vernalis for consulting services.