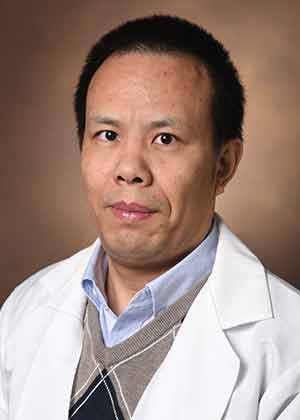 Dr. Chengwen Zhou is an Assistant Professor of Neurology at Vanderbilt University Medical Center specializing in epilepsy research. Since 2018, his research lab has been working on how brain-states influence and trigger seizure onset with homeostatic synaptic plasticity mechanism and recently on sleep-related activity's roles in pathogenesis of Alzheimer's diseases. Dr. Zhou is currently a member of the American Epilepsy Society and the Society for Neuroscience, as well as a reviewer for the Journal of Pediatric Neurology.
Dr. Zhou's work has been actively supported by the NIH, including major awards funding his studies that address how sleep-related brain activity drives up neuron synaptic plasticity and further triggers seizure onset. This work also explores a novel treatment of seizures due to sleep-related activity engagement in seizure onset.   
Dr. Zhou's appointment at VUMC began in 2011 as a staff scientist, working on idiopathic generalized epilepsy(IGE) with GABAergic receptor mutation. Prior to his position at VUMC, he completed postdoctoral training at Children's Hospital Boston and Beth Israel Deaconess Medical Center (both with Harvard Medical School), working on the neuroscience of synaptic plasticity, pediatric epilepsy, and seizure disorders. He earned his PhD from University of Alabama at Birmingham (UAB) in 2004 with a focus on Visual Neuroscience, and graduated from Shanghai Institute of Physiology Chinese Academy of Science with a Master's degree in Neurobiology in 1996. He completed his BS at Southwestern Normal University (China). 
Research Information
Dr. Zhou's interests in basic neuroscience and translational medicine focus upon how neuronal activity within the whole brain circuits (both cortical and subcortical circuits on microscopic, mesoscopic and macroscopic levels) interacts to generate collective/emerging brain functions such as memory consolidation and brain disorders such as seizures and cognitive co-morbidity deficits. Particularly he is working on how brain sleep-states intermingle with seizure onset. Using electrophysiological recordings, optogenetic methods, and transgenic mice with GABAergic receptor mutations, he studies intrinsic neuron activity properties, activity-dependent synaptic plasticity in cortical neurons from mouse models for pathogenesis of idiopathic generalized epilepsy (IGE), and explores how epilepsy disorders and memory deficits are generated/evolved. This will lead to developing novel medicines for treating seizures and other cognitive co-morbidities. Recently his research extends to sleep-related activity's roles in pathophysiology and pathogenesis of Alzheimer's disease, using a homeostatic synaptic plasticity mechanism.
Visit Dr. Zhou's lab website for more information about his research