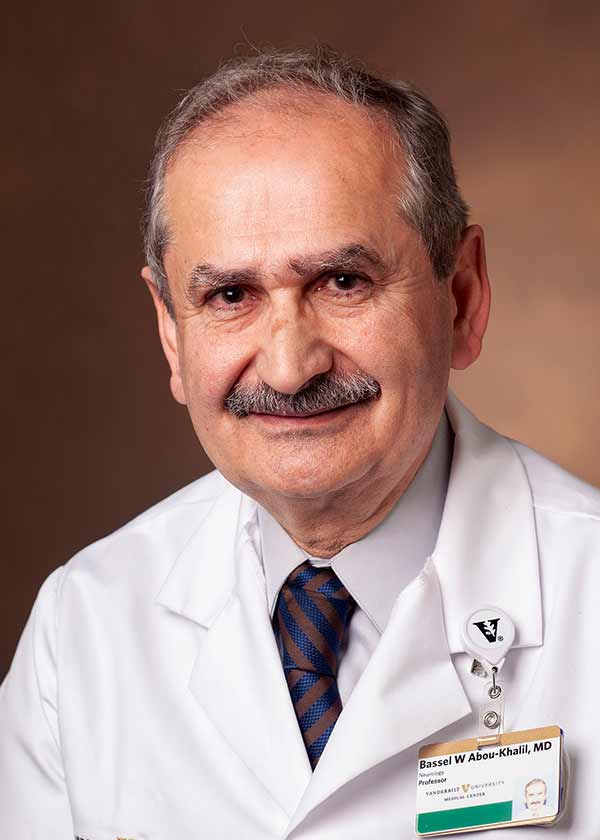 Bassel W. Abou-Khalil, MD
VUMC Epilepsy Monitoring Unit (EMU)
Clinical Neurophysiology Fellowship
Dr. Abou-Khalil is Professor of Neurology and Director of the Epilepsy Center at Vanderbilt University Medical Center. He is board certified in Neurology, Clinical Neurophysiology, and Epilepsy. He is founder and Director of the Vanderbilt Epilepsy Monitoring Unit and Clinical Epilepsy Program and was the founding director of the Vanderbilt Clinical Neurophysiology Training Program, which was accredited by ACGME in 1996. Dr. Abou-Khalil is a member of the American Neurological Association, a fellow of the American Academy of Neurology (Epilepsy Section), a fellow of the American Epilepsy Society, and a fellow of the American Clinical Neurophysiology Society.
Dr. Abou-Khalil earned both his B.S. and his medical degree (1978) at the American University of Beirut in Beirut, Lebanon. He completed an internship and one year of residency in Internal Medicine at the American University Medical Center in Beirut. He completed his neurology residency and EEG and epilepsy fellowship at the University of Michigan Medical Center in 1985 and then was a post-doctoral fellow in Clinical Neurophysiology at the Montreal Neurologic Institute in Montreal, Quebec in 1986.
Research Information
Dr. Abou-Khalil's research interests are predominantly in the area of clinical epilepsy, including seizure semiology, anti-seizure medications, epilepsy surgery, development of new therapies for epilepsy, and clinical epilepsy genetics.

With respect to epilepsy surgery, he is interested in the analysis of seizure signs and their localizing and lateralizing significance and the localization of language and memory functions in the brain before surgery. 
He has conducted numerous trials of experimental and new antiepileptic drugs in various forms of epilepsy. Drugs currently being investigated include XEN1101 and CVL-865 for refractory focal-onset seizures, and OPC-214870 in patients with epileptic photosensitivity.